Popular Local Actress to Make Final Appearance on Area Stage
Wed, 03/11/2015 - 10:40
RCN Newsdesk
For the last 18 years, top area actress Sherman Fracher has commuted from Highland Heights across the Ohio River to Ensemble Theatre, Cincinnati Shakespeare, Human Race in Dayton – and headed south, too, to Actor's Theatre of Louisville and Georgia Shakespeare. And east and west.

This month she's making her final appearance on an area stage, in the regional premiere of Christopher Durang's Tony Award-winning farce Vanya and Sonia and Masha and Spike at the Victoria Theatre in Dayton, continuing through March 22.

Fracher is one of those wonderful actresses who inhabits roles. Too often audiences watch performers slip roles on like costume to fit them rather than digging deep and becoming the character. 

Fracher can be center stage, as in A Streetcar Named Desire as Blanche Dubois at Cincinnati Shakespeare, but acting ensembles are what she loves best. 

She has mesmerized in the classics – Steinbeck, Chekhov, Shakespeare – and in contemporary work, including her recent powerful turn in suspense chiller The Birds at Cincinnati Shakespeare last fall.

Fracher has all her favorite dramatic things in Vanya. A new, contemporary comedy uses characters and themes from Anton Chekhov (classic) to incisively remark on our hyper connected world. A family (ensemble) is, of course, struck down with regret, angst and Chekhovian ambiguity – even as Vanya celebrates the great playwright's deep humanity. 

It's easy to see in her two decades on stage here that Fracher is a perfectionist and, she muses, "I've spent a lot of time being dissatisfied with my work here. I can't say 'it's fine.' I don't want it to be easy. That's lazy to me."

Vanya, directed by Margaret Perry (who has impressive NYC to L.A. credits), is the kind of theater-making Fracher loves. Perry (whom she calls "off the charts"), she says, has given her an opportunity to build a character, finding things she never has before. "I thrive on that." 

Fracher is Sonia, one-half of a middle-aged, unmarried pair of step-siblings who have been frittering their lives away in the farmhouse they share in Bucks County, Pa. They happily bicker and complain and then movie-star sister, Masha, swoops in with her new boy toy, Spike. 

Also on the scene are sassy maid and soothsayer Cassandra (played by Cincinnati's Torie Wiggins, seen locally in February in Twilight: Los Angeles 1992 at the Aronoff), and a lovely young aspiring actress named Nina.

In its Broadway run, Vanya earned near-unanimous raves along with a Tony Award. The New York Post cheered, "…riotous…the show's a ton of fun even if you can't tell your Seagull from your Uncle Vanya…This is the kind of full-on comedy that's sadly rare on Broadway."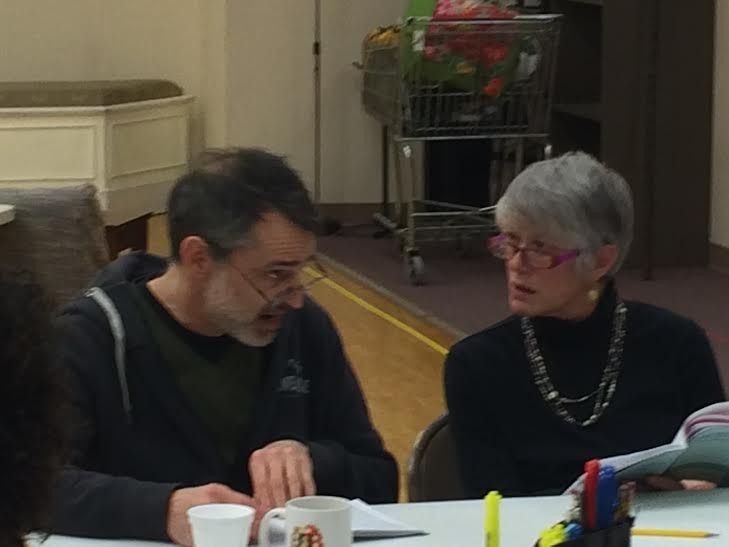 Matthew Boston as Vanya and Sherman Fracher as Sonia (Photo by Scot J. Kimmins)

Fracher claims a kinship with her character. "When I was young, I was awkward and friendless and socially inept, and that's what Sonia is. A teacher steered me to theater, and I changed – everything, even my name!"

Vanya, Fracher suggests, completes a small stage cycle for her. She's done Chekhov plays, did a comedy about Chekhov – Anton in Show Business – and now a farce using all things Chekhov.

"It makes me very, very happy. It's a great show to go out on."

And where, exactly, is Sherman Fracher going? Home to her own farmhouse near Harrodsburg that she shares with her husband Drew Fracher (well-known in Greater Cincinnati as a director, fight director, and actor.)

And to a new business, Abiding Grace Farm Artisan Foods, LLC. 

Fracher has always loved making food that makes people happy. She's spent the last couple of years putting the pieces in place, like being certified through the Commonwealth of Kentucky to sell her homemade pickles and such, and receiving the Kentucky Proud seal of approval.

She also has a thumbs-up from chef Edward Lee, owner of Louisville's acclaimed 610 Magnolia and author of Smoke and Pickles (and, oh, yeah, appearances on Top Chef and Iron Chef America), which will be on her soon-to debut website.

Find info about garlic dills and spicy dills and dilly beans and hot pepper relish at Abiding Grace's Facebook page, and take some home from Cozy Cottage in Bellevue and Friendly Market in Florence.

Vanya and Sonia and Masha and Spike, through March 22. Human Race, Victoria Theatre, 138 N. Main St., Dayton. 8 p.m. Tuesday-Friday, 2 and 8 p.m. Saturday, 2 and 7:30 p.m. Sunday. $87-$25 according to dates and seat location. $5 processing fee added for phone and online orders. Tickets here or call 937-228-3630 and toll free 888-228-3630. Be sure to check the web site for driving updates RE: road construction.
Written by Jackie Demaline, RCN Arts
Top photo: Sherman Fracher (Sonia), Jennifer Johansen (Masha), Ben Palacios (Spike) and Matthew Boston (Vanya). Photo by Scot J. Kimmins.