Rick Robinson: What I Saw on Earth Day 2015 in Washington, D.C.
Tue, 04/21/2015 - 08:02
RCN Newsdesk
When I learned that Usher was going to be the lead performer on the National Mall in DC for Earth Day, I was so excited that I immediately asked my wife: "Who the hell is Usher?"
Apparently – like Earth Day – Usher is someone who matters to a whole bunch of people younger than me.
Listening to the DC newscasts announcing the concert, my mind wandered back to the first Earth Day in 1970. Instead of a high-profile concert, our teachers let us out of class an hour early to go save the environment. The owner of the local grocery store gave us a bunch of brooms and we swept cigarette butts out of the gutters in front of his store. Our small town was better for our compassion.
Earth Day has come a long way, now celebrated with thousands attending a big concert. The trip was worth listening to Train rip a tremendous cover of Aerosmith's "Dream On." Still Patrick Monahan's exceptional vocals aside, the whole thing seemed a bit bizarre.
As I walked through the crowd, I noticed that most people in attendance were not even alive when I was saving the world by sweeping the streets of Ludlow, Kentucky in 1970. The folks in the crowd clearly wanted it to be kind of like Woodstock, a vibe lost when commemorating with photos snapped on selfie sticks.
The hippie feel didn't go too far. Real hippies would catch – not drop – the Frisbee and Will.i.am's frequent announcements to stay hydrated were a far cry from Wavy Gravy warning about bad brown acid.
And it was more than the fact that the political activism seemed a bit forced. A group from Equador asked for solidarity to stop Chevron-Texaco from something I did not entirely understand. In a tent right next to them, Toyota displayed an environmentally friendly car that no one looking at it could afford.
The extent of the activism went way beyond people lining up to sign petitions and buy new cars. Each port-a-potty on the grounds displayed a sign to end open defecation in the world – a noble cause, I'm sure. But they should start in New Orleans during Mardi Gras.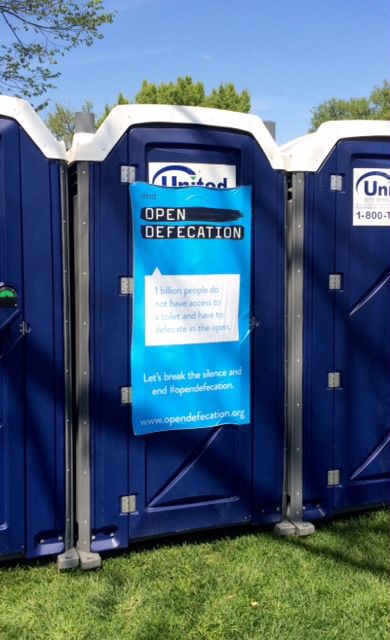 South American anti-corporate activism and public pooping was not what made Earth Day 2015 seem so surreal. At the entrance to the concert there was vendor selling water for $3 a bottle right next to a water fountain. The line for the non-biodegradable plastic container of water was about three times as long as the line for the environmentally-friendly free option.
I left the concert early. Instead of listening to someone shout at me about the latest World Bank initiative, I went home, grabbed a broom and swept cigarette butts out of the street gutter in front of my apartment.
Rick Robinson is an author and attorney from Northern Kentucky. His next release is "The Advance Man" - a thriller about the assassination of the Vice President. For more, click here.