Premium Content
Covington Police Dog Shot, Suspect Captured After Early Morning Pursuit
Wed, 04/22/2015 - 07:36
RCN Newsdesk
A Covington Police dog was shot early Wednesday morning as officers sought to arrest a stabbing suspect.
Daleon Rice, 34, is wanted for multiple offenses, including an incident in which he stabbed a relative, reportedly his mother. Charges include attempted murder (of a police officer), first degree domestic violence, fleeing and evading police, felony theft, breaking and entering, and felony safecracking.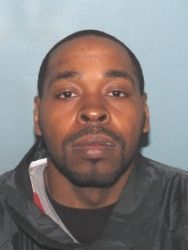 Daleon Rice
According to a report at Crime Stoppers, Rice put a knife to his victim's throat, threatening to kill her after a verbal altercation. Then, Rice stabbed her in the top of the head and punched her in the head and face multiple times causing severe lacerations and facial fractures. The stabbing took place in Covington, according to a news release from Covington Police. The department attempted to locate Rice at 2:14 a.m. Wednesday, and the altercation and gunfire ensued.
According to Covington Police Chief Spike Jones, Rice produced a handgun and shot the K9 twice and then fired directly at an officer before fleeing.
Rice was captured at 7:30 a.m. on the 200 block of East Robbins Street and was placed in an ambulance. His condition is not known.
The condition of the dog is also unknown at this time. The dog was identified as "Ernie", and he was wounded twice. Jones told The River City News that Ernie would undergo surgery at 9 a.m.
Rice has a lengthy criminal record in Kenton County where he was first arrested in 1999. Charges over the years have included multiple drug and fleeing offenses. He was released from federal prison on March 17, 2014, according to government records.
The River City News is on the scene and will update this story as more is learned. 
Follow us on Facebook, Twitter, or email us.
Written by Jerod Theobald and Michael Monks