Premium Content
For Decades This Family Business Has Seen the Ups & Downs of Downtown Covington
Sun, 05/03/2015 - 06:37
RCN Newsdesk
From the outside, Landwehr's Hardware and Toys on Madison Avenue may look like a small, old-school downtown hardware store, but once inside, it's easy to be blown away by the amount of items the owners sell.
Landwehr's has been in Covington since 1927 when Bernard Landwehr, grandfather of current owner Tom Landwehr, crossed the Atlantic from the North Sea region in Germany during World War I and set up shop. Landwehr's first advertisement from 1927 boasted, "Anything you want, we have it". Eventually Bernard's son Edward and his wife Rose took over the store and then their son Tom and his wife Linda became owners and are still there today. The family has lived and operated their business in Covington for nearly a century. They have been in the same building on Madison since World War II.
In that building is a wide variety of hardware and household needs that line the walls and fill the shelves in the narrow, shotgun style store. Tom takes pride in the fact that he has compiled a great deal of information over the years about hardware and how it will help different people.
"We sell everything and we wait on the customers. I have a lot of knowledge about plumbing and electrical all that stuff. When people come in and have a problem, I can put two and two together for them. You go any place else, there will be somebody young there that doesn't know anything," Tom said.
Landwehr's also has lots of toys in an adjacent room to their hardware goods. The business must stockpile its inventory of toys in March in order to have an adequate supply for the holidays in December.
"I might be dead by then, you don't know. If you don't order it, you won't have it," Tom said. "We have the right prices. Ten dollars for a basketball and ten dollars for a football, I mean, you can't beat that."
Tom & Linda Landwehr inside their store (RCN)
Among their toy inventory are a lot of collectible toys like model cars and airplanes and other vintage toys. One calling card of the store is that Tom or Linda will assemble their goods for the customer without any extra charge.
"One of our niches is that we assemble things for people without charging them for it. If you go to a dollar store or something and buy a barbecue grill, you got to put the blasted thing together. We don't charge them and we're cheaper than the dollar store a lot of the time," Tom said.
What you won't find in Landwehr's are many electronics or other technological gizmos and do-dads. Their inventory is made up of tried and true objects that rarely ever require a battery. In Tom's mind, electronics like cell phones don't match up as well with the people that live around his store.
"The stuff we sell isn't too technologically advanced, but the people of Covington aren't too technologically advanced," he said. "People here waste a lot of money on cell phones and cable television and they don't have the money. It's unreal."
Tom and Linda are both Covington natives and over the decades they have seen the city change, many times in ways that have not been favorable to their business.
"I've been down here forever. I can remember when Covington was something. Covington used to be a lot better than what it is. A lot of it is the way the city was run. The people that run the city don't patronize the businesses of the city. They made such a big stink about the wedding district down here and the art district, but what's down there now? There's nothing down there. The City Building is empty, they want to put a motel in there. Well, good luck."
In its hey-day, Tom said that Madison Avenue and downtown Covington was much more vibrant and alive place to live and work. He said that foot-traffic was substantially more when he was young and that the dissipation of that foot-traffic has slowed his business revenue.
"On Friday nights when I was a kid, this street would be so crowded, you had to walk in the street. Yesterday the streets were so empty I could have shot a gun in either direction and not hit anybody, there was nobody on the streets," he said. "I was thinking about it yesterday looking out the window. They had a meat shop right across the street. They had a flower shop, had a restaurant on the corner, Wiggs. They had Goodyear Tire, had a beauty shop, a barber shop, a religious store, they had Frisch's and that's just right in this half block. Everybody died off, we're getting old. I keep trying to tell the city that we're getting to be old people. You guys don't have anybody to replace us."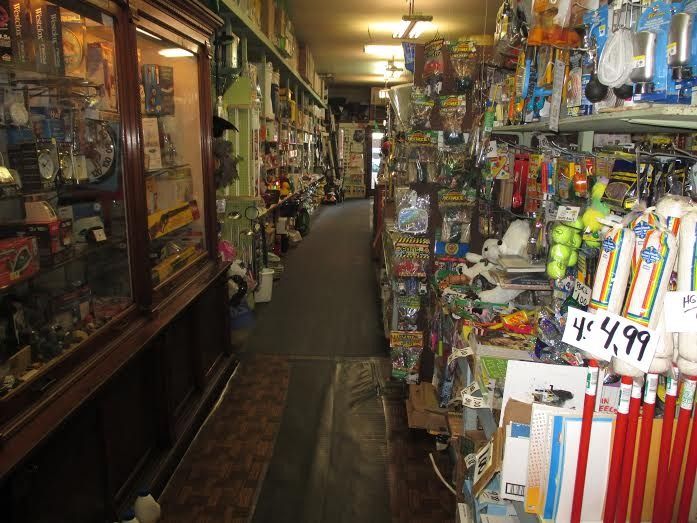 Inside Landwehr's
In fact, Tom and Linda blame city leaders for what they see as a decline in Covington shoppers along the business district that was once so prominent in the city.
"They said that the parking garage down there on Scott Street was going to save downtown Covington. We would go to the city meeting, I mean all of us, and that parking garage is going to save the whole downtown," he said. "They believed it. That's our politicians. Back then Bernie Moorman was mayor. I told him that he's looking for the people on the great white horse to come save Covington. I said you have nothing downtown for the people that live here. You don't have a shoe store, you don't have a clothing store, you don't even have a decent restaurant. You've got to have something for people. And they looked at me and sort of laughed at me, like we didn't know anything. If you want people to live here you have to have something for people to need. Not a wedding district, I mean that's a bunch of bull crap. Or fur coats, that's another bunch of bullcrap."
He's not very optimistic about the future of his business or others like it. He blames a variety of factors for the shift away from small family-owned businesses toward bigger box stores that sell flimsier products made overseas. He pointed out that the toys he sells were once made domestically, but now are largely produced in places like China.
"In the old days, all of this stuff was made in places like West Virginia and Alabama and all of those nice places; nowadays, if it's not made in China, it's not made," he said. "People still think a dollar is worth something; a dollar is not worth anything. If it weren't for the Chinese working for nothing, we couldn't maintain our standard of living in this country.
"It used to be totally different. I'm 60 years old and I'm wondering where the time has gone and how times have changed. Poor Covington. I feel for the city but a lot of it's their own fault. The people got older and the new generation only thinks about Wal-Mart, K-Mart, Sam's Club, that's all they think about. They think they're getting something for nothing."
He went to on to talk about milk to make his point.
"I can usually drink a whole gallon of milk at one time, but nowadays, it's got too much salt in it. I can't take it. I love milk. We've cheapened up everything so much with preservatives and that. I won't drink beer period anymore, it's got so much salt and sugar in it. People don't realize that it's killing the country."
Landwehr's is likely to retire once Tom and Linda do because their son does not plan to carry on the business. If that ends up being the case, it will have been a three-generation store that spanned two centuries.
"This is probably the last hurrah for this store. My son's not going to do it, he's going to get into the medical field," he said.
Until then, though, Tom and Linda will be there six days a week and during the holidays, seven.
"Business is all right. You're not going to get rich, but if you did the government would take it all anyhow so you're not going to win. During Christmas we work seven days a week. Most people don't want to do that," Tom said.
"We haven't had a vacation since we've been married," Linda added.
Despite the perhaps dour outlook of the future and of the city, the couple still prides itself of their customer service to their patrons. As long as they are in the building, they will assist their customers in any way they can.
"One time I had to come down here because we had an ice storm, and I will spend the night down here on Sunday if it's supposed to be bad," Tom said. "I went to church up here at the Cathedral on Sunday, and come back down to the store and there's all these people down here asking me if I have rock salt and snow shovels. So I had to open up on a Sunday. I went from noon until 4 with nonstop customers. You just don't know. If I'm here, I will wait on you. We won't turn you away."
Story & photos by Bryan Burke, associate editor