Premium Content
More than ALDI on the Way: Owner Has Big Plans for Newport Plaza II
Sun, 05/03/2015 - 09:00
RCN Newsdesk
EXCLUSIVE
ALDI's expansion in Northern Kentucky is good timing for the owner of Newport Plaza II, the aged shopping center at the corner of Monmouth Street and Carothers Road once anchored by a now shuttered Kmart.
Not only is ALDI adding a new location in Independence, it will also fill part of the space left behind when Kmart left. The sprawling big box will be divided into three units, with ALDI moving in first.
Gator Investments, the Miami, Florida-based owner of the site, expects two other tenants to be announced in short order as they work to re-imagine what the high profile site could become. Two leases are in negotiations, Gator's president and CEO James Goldsmith told The River City News on Friday.
"The area has improved dramatically," Goldsmith said. "The center has been 100% occupied for at least 15 years. This is what redevelopment is about. Shopping centers have a useful life and then they have to be redeveloped."
The boom of suburban-style retail offerings in Newport may have led to Kmart's demise. Goldsmith cites the Target store in Newport Pavilion, the new shopping destination next to I-471, as being at least part of what led to Kmart's departure. "Kmart was a staple in the community for thirty years and you have a changing area for the good," Goldsmith said.
So now Gator is tasked with creating a new vision for the prominent and busy corner. Goldsmith wouldn't say which two national retailers were close to inking deals to locate at the site, but said that the intention is to create a strong mixed-use shopping center with a retail tenant like Marshalls, a sister brand of TJ Maxx which has a location in the Pavilion. "It will be a mixed use shopping center with three anchor tenants like a Harbor Freight and a big retailer could be Hobby Lobby, we just can't tell you who it is," Goldsmith said.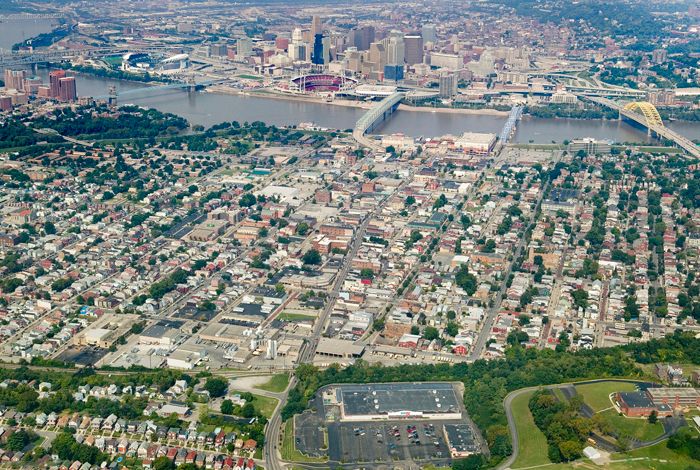 "It will be a big national retailer that will make that shopping center very nice like the Target."
As newer shopping developments like Newport Pavilion and Crestview Hills Town Center take over the roles once played by smaller shopping centers like the ones in Newport and Covington, developers have to adapt. Gator is moving aggressively to transform the site in more ways than luring large national brands there. Goldsmith said that his company also hopes to construct at least two new buildings on the site. One could host a small restaurant and another would offer an additional retail space, he said, though those plans are in the early stages.
"We are not sure of a timeline. We want to make sure we make the proper tenant mix," Goldsmith said. "We have a similar property where we would put a Tractor Supply. There are many, many tenants that can go here and this area serves downtown Cincinnati as a main retail hub but we want to make sure whatever we do has longevity like the Kmart had."
Gator has been in this position before. The company has more than 150 properties across 21 states and locally operates a shopping center in Cincinnati and one in Milford. Most of the sites are populated by retailers or restaurants that are familiar anywhere.
"We are an innovative company," Goldsmith said. They have brought Bass Pro to town and in Milford, where another space formerly occupied by Kmart sat vacant, the company attracted Scene 75, the entertainment destination. "We are innovative in our redevelopment strategy. That is our business. We intend to redevelop this nicely and physically it will be beautiful and we hope it will serve the Newport community for many years to come."
Follow The River City News on Facebook, Twitter, or email us!
Written by Michael Monks, editor & publisher of The River City News
Images via Gator Investments