Premium Content
Another Budget Year, Another Union Fight With City Hall
Wed, 05/06/2015 - 14:38
RCN Newsdesk
What has become an annual tradition in Covington continues in 2015. As City Hall prepares its next budget for the fiscal year that begins on July 1, the leadership of the police and fire unions are ramping up to fight what they expect could be cuts to their respective departments.
Public shots were fired at last week's city commission meeting when Firefighters Union (Local 38) president Jimmy Adams and Fraternal Order of Police (FOP) president Bryan Bogard took to the podium during public comments. Bogard was critical of the pay scale that Covington officers start with and said that the department was not competitive with surrounding cities like Cincinnati. Adams said that during a recent fire at a furniture store in downtown Covington, the department was understaffed already and the equipment is not in the condition or availability that it needs to be.
During that fire, Adams responded in street clothes to help manage the scene, one that he said was made more difficult by a cost-saving measure in a previous year: the elimination of Covington's dispatch center which was absorbed by Kenton County. "I've said this time and time again. It's not been a good mesh," Adams told the city commission and city administration last Tuesday. "We didn't know which companies were en route, we didn't know where companies were, and there were some moments in the beginning we thought people were lost and they weren't on the scene.
"That saved you a million dollars."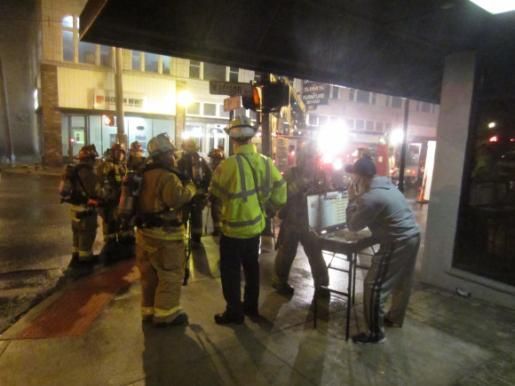 Jimmy Adams, in street clothes, mans communication during the Sims Furniture fire (RCN file)
When dispatch was eliminated and health care concessions were agreed to by the labor unions in 2012, the City of Covington was pulled back from city leaders at the time said was the brink of bankruptcy. But since then, austerity measures have continued as revenues in the city have remained flat and union employees continue to receive automatic pay raises, City Manager Larry Klein said. 
"We're trying to pay for $600,000 in pay increases at the first of the year," Klein said, adding that the increase in pension costs is included in that figure. The City is currently in the fourth year of its current labor contract. "Savings on health care have been completely wiped out by pay raises." On January 1, 2016, there will be no automatic raises for union employees, Klein said, and then the City will start to realize more of the savings from the previous health care concessions.
"I'm not trying to put all this on the unions, but our highest cost in the city is personnel. We were giving raises and in a stagnant economy we were being pretty generous," the city manager said.
Adams said that City Hall has also been generous to itself, creating new administrative positions and increasing pay for some individuals who have taken on additional responsibilities. At last week's meeting, the union president joked that City Hall now has an assistant to the toilet paper dispenser, but when pressed this week for which positions have benefited at the expense of the fire budget, Adams was more specific. 
"My view on that is this: There have been numerous jobs from the internal auditor to the new position that handles contracts," Adams said. "Obviously they created a position for (operations director) Lisa Desmarais, different than what she was in at the beginning. I get that these are needed but at the end of the day, we have created white collar City Hall jobs at the expense of blue collar union jobs." Klein and others have said there have been net savings with the reorganization at City Hall, but Adams said that he has not seen those figures after asking for them. "(Finance director) Lisa Goetz says she is working on it."
"We're making some changes on the staff at City Hall," Klein acknowledged. "Some positions have been changed and some positions have been eliminated. We had a tax auditor move from the finance department to the legal department, and that position was not back-filled in the finance department. We hired a new payroll person and the payroll person is now a compliance officer. When you think about it, it kind of washes out." The city manager said that six years after hiring a risk manager, workers compensation premium expenses have been reduced from $1.2 million to $400,000.
"I would argue that positions like risk manager and payroll person are going to save the city money, not just pay for themselves," Klein said. "There have been pluses and minuses but we're living within the budget."
In the latest round of possible budget cuts, Klein said that he "hesitant to say" whether there will be a reduction in staffing at the fire department. Adams said that at the Sims Furniture fire, there were 70 firefighters on the scene, but only 24 were from Covington. 
"It has been seventy years since we've had a death in this fire department," Adams said. "Every time my phone rings with a structure fire, I get so nervous I could throw up. We can't continue to cut public safety."
Bogard also doesn't want to see cuts to the police department, but Klein discounted the FOP president's claim that the city is less competitive in recruiting officers.
"We still have hundreds of people applying to be police officers and firefighters here. We don't see anyone leaving here to work for a different agency," Klein said. "Between pay and benefits, it's still a good place to work. When we test for police and firefighters, we get hundreds taking the test."
Where else could cuts come in the next budget? "We did share the savings that could be realized by closing the pools," Klein said. Covington operates two public pools in Mainstrasse Village and the Eastside, and a spray park in Latonia They are open for only nine weeks. "We could save three or four hundred thousand a year by closing the pools. It's a benefit to a lot of people who might not otherwise have access to a pool or waterpark."
In the three years since the long effort to gain health care concessions and a merged dispatch center, though, the City of Covington still finds itself making cuts. "It's hard to predict what revenues are going to do. I do firmly believe the road we're on to grow property values and to create jobs is the right one," Klein said. "There is six or seven hundred thousand dollars that we're trying to cut this year to absorb pay increases. Next year we don't have pay increases, so we won't be behind the eight ball when we're trying to cut out money to absorb. Next year, with revenue flat again, we wouldn't have that large sticker shock with wage increases."
Written by Michael Monks, editor & publisher of The River City News