Premium Content
Dayton Garden Also Growing Community & May Soon Supply Hops to Local Brewers
Sun, 05/24/2015 - 18:28
RCN Newsdesk
Folks in Dayton are putting the community in the city's community garden.
"The garden was something that was started in 2012 sort of on a whim and there were some volunteers that worked at it and got it going with a couple grants in back to back years," said organizer Chris Kubick. "It kind of just happened by itself. There was no real organization until we decided as a family that we were going to get involved and help organize it this year and it's really taken off and there is a lot of people huddled up around it."
That proved to be true last weekend when a group from Crossroads Church helped with some planting. The work centered around the making of potato towers, blackberry trellis, and landscaping. Kubick also organized a Facebook group that has more than 50 members now keeping tabs on what's happening at 1106 Third Avenue.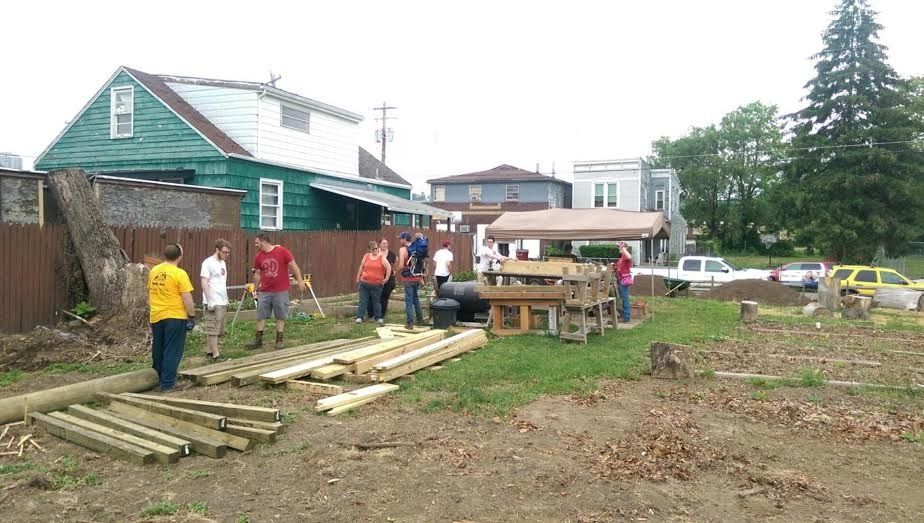 "Before this year the garden was only serving three to four families and we wanted to really make it a community garden to bring the community back into it, so that's been cool to see people show interest and come out of nowhere," Kubick said. 
The City of Dayton has also been supportive. Kubick said that Main Street Manager Anthony Cadle helped score some 25' tall telephone poles from Duke Energy to that the garden can create trellises for hops to supply local brewers. "We hope to have it for sale by 2017-18 which is pretty exciting," Kubick said. 
Dayton City Councilman Ben Baker is also an active participant and supporter. "Community gardens are important to a city," Baker said. "They provide food, build friendships, and teach both kids and adults. Without the community it's just a garden."
"It seems like the timing was right, everything was ready to go," Kubick said of the recent surge in attention given to the community garden. "It just took a little organization to get everyone rallied up and out. 
"There is a lot of stuff in the works and it's just sort of been, for a lack of a non-cliched word, it's been growing like crazy."
Written by Michael Monks, editor & publisher
Photos provided