Premium Content
A Dozen NKY Artists Take Aim at Social Issues in Exhibit
Wed, 05/27/2015 - 11:02
RCN Newsdesk
A dozen Northern Kentucky artists will put their social issues on exhibit for the free, 10-day SOS Art, at ART Academy of Cincinnati in Over-the-Rhine from May29 - June 7, overlapping with Cincinnati Fringe Festival. (Sample them both!)

More than 200 regional visual artists, literary artists, musicians, and performers will participate in the 13th annual SOS ART, both exhibition and a series of events that provide a forum for sociopolitical expressions of peace and justice through art. It features paintings, sculptures, photographs, videos, installations, poetry readings, movies, music, performances, and discussions on current issues of peace and justice. 

Look for powerful and diverse statements in support of justice and peace locally, nationally, and globally – and a serious artistic conversation from Northern Kentucky artists.   

In alphabetical order: 

Barbara Ahlbrand of Highland Heights shows her work on paper with "Open Door." 

"It addresses the issue of immigration," Ahlbrand says. "It's a plea to maintain community open-mindedness and genuine nurturing of displaced people, migrant people who are looking for a safe place to settle their families, to live and to work.  

"The black background of the drawing is striped with alternating lines of written English and Spanish content. The left side is edged with colorful pastel butterflies and the right half contains a portal with the silhouette of a man. The message is that movement is both a need and a right. We all are the butterflies, instinctively going where there are opportunities to succeed. Open the door."   

Alexandria's Halena Cline offers an oil on wood panels. "Safe Place", "portrays the innocence and playfulness of children undisturbed as they interact in their miniature world so unaware and naïve of their vulnerability."

Sharmon Davidson's mixed media calls attention to the inadequacy of out mental health care system. The Taylor Mill artist's starkly titled "Mental Illness in America" addresses, she says, those suffering silently and others who are now homeless.

Installation artist Carol Fried shows works on paper at SOS Art. "Unknown Remains" is a paper roll listing remains of missing men, women, and children found in border States. "No Name – Lost and Found" is a printed photo image dealing with the same issues: The need to serve justice by "identify(ing) the missing, the lost, the dead, often buried in unmarked graves, becomes the necessity of memory, to remember, to recall, to give witness to those whose lives once had meaning, presence and vitality."

Southgate freelance photographer A. Steven Hotard turns his camera's lens to professional football with a trio of works.

"Professional football is America's favorite sport," Hotard notes, but it's violent, some players use performance-enhancing drugs and injuries include concussions, with outcomes that can last a lifetime. 

Hotard believes it's worth thinking about.

Alfonso B. Huckleberry Sr. exhibits a pair of works: Acrylic "Breaking Free" "is a literal and metaphorical image of slavery, as everyone is enslaved to something, be it job, drugs, anger... We have to be able to allow ourselves to break free from the things holding us hostage in our own lives." 

"The image of two black little girls holding white baby dolls" in his watercolor "Girls with Dolls," 

Huckleberry says, "speaks tons about the engrained racial disparity in our culture and society."  

Jimi Jones's three related oils have titles that say it all: "Sometimes I just want JUSTICE"; "Other times I just want to SCREAM" and "Sometimes I just want to FIGHT." 

The Ft. Wright artist and a founding member of the Neo-Ancestralist art movement muses on "Fairness: the state, condition, or quality of being fair, or free from bias or injustice; evenhandedness." "Frustration: the feeling of being upset or annoyed, especially because of inability to change something."

And "Sometimes I just want to Fight… My love of Humanity holds me back."

"Hope is the thing with feathers,'" Anne Leader quotes Emily Dickinson. It's also the title of her SOS Art mixed media entry made of clay, clementine box with netting, frame, metal and black sand.

"Birds, redolent of unspoken metaphors, provoke artists into finding meaning in their form. The collections of birds in natural history museums display the lifeless bodies, tagged, lined up, like their human counterparts, prey not of naturalists but of the greedy, rapacious thugs masquerading as politicians, soldiers, statesmen, religious leaders. What feathers there? What hope? That is for us to find."

Painter, teacher, and SOS Art veteran Crews McCullough of Bellevue says his subject this year is "ecology/climate change. he two pieces I chose for the show are watercolors of leaves. I selected them to correspond with the subcategory of "Peace". I believe we can derive significant peacefulness by tuning into nature."
His watercolor "Water, No Water" "is about water shortage in California" (where he once lived).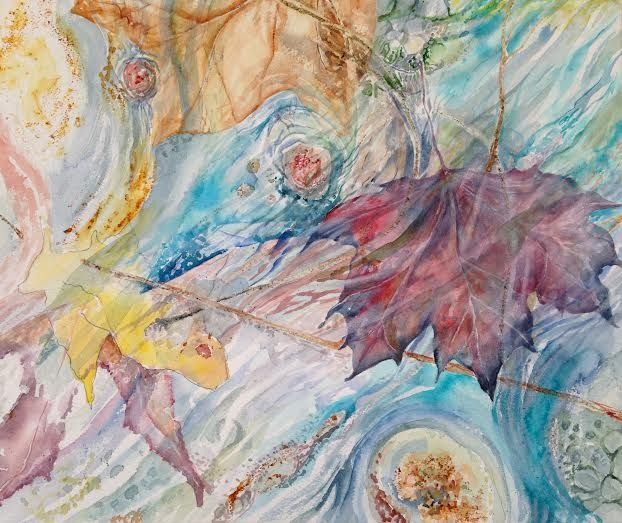 "My watercolor painting is about the increasing scarcity of water in the right places and times on the planet. It represents a shallow stream bed with natural debris indicating low or no water avail for humans or animals."

Ken Page of Villa Hills shows two mixed media works "Both Sides Now" (pictured above) and "Let's Solve This" speak to the fragility of our lives – and looking for ways to find solutions.

"We cannot be afraid to do our part. Just because we do not see the answers does not mean we should not look for them."

Ludlow's Joni Powers works in working in watercolor, acrylic and collage and her subtext for this year's SOS Art is 'peace.' The two watercolors of leaves have titles that tell viewers what to look for: "Harmony" and "See Beyond the Obvious."  "I believe we can derive significant peacefulness by tuning into nature."  

Carole Winters of Bellevue exhibits a pair of portraits. "The subtext for me this year is race," Winters says. "My son has lived in Baltimore for several years after going to art school at MICA. I have visited frequently and know a little about the city. My son and his colleagues are active in community arts and were involved with some of the actions during the Baltimore Uprising so I was following that closely. Also, I am an adjunct professor of art at Chatfield College in Over-the-Rhine and all my students were African-American and from the immediate neighborhood."

"Joe Chrirstmas," a pastel on paper, explores the "complex and enigmatic mixed-race protagonist of William Faulkner's Light in August, Winters explains, about race, sex, and the South published in 1932, when Jim Crow laws were still on the books. "An erotic passage from the novel is smudged along the bottom of the drawing."


"Trayron," in color pencil, was one of Winters' students at Chatfield. "I've learned a lot about the realities of being a young black man, albeit from a white woman's vantage point, from my experience teaching art at Chatfield."


SOS Art, May 29-June 7. Art Academy of Cincinnati, 1212 Jackson St., Over-the-Rhine. Opening night: 6 p.m.-12 a.m., includes artists' talks and a potluck reception. Find the complete schedule here.Exhibition hours: 9 a.m.-6 p.m. Monday-Thursday,  9 a.m.-12 a.m. Friday and Saturday, 12-6 p.m. Sunday.  Programming scheduled 7 p.m.-12 a.m. May 30, June 5 and June 6. Closing potluck reception: 4:30-6 p.m. June 7.
Written by Jackie Demaline, RCN Arts
Images provided