Premium Content
Police Investigate Shooting at Covington Gas Station
Fri, 05/29/2015 - 13:34
RCN Newsdesk
UPDATE (8:25 p.m.): A teen is behind bars accused in the shooting.
Patrol Bureau Commander Rob Nader tells The River City News that two shots were fired after a verbal confrontation near Pike & Main Streets in Covington but both rounds missed the intended victim and instead struck that person's vehicle and the car's tire which then ricocheted and struck a glass window of a building in the direction of the gunfire.
In custody on Friday evening is Ray'Shawn Green, 18, charged with two counts of attempted murder, first degree wanton endangerment, and first degree criminal mischief.
He is being held at the Kenton County Detention Center and is scheduled to appear in court on Monday morning.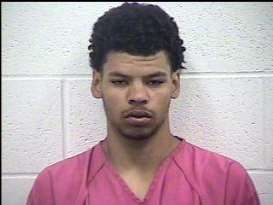 Ray'Shawn Green (via Kenton Co. Detention Center)
ORIGINAL POST:
Covington Police responded to a report of a shooting at Pike & Main Streets at around 1 p.m. on Friday.
Part of the parking lot and sidewalk at the Marathon gas station on that corner was taped off as investigators talked with possible witnesses.
Assistant Police Chief Bryan Carter told The River City News that no one was hit by any bullets.
It was not immediately clear whether any arrests had been made or how many suspects may be involved or how many shots were fired.
The investigation Friday is underway one week after another shooting one block east that sent a man to the hospital with a gunshot wound to the hip.
This story will be updated when more information is known.
-Michael Monks, editor