Premium Content
Theatre Review: "The Sunshine Boys" at Commonwealth Theatre
Thu, 06/04/2015 - 10:03
RCN Newsdesk
Neil Simon fans have been buying up tickets to Commonwealth Theatre opener The Sunshine Boys, and they're going to be happy with the good-looking production at Northern Kentucky University.

Dave Roth and Herb DuVal were a hit at Covedale last year as Simon's estranged comedy team Al Lewis and Willie Clark, stage partners for 43 years who haven't spoken for more than a decade. With director Greg Procaccino, they're reviving the show with a new supporting cast.

Part of Neil Simon's laugh machine canon, Lewis and Clark are reuniting (under duress) for a TV special. Set 1970-ish, the show opens in Willie's tiny NYC apartment, which looks like it hasn't had an update in maybe 30 years. Photos of acts from vaudeville and The Ed Sullivan Show fill the walls – from Martin & Lewis to Topo Gigio.

Willie, a cranky, glass-is-completely-empty kind of guy, lives in his pajamas in front of a sad little portable TV and grumps at his beleaguered nephew (an excellent Joshua Steele). Ben is an agent and he hasn't gotten Willie any jobs in a very long time, because Willie can't remember dialogue.

Willie wants no part of the reunion offer – he's still bitter. During stage routines, Lewis, he charges, used to spit in his face when he said words that started with 'T.' And poked him in the chest. (I think we all know where this is going.) And when Lewis finally walked, he took Willie's career with him.

Boys moves along smartly under Procaccino's firm hand and Simon brings the funny through the boys' emotional ups and downs.

At final dress, DuVal was rushing his jokes – set-up, PAUSE, land – but that should be solved as soon as there's a live audience. Roth is a pleasure as Al Lewis, living in New Jersey with his daughter and her family and getting a big reminder why his ex-partner drove him nutsy.

The Lewis and Clark 'Doctor' skit is the highlight of the show, and both actors nail the style and the timing. NKU student Ellie Chancellor is dandy as the 'Nursie' in the sketch, carrying out her duties in a very short skirt. Ever-reliable Burgess Byrd plays a real nurse in the show's final scene, brooking no nonsense as she carries out her duties.

The Sunshine Boys, June 3-21. Commonwealth Theatre Company, Fine Arts Center, Northern Kentucky University. 8 p.m. Tuesday-Saturday, 6:30 p.m. Sunday, dinner buffet served 90 minutes before show.  Tickets $35.  If you don't want dinner, check availability of day-of RUSH TICKETS (show only) $15, students $10. 859-572-5464 and www.commonwealth.nku.edu.

MEET THE BOYS

Herb Duval and David Roth are both area stage veterans. Roth is spending his summer vacation from School of Creative and Performing Arts to return to the stage; Commonwealth fans last saw him in another Neil Simon hit, Plaza Suite.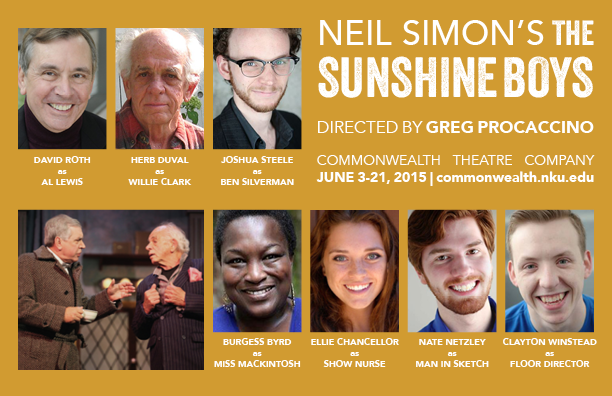 Duval is juggling the show with current writing and producing projects, including a July 24 edition of his Play with Your Dinner series with highly regarded area performers Kelly Mendelkoch, Kevin Crowley, Josh Steele and Brooke Rucidlo Steele at Springfield Township Banquet Hall.

So what's funny from the Golden Olden Days? Roth votes for Abbott and Costello (he loves their classic "Who's on First?); Duval votes for Burns and Allen.

Duval points out that vaudeville is an all-ages entertainment – lose the word 'vaudeville' (and its anchor to the past) and keep the comic foundation and you have Jimmy Fallon. "He's like a whole crew, what with the singing, the dancing, the jokes, the impressions."

Roth explains the Lewis/Clark relationship: "Lewis and Clark are decent individuals. Willie is quicker to show his frustration and anger; Al is more passive/aggressive. Al may be a little sharper. He understood the era was over and left the business to become a stockbroker. Willie kept hanging on, he never understood that times had changed."

For this second go-round of Sunshine Boys, Roth says he's "trying to find more honesty," Duval says he's learned "Listening more is good." Duval also observes, with a new supporting cast, "I like looking at the new nurse's bottom a whole lot more."
Written by Jackie Demaline, RCN Arts