Premium Content
Beechwood Grad Takes Shot at Miss Kentucky Pageant
Wed, 06/17/2015 - 16:17
RCN Newsdesk
Lydia Blaise Allen is on her way to Lexington later this month to compete in the Miss Kentucky Scholarship Pageant for the second year in a row. After being crowned Miss Bluegrass Area in February, Allen has a chance to advance to the national Miss America Pageant if she wins on the state level. 
Allen will be a junior at Georgetown College next school year and is double majoring in psychology and communications. She has a particular interest in health and exercise science and hopes to make a career out of it someday.
For now, though, she is heavily invested in not only entering and competing in beauty pageants, but advocating and practicing forms of community service, particularly in mentoring.
The Miss Kentucky Scholarship Organization is a non-profit scholarship program that requires its contestants to raise money for The Children's Miracle Network which benefits Kentucky Children's Hospital. Contestants compete in various categories including an on-stage interview about current events, an evening gown, and swimsuit competition. Contestants also have a personal platform that details their community service outreach efforts that they developed during the time they have been in the program. Allen's personal platform is called "Mentoring Matters".
The 2013 summa cum laude graduate of Beechwood High School started a mentoring program there called Generation HOPE--Helping Our Peers Excel.
"The whole angle I'm focusing on is school-based mentoring called Generation Hope," Allen said. "It is a blueprint model that schools can adapt to meet their own needs and high school students work with elementary and middle-school age students as mentors. My own personal experience was as an academic tutor. Really, my student needed help on math and reading and we worked on it, but it became more about forming a friendship and about making that personal connection and giving her the attention that she needed. I think that mentoring is such a powerful tool that a lot of people just don't have the availability or realize that they can be a mentor, and for younger people that they can seek out a mentor. So that was something that I really wanted to implement in the school districts here. I presented it to Beechwood my senior year of high school and since then they have adopted it through their National Honor Society. Now they have taken those students and worked with the elementary students in mentoring program sessions."
While she tutored, Allen discovered how meaningful it became to her to assist other young people who often only need support and interest from someone a little older than themselves. 
"Once I realized how much my tutoring benefited my student, it really benefited me, too and it did kind of empower me and my abilities. I knew what I was doing was worthwhile and my student went on to college and into extracurriculars and it mattered. So that's why it began to matter more to me too. It made me better. It motivated me," she said.
In that vein, Allen, like all contestants, has become involved in what is called the Bluegrass Princess Program where girls between the ages of 6 and 10 are matched with a Miss Kentucky participant and the young girls are able to come on stage with their selected contestant during the evening gown portion of the pageant. The few minutes on stage help the girls feel like princesses as they are given a crown to wear.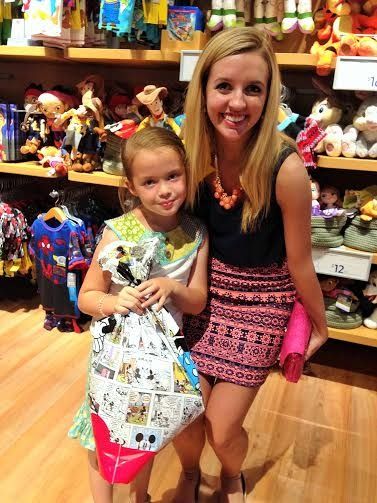 "The idea behind it is that these girls could potentially become contestants one day and they can see an investment from a current contestant," said Allen. "I met my little princess about a month ago and her name is Blakely Beth from London, Kentucky. She and her family are the sweetest people in the world.  Blakely Beth is a lot like I was when I was younger. She's a little bit more sassy than I was, but she is great. We've done some fun things together. We've been to lunch together, she came to an event called the Miss Kentucky Gala and got to dress up all pretty and we actually helped her find her dress that she will wear on stage with me. We also went to the Disney Store where I bought a toy that I am going to take to the Kentucky Children's Hospital when I go. I explained to her what that meant and what we were doing so she got a little taste of community service in a way. We've only known each other for about a month, but I feel like she could be my little sister."
Miss Kentucky contestants live together for a week in Lexington on the University of Kentucky's campus and visit children at local hospitals as a charitable event while they're there. 
The pageant runs from July 2-4. 
"Going from last year to this year, I feel so much more prepared with what I need to do," Allen said. "Last year I didn't know what I needed to focus on in preparing, but now I know that I really need to work on my platform, I need to prepare for eating right and working out for swimsuit, practicing talent as much as I can because I'm a dancer, and just really knowing all of that. Knowing how I look on stage after doing it last year really helps. The more experience you get, the more you know what you want to look like as Miss Kentucky."
Part of the competition is an on-stage interview where the five-judge panel asks the contestants questions in a press-conference style interview.  
"During this time, I have to look up what's going on and form an opinion on it and know how I feel about each issue because you can be asked literally anything," Allen said.  
If Allen is able to advance, it will help her parents cover the costs of the pageants along with college. 
 
"It's just a really interesting and neat way for her to compete for scholarships," said Lydia's mother, Ria Allen. "She gets to showcase some talents. She loves speaking, she loves performing and she loves being on stage."
Win or lose, though, Allen is intent on remaining passionate toward her mentoring efforts. 
"Mentoring not only improves a student's confidence, it also improves their academic performance, and also helping them realize that they can aspire to greater things than they would normally limit themselves to."
Written by Bryan Burke, associate editor
Photos provided