Premium Content
Red Bike Opens 6 Locations in Covington! Newport, Bellevue on the Way!
Tue, 06/23/2015 - 11:29
RCN Newsdesk
Red Bike has arrived in Covington.
Newport and Bellevue, you're next.
The Cincinnati-based bike-sharing program kicked off the opening of six stations in Northern Kentucky's largest city with a media event outside Roebling Point Books & Coffee, a hub of local bike enthusiasts where a station -- on a bump-out designed in part by Mayor Sherry Carran -- was opened.
The stations will all be available on Tuesday at Duveneck Square (W. 7th Street & Washington Street), Gateway Community and Technical College (E. 6th Street & Scott Blvd.), Roebling Point (E. 3rd Street & Greenup Street), RiverCenter (E. 2nd Street & Madison Ave.), Mainstrasse (Main Street & W. 6th Street), and at W. 3rd Street and Bakewell Street.
"What better place to start than Covington?," asked Red Bike executive director Jason Barron in detailing the organization's move south of the Ohio River. The bike program is rapidly expanding and exceeding expectations of use in Cincinnati.
Mayor Carran said that Northern Kentucky leaders pushed into high gear when Cincinnati Mayor John Cranley announced an expansion of the program in the Queen City. Covington, Newport, and Bellevue wanted to connect to it fast, specifically before this year's Major League Baseball All-Star Game arrives at Great American Ballpark in July.
"This project has so much excitement and citizen support that it was difficult to get it under control because everyone wanted to be involved," Carran said. Each station costs around $50,000, though that can vary. Covington received a $50,000 from philanthropist John Topits and $150,000 from an anonymous donor. Southbank Partners, the advocacy organization for six River Cities in Northern Kentucky, donated $20,000 to Covington, Newport, and Bellevue.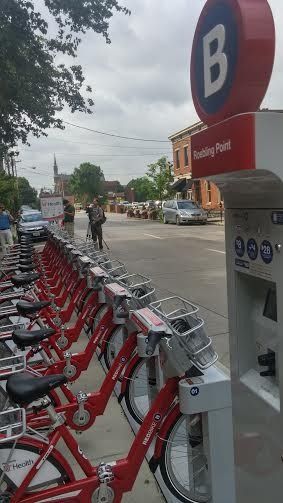 Southbank president Jack Moreland said that Red Bike is a perfect fit for Southbank because it emphasizes connectivity and relates to the organization's effort at developing the Riverfront Commons trail system that will ultimately connect Ludlow in the west to Dayton in the east. "We hope to get into all six Southbank cities," Moreland said, a nod to Dayton, Ft. Thomas, and Ludlow, which were not part of this first phase of Red Bike expansion into Northern Kentucky.
With the first stations opening in Covington on Tuesday, Kentucky has its first bike-sharing program. Red Bike's connection to Cincinnati also creates a rarity nationwide with a bike-sharing program that spans state lines. "There are four municipalities and dozens of neighborhoods," Barron said of the program's reach. "It is an important part of creating more connectivity in Cincinnati.
"Citizens look at where am I, and where do I want to go?," Barron continued, adding that attractions across city or state borders are often not acknowledged by those out enjoying themselves. 
The program is expected to be online in Newport "soon" where four stations will be part of the system. Bellevue will follow with one before the All-Star Game and a second one afterwards.
"Everyone in the neighborhood is thrilled to have Red Bike come in," said Richard Hunt, owner of Roebling Point Books & Coffee, and a cycling enthusiast. "We can't wait to be more of the Greater Cincinnati fabric."
Written by Michael Monks, editor & publisher 
Photos by Michael Monks and Chuck Beatty