Premium Content
Supporters Plead for Fired Newport AD, District Hires Replacement
Wed, 06/24/2015 - 07:13
RCN Newsdesk
A new athletic director has been hired at Newport High School but parents showed up to the school board meeting on Monday night to plead on behalf of Matthew Schmitz, the previous athletic director whose contract was not renewed following his arrest in May.
Several parents and supporters spoke on behalf of Schmitz who pleaded guilty to possession of marijuana in exchange for community service and no jail time. He was arrested in the parking lot of the Newport Plaza where he was found passed out.
The citizens who came to the board wanted the superintendent to consider giving Schmitz his job back. Board attorney Brandon Voelker told the audience that the school board is legally bound not to delve into personnel matters, so they cannot comment in any way about the matter. He said the superintendent is the only one who can make decisions about hiring and firing.
Daylin Garland spoke eloquently about the community helping a person who has made a mistake. "We need to show him that if he makes a mistake, we are big enough to pull him back in, not throw him away," he said.
Daylin Garland

Tina Atkins gave the superintendent pictures of kids with Schmitz, and related emotionally how he was a role model and had a big impact on the students, sometimes acting as a father figure. Nekko Beal, a senior, read a text from another student pleading for reconsideration for Schmitz. Middleton listened to it all.
Schmitz was also head football coach.

"I hired him," Middleton said. "There is no doubt what he has done for kids. I appreciate everyone coming down tonight. I will make the best decision I can."
Tim Mosley was announced as the school's new athletics director. Kyle Niederman was named principal of the high school Monday while Brian Courtney was placed as interim principal at the middle school.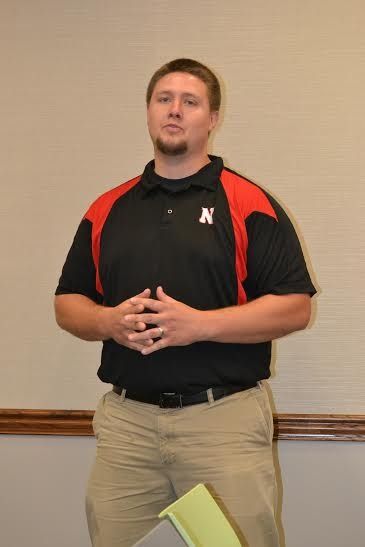 Tim Mosley

In other business at Monday's school board meeting, Middleton publicly thanked the City of Newport for equaling the school board's contribution to initiate the Footsteps to Brilliance program, which targets all children within the city. He said training will begin in late August for the program.

The board passed a draft of the new certified evaluation plan, which every district has to have by August. They also passed an agreement with LifePoint Solutions for counseling services, and passed an annual lease and ssecurity agreement between KISTA and the school board for the leasing of school buses. Several services contracts were approved.

Amanda Zimmerman, a special education teacher, was announced as this year's recipient of the Rosanne Ginney Teacher of the Year award. Josh Snapp, principal of the
elementary school, said that she is amazing, and he would put her up against any other special education teacher anywhere. Superintendent Middleton said he was impressed with her application, saying she was the first member of her family to complete college, and that she wanted to be a teacher when she saw her brother struggling with school.
Amanda Zimmerman, a special education teacher, wins the Rosanne Ginney Teacher of the Year Award, presented by Elementary Principal Josh Snapp

"I love teaching special education," Zimmerman said as she received a plaque and a check. "I can't imagine doing anything else."
Story & photos by Patricia A. Scheyer, RCN contributor
Top photo: Tina Atkins gave pictures to Superintendent Kelly Middleton and talked about former athletic Director Matt Schmitz
Editor's note: A previous version of this story listed the amount of money for Footsteps 2 Brilliance as $110,000 from the City of Newport. The city contributed $12,000.