Premium Content
Democrats Recovering from NKY Defeat in 2014, Fired Up for 2015
Mon, 06/29/2015 - 19:07
RCN Newsdesk
"We're alive, we're well, get used to it!"
A riverboat full of jubilant Democrats floated down the Ohio River on Sunday offering no sign that the Party had been completely wiped out of countywide office in Northern Kentucky.
In the seven months since a brutal November completed the Republican takeover of the region, the Democrats are finding their passion again. Buoyed by a pair of favorable rulings from the Supreme Court related to President Barack Obama's signature legislation - the Affordable Care Act - and nationwide recognition and legalization of same-sex marriage, these Dems know that they can't stay down for long. After all, there's another election this November.
Two candidates who will appear on the statewide ballot were on the boat with the Campbell County Democratic Party: Auditor Adam Edelen, who is seeking a second term, and Rep. Rick Nelson from eastern Kentucky, who is vying to replace fellow Democrat Todd Hollenbach as state treasurer.
2015 is the year Kentucky will elect a new governor. Each race for the constitutional offices (governor & lieutenant governor, attorney general, secretary of state, treasurer, auditor, and agriculture commissioner) are shaping up to be competitive. Edelen, a familiar face in Northern Kentucky following his scathing audits of the City of Covington, the Kenton County Airport Board, and the Dayton Independent School District, said that Democrats this year are up against "not a garden variety of Republicans"/
It's "the most extreme" Republican ticket Edelen has seen, he said. "We're the mainstream, folks," the young auditor told the cheering crowd of about 50. He brought his 9-year old twin sons aboard with him and pointed at them when talking about the importance of grade-level reading, and stated that Democrat Jack Conway's Republican opponent, Matt Bevin, in the race for governor opposes Head Start. "This is sanity versus plum, plain craziness," Edelen said. 
"Today's GOP, a guy like Ronald Reagan could never have been nominated," he continued. As for his own opponent, State Rep. Mike Harmon (R-Danvile), he's "not worthy of my consideration". "But if he doesn't stop lying about my record we'll get to telling the truth about his."
In 2015, the Democrats versus Republicans, Edelen said, "It's an argument between smart government and stupid government."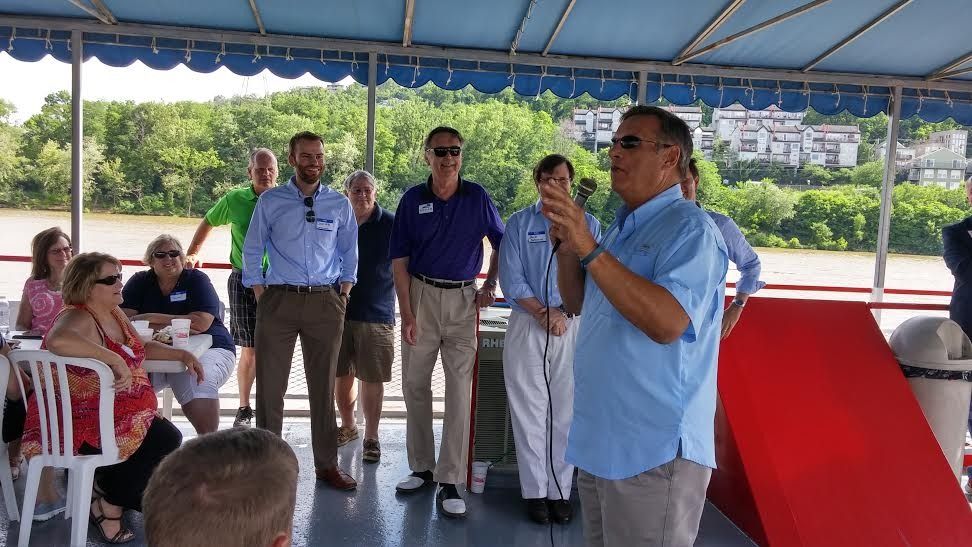 Rick Nelson
Nelson, who emerged victorious in a 5-way Democratic primary, joked about feeling a little sick from the boat ride. "I feel like a crook seeing Adam Edelen pull up," Nelson quipped. He continued the boat reference, stating that if someone fell off during the boat ride Sunday, because it's full of Democrats, the boat would stop and the person would be helped back aboard. "But if it was a Republican boat, we'd read the book to you that tells you how to help yourself back up on the boat. And then cut funding for the book!"
Though Democrats have been decimated in elections and voter registration in Northern Kentucky, Nelson, who faces Republican Allison Ball in the general, said the region still has a role to play in November. "I know you're outnumbered. If you cut the losses down, we can make it up some place else. The election is too important to lose for organized labor, for school teachers, and poor people."
The Democrats on board Sunday seemed fired up and ready to go.
"Do it because we believe the people of Kentucky deserve a government that is as fundamentally good as they are," Edelen said. "It is mainstream, Main Street values that our Party is fighting for and the other party is so blatantly against."
Story & photos by Michael Monks, editor & publisher
Top photo: Adam Edelen