Premium Content
Remembering Judge Raymond Lape: An Interview With Judge Kathy Lape
Thu, 07/02/2015 - 15:19
RCN Newsdesk
Longtime Kenton County Circuit Judge Raymond Lape passed away on Wednesday. He was 87-years old.
Judge Lape presided over criminal cases in Kenton County from 1979, when was appointed by then-Governor Julian Carroll, until 1995 when he retired. His former seat is now held by his daughter, Judge Kathy Lape, who was elected last November. Former Judge Lape swore in his daughter during a courtroom ceremony last December.
"It was the very pinnacle of my career, the pinnacle of my life," Kathy Lape told The River City News on Thursday. "He gave unscripted remarks. He said, 'You know, everyone asked me how I'm feeling. If you could see under this robe, my buttons are bursting, I'm so proud'."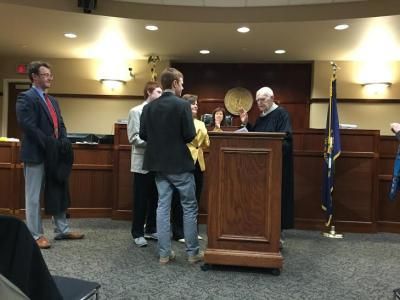 Born July 19, 1927, Ray Lape was two and a half weeks from his 88th birthday. A native of Newport, he earned a bachelor's degree in commerce from the University of Cincinnati and earned his law degree from Chase College of Law in 1968.
Prior to his advanced education, the judge entered the U.S. Navy as a 15-year old. Because of his age, Lape was kept on the ship or at port where his daughter said he enjoyed drinking with his fellow sailors and also getting tattoos. Judge Lape was inked 17 times.
Before becoming a judge, Lape worked for the U.S. Post Office, was a Kentucky State trooper, and spent time as an insurance adjustor at two different companies while completing his law studies at Chase.  His first stop as an attorney was at the law firm of Davies, Nelson, and Taliaferro. He was also an assistant Kenton County Attorney from 1971 to 1979.
An outpouring of fond memories has been posted on Facebook as local citizens remember the old judge.
"I've been proud of him my whole life and even prouder when I read some of these things on Facebook," Kathy Lape said. "I knew what a great guy he was. He's been in my life every day, and having the privilege of campaigning last year, people would tell me stories about him. It wasn't just law enforcement or judges. It was everyday people. I never heard a bad story."
In 1989, Judge Raymond Lape was named Trial Judge of the Year by the Kentucky Academy of Trial Lawyers, and he was the recipient of the Chase Alumni Association's Lifetime Achievement Award in 2006.
Local attorney and author Rick Robinson also remembered the late judge in a post on Facebook. "The first time I appeared before Judge Raymond E. Lape, he asked if I was Bucky's boy," Robinson wrote. "When I answered in the affirmative, he requested I remain in the court and meet with him after Motion Docket. Fearing what my dad had done to him, I was pleased to learn they had worked together at the Post Office following WWII. After telling me stories about my dad and grandpa, Judge Lape advised if I ever had any problems in the practice of law, I was to come and see him first."
"Today, many lawyers in NKY are telling similar stories of a role model who wore his passion for his job on his sleeve. Ray's integrity was never questioned."
"Everybody loved him," Judge Kathy Lape said. "I hope he's remembered for the fair, kind, fun-loving individual he was. And he was fun-loving! He was a character."
The Judge was married to Mary Lou for 45 years before she preceded him in death. The couple have four children, seven grandchildren, and two great-grandchildren.
Visitation is Thursday, July 9 at Dobbling, Muehlenkamp-Erschell Funeral Home in Ft. Thomas. "He is a Campbell County boy raised in Newport, and we have to take those Campbell County boys back to Campbell County," Kathy Lape said. There will be a funeral mass at St. Agnes Church in Ft. Wright on Friday, July 10, followed by burial at St. Mary's Cemetery.
Though losing her father has been tough, seeing people's loving reactions online has brought the new Judge Lape some peace. "It's been really difficult but when I read some of this stuff on Facebook, it makes me feel really good," she said.
Written by Michael Monks, editor & publisher
Biographical details from the Northern Kentucky Bar Association via Northern Kentucky University
Photos from RCB archives, Facebook, and Kenton County Public Library