Premium Content
The Complicated History of Why There is No School in Bromley
Mon, 07/13/2015 - 16:40
RCN Newsdesk
There are no schools in Bromley, but that was not always the case.
According to Kenton County Public Library Executive Director Dave Schroeder, there are indications that there was a school in Bromley as early as the 1850's that was operated out of a resident's store. 
Then in the early 1890's a brick one-story, two-room schoolhouse was built on Shelby Street that allowed Bromley to create its own independent school district.
Bromley has always been a small city, with roughly 700 residents living there now, but the population was a little closer to 1,200 in the early 1900's and in 1915, the school had 200 students from first to eighth grades.
"The problem that changed the situation was that it never really had a high school for very long," Schroeder said. "I do know in the early 1900's they were offering some high school. I don't know if it was a two-year course or a four-year course. Two-year courses during that time were somewhat popular. I know for five or six years, they were offering some kind of high school program, but by 1919, they had discontinued that. That's what really caused a lot of the problems."
By 1920, more parents were sending their kids to high school. A year prior to that a small group of parents filed suit asking that the city either start a high school, or pay tuition for the students to go to Ludlow High School. The suit did not win in the court system in 1920 and was actually thrown out that year. Eventually some time in the 1920's, Bromley decided to go ahead and pay tuition for their students to go to Ludlow High School.
"Which seemed to work. It appeased the state which was the accrediting agency. The parents were fine with it because Ludlow and Bromley are so close, the students could just walk to Ludlow," said Schroeder. "If you look at the time period between 1910 and 1930, Bromley was having trouble maintaining the school. The tax base wasn't very large and money was always a problem. In 1916, they actually closed a month early because they ran out of money. It was an interesting time period."
In 1922, the school had a 117 pupils in four rooms and two stories. In the 1920's they seemed to find a way to make it work with the city paying tuition for the kids to go to Ludlow High School. The state then starting typing up requirements about what a school district needed and so in 1936, the state was pushing that every independent school district needed a 1-12 grade program. That left Bromley in a situation where it had to start a high school, or find another solution.
The two solutions that came about were to either merge the cities of Ludlow and Bromley and then merge the school districts along with it, or join the Kenton County school district. The residents of Bromley at the time favored a merge with Ludlow and to go into the Ludlow school district which was closer. 
"Otherwise, they would have to send their high-school kids to Crescent Springs High School which was before Dixie Heights High School even existed, and the roads to Crescent Springs weren't the best," Schroeder said. "Parents in Bromley organized and went to the Ludlow City Council and asked to annex Bromley in hopes that would also take care of the school situation."
The problem was in 1936, the United States was in the middle of the Great Depression. Ludlow schools were struggling with funding at that time as well and raising taxes during the depression was not something anyone wanted to do. The income they were getting from Bromley for tuition payments was fairly small.
In 1936, there were 30 Bromley students that attended Ludlow High School which accounted for $1,500 a year in tuition, so the financial benefit was not great. Ludlow City Council debated the issue about merging with them and finally decided not to do it.
"What happened then was Bromley either had to start a high school—which financially they could not do—or go in with the County system. Bromley then in 1936, lost their independent school district."
They were able to keep an elementary school in Bromley, though, and the students were then officially assigned to what would become Dixie Heights High School upon leaving grade school. Many students for decades and continuing into today, still pay tuition to go to Ludlow High School. There is still a significant number of students that live in Bromley and go to Dixie, too.
"So when it comes to high school, Bromley kids kind of go in both directions."
By the 1940's after World War II, Bromley's population increased some and there was a need to do something with the school. The Kenton County School District built a new elementary school which is on Boone Street and cost $250,000. It housed grades 1-6. That new school was built in 1950 and closed in 1992. Grade school students then began attending River Ridge Elementary in Villa Hills.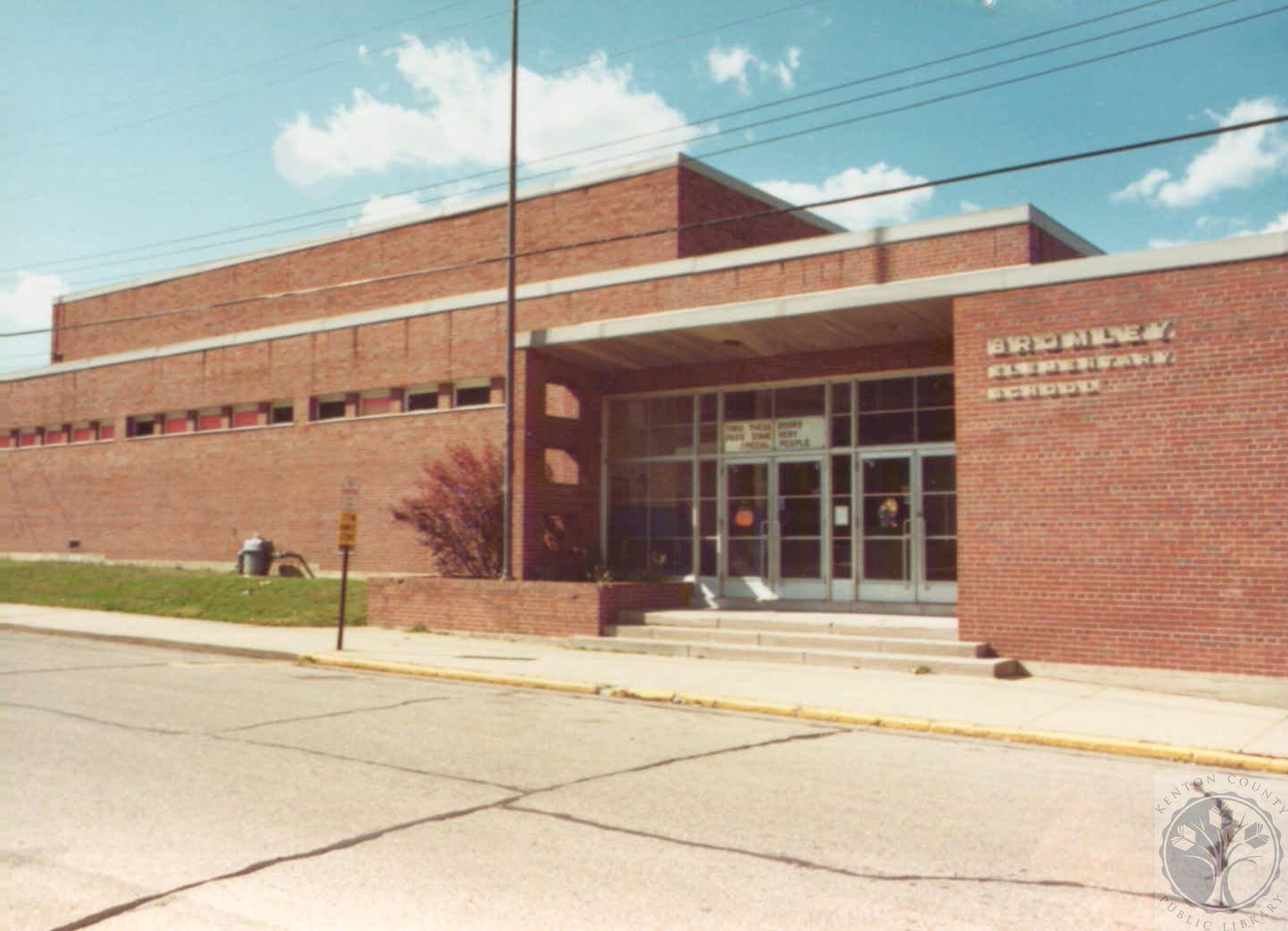 "A lot of the kids in Villa Hills were part of the Kenton County School District and were assigned to go to the Bromley School. The problem with building a new building in Bromley was that there was no way to build a new school there, because the city was too small—only about four blocks by four blocks. When they decided to build River Ridge, they needed a much larger piece of property," said Schroeder. "A big debate in the early 1990's unfolded about where the building should be built. The Villa Hills parents wanted a school there, but the Bromley parents argued that a school had been in their city for 100 years and wanted to maintain that status. The County had already made the decision that there would be one school and not two. There was a public hearing in town that got a bit nasty, and there were some parents from Villa Hills that made some comments about the different socio-economic background between the students and a few didn't want their children going to Bromley any longer."
The cities needed a much larger facility than what was available in Bromley and there was ample property available in Villa Hills. So in 1992, River Ridge Elementary opened. That year, Bromley School closed.
The school remained vacant for a brief amount of time, but a developer made the school into an apartment complex which it remains today.
Written by Bryan Burke, associate editor
Top photo via NKY Views (used with permission)
Center photo via Kenton County Public Library