Premium Content
Boot Camp Improves School Meals in Dayton
Thu, 07/30/2015 - 12:23
RCN Newsdesk
When the students go back to school in Dayton for the 2015-­2016 school year, they will be surprised to know that their lunch ladies have already been in school to learn
more about how to feed their students more nutritious lunches. This week an elite team of professional chefs came to Dayton High School to instruct the food service team plus those from Franklin County in Indiana, and Corryville Catholic, St. Boniface, and Holy Family in Cincinnati. All together, these schools represent 4,500 students.

"We applied for a grant from Interact for Health, an independent non­profit organization that promotes healthy living," said Mary Long, Cafeteria Manager for Dayton. "Our
superintendent, Jay Brewer, wanted to look into more nutritional meals for the district. He visited Erlanger-­Elsmere schools, who went through this program last year, and he looked into getting the week-long Culinary Boot Camp offered by Cook for America to come here. This is the week."

This is the second year that the Cook for America program has been funded locally. Erlanger­-Elsmere here in Northern Kentucky, Milford and Norwood Schools in Ohio have participated in the program for a year in 2014. The Culinary Boot Camp is the second part of a three step program which starts with an initial assessment of food service departments in each district. The last step includes a Cook for America consultation with each district to make use of the new strategies in order to serve students healthier choices. Upon the completion of the program, the districts usually have incorporated some scratch cooked items in their menu, such as homemade breads, entrees, and salad dressings. Also on the list of making healthier choices is eliminating many high sugar drinks and vending machines.

Dayton schools are a good fit for this program because they have good equipment, some of it new, in their kitchens that is versatile enough to be able to work with the recipes.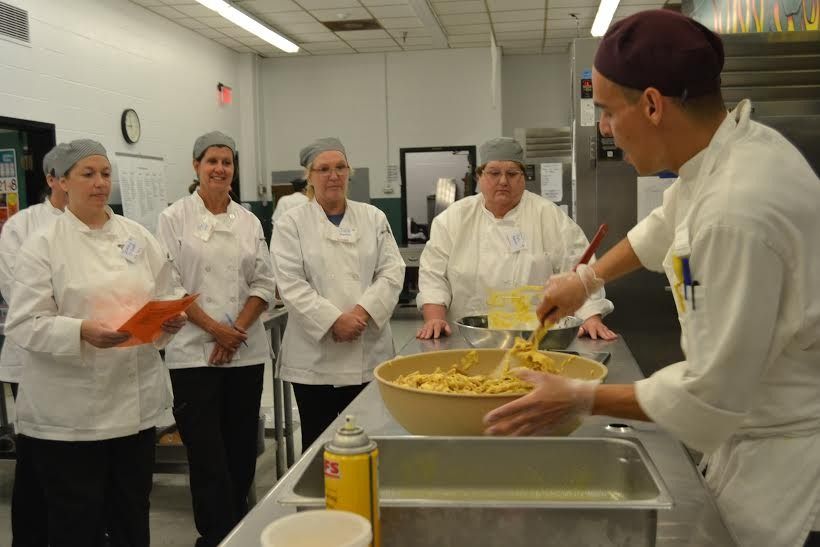 Chef Fernando Cardona Ocampo shows how to make a more flavorful and nutritious mac and cheese.
"Here at Dayton we serve breakfast, a second chance breakfast, lunch, and a supper after school," explained Long. "We have state standards which we have to follow as far as nutrition, so our breakfast here might have pancakes from a box, turkey bacon and sausage, eggs and omelets, eggs on biscuits or bagel, and anyone can have cereal. What we have during the boot camp are homemade raspberry scones, whole wheat biscuits, and casseroles made here from scratch, to name a few things."

All of the personnel who are attending the boot camp will eat breakfast and lunch at the school, prepared by one school's team or another. Everyone has a turn at fixing new recipes for the others and everyone has a chance to taste the food.

"The three excuses that I hear for not serving scratch food is that the kids won't like it, they can't afford it, and they don't have time to fix it," said Chef Kate Adamick, co­founder of Cook for America. "We take those excuses away. We believe that the lunch room ladies are teachers also, and they can expose children to interesting colors and flavors and textures so that they will expand their palates. It has been said that children have to be exposed to a new food ten to twenty times before they will accept it. It is a learning process."

But the school cafeteria teams don't just learn putting together recipes. They are also instructed in food handling and how to maintain safe standards. They learn knife skills, how to prep vegetables, grains, legumes and meats, and how to create stocks and sauces as well as salad dressings. Also on the agenda is culinary math, or how to stretch a good recipe to feed an entire school district, food systems, time management and social marketing.

Most families with school age children support this new trend toward healthier meals. A recent Kentucky Health Issues poll conducted by Interact for Health and the Foundation for a Healthy Kentucky showed more than 60 percent of Northern Kentucky residents thought schools should offer more scratch options. Cook for America has helped school districts in 25 states and the District of Columbia. Chef Adamick said that she believes they are arming these school districts with the skill, knowledge and confidence that they need to serve healthier options within their budgets.

"It is definitely a process," she explained. "If you look at incorporating some new cooking techniques in breakfast, and then some into lunches, it might take two to three years, but that way nobody is overwhelmed. And it helps when the top brass is behind it. Jay is 200 percent enthusiastic and behind this, and the board is behind this too. The crews are positive also."

Superintendent Jay Brewer has been present every day, happy that the Culinary Boot Camp is providing alternatives for healthy eating for the students.

"I love it that we have changed the job definition of the food service staff," he stated.

"They are teachers now. The students spend their whole day learning, and they will not stop when they go into the cafeteria. The staff will teach the children how food nourishes their bodies, and by putting more nutritional food into the schools we will be doing our part to fight obesity and diabetes. I think it will have an impact on the physical and mental growth of our students."
Written by Patricia A. Scheyer, associate editor
Top photo: Chef Sally Ayotte gives a hands on demonstration of how to handle and cook pork to make into an Asian pork roll.