Premium Content
As School Changes, Coach Hopes to Bring Winning Ways to Summit View
Tue, 08/18/2015 - 12:26
RCN Newsdesk
Change has arrived at Summit View Academy, the combined elementary and middle school in Independence. Academically, the school will emphasize science, technology, engineering, art, and math (STEAM) beginning this year.
Also new this year is Head Football Coach Bill McLeid, who hopes to end years of losing seasons. McLeid was a staff member at the middle school last year and took over as head football coach this season.
Changing what he called a losing culture required a lot of direct communication with potential players.
"For us, I went out and got a good amount of kids to come out and play football this year back in the spring and that kind of made some people uneasy because they didn't know what was going to go on at the school," McLeid told The River City News. "The football team remains, the school will be the same other than how they teach things and it's all systems go. One of the things that I do find, is that a lot of the kids don't come out to participate, so I made it a mission of mine to go into the school hallways and ask these kids to come out and play. I look them in the eye and say I want them to come play football for me, and that seemed to make a difference. I have 56 kids on the roster this year as opposed to 30 or less over the last three or four years, and they're having a great time."
The school intends on changing the mascot and team colors for the school over the course of the year, another step towards changing the losing identity.
"In terms of the team itself, it's been kind of a tough road for athletics at Summit View as a whole, really not a whole lot of success. A lot of losses, but some bright spots in there over the last four, five or six years from an athletic perspective. Football, not so much. It's been kind of a losing culture, so we have some things that we kind of need to focus on to try to change that. Why it happens to be that way, I really don't know based on the demographics of our school system," McLeid said. "One of the things that we are trying to focus on this year, not only being a fundamentally sound football team, but trying to focus on more on life, scholastic, what it takes to be a man of integrity, what it takes to be a productive citizen in life, we're just trying to focus on a lot of things and wrap them all into one. If you know anything about football, it's probably one of the best sports to do that, because those life lessons are out there in the field every day. My coaching staff and I are trying to wrap all of that into one significant thing. I think it's starting to resonate with these guys."
One of those examples is demonstrated by the POW-MIA decal the team has added to its helmets this season to honor the Prisoners of War Missing in Action. The team also plans to visit the soup kitchens in Covington and Newport as one of its practice times to give community service to those in need.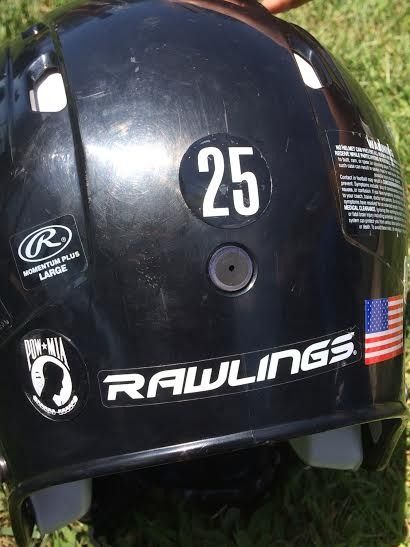 Another element to the culture that McLeid intends to improve is building a relationship with the Simon Kenton football program since the high school receives many of its students from Summit View.
"I have a good relationship with Simon Kenton head coach Jeff Marksberry and with his help, we've tried to build that bridge. It's been wonderful. Jeff is a great guy, he's been a great help to me and my kids, he has allowed me to bring my team up there to the varsity field and practice with his varsity team and coached by his coaching staff and that really got my kids excited. I want these kids to see what the next level is and what's in store for them when they move on to the next level."
McLeid wants to see success on the field, but he's more concerned about molding quality young people into good citizens once they grow up.
"We want to win, but we want to do it the right way."
Written by Bryan Burke, associate editor
Photos provided