Premium Content
Wild Car Chase Begins in Cincinnati, Ends in Crash at Covington's IRS Center
Wed, 08/26/2015 - 15:55
RCN Newsdesk
It started near Union Terminal when Cincinnati Police spotted a familiar vehicle.
The white Dodge Charger had been reported stolen on August 22 and three separate times over the ensuing days had led police on high speed pursuits that were ultimately abandoned out of concern for safety.
On Wednesday afternoon, when police spotted their new and frequent foe again, a fourth chase began. The Charger attempted to elude police by entering I-75 near the Cincinnati Museum Center where the driver avoided the stop sticks placed by other officers ahead of the chase. Officers continued their pursuit as the Charger raced southbound on the interstate and crossed the Brent Spence Bridge, exiting in Covington.
As the chase snaked through neighborhood streets, Covington Police joined in. At speeds of 50 to 60 miles per hour, the chase ripped through Mainstrasse Village and then headed towards the city's fast food district.
After speeding and leading police east on Third Street, the turn on to southbound Johnson Street proved to be too much for the Charger's driver and the vehicle went up on the sidewalk, crashed through the tall metal fence that surrounds the massive offices of the Internal Revenue Service, and came to rest against a parked vehicle, the fence wedged between. Stop sticks near the IRS may have also played a role in the vehicle's ultimate demise.
Seemingly uninjured, a young black woman dressed in hospital scrubs emerged from the Charger. She told police that she was 20 years old and was placed in a Cincinnati Police cruiser. Eventually she was moved to a Kenton County Sheriff's deputy's vehicle and transported to the Kenton County Detention Center. 
On the scene, investigators were unsure of her exact identity but hoped to confirm details when the woman is booked at the jail. She was later identified at jail as Nickeisha Nicole Holloman, 20. She is charged with first degree wanton endangerment, first degree fleeing/evading, first degree criminal mischief, operating a motor vehicle on a suspended or revoked license, and being a fugitive from another state. Holloman will be arraigned on Thursday morning.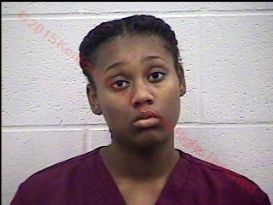 As for the scrubs, it was also unclear whether she was employed at a hospital or a student at a local school, Cincinnati Police Lt. Bruce Hoffbauer told The River City News. He also said that the woman would face four charges in Kentucky and a few additional charges in Ohio, all related to the multiple high speed chases over the past four days. 
Hoffbauer said no one was hurt.
Story & photos by Michael Monks, editor & publisher