Premium Content
NKU Undergrads Present Research in Annual Celebration
Fri, 08/28/2015 - 17:26
RCN Newsdesk
Undergraduate students from Northern Kentucky University and some local area high schools gathered at the James C. and Rachel M. Votruba Student Union ballroom for the annual Heather Bullen Interdisciplinary Summer Research Celebration.
The students in attendance presented research they had conducted on a wide range of topics.
Megan Koo is a junior biology major and her research centered around the harm that honeysuckle does to the trees of urban forests.  Her work was done in an urban forest in East Price Hill in Cincinnati for two different plots: one with honeysuckle, and one without the invasive plant species.
"We measured a bunch of different things to draw some different conclusions how honeysuckle can effect different plants," Koo said.
She measured biomass and carbon storage capacity to find out what trees would do best without being invaded by honeysuckle.  Trees with a higher carbon-storage capacity like Maple, Oak and Pine Trees are better for the environment and better for the urban area because they keep in more carbon which prevents further damage to the ozone layer.
"Something that we can think about in the future as we continue this research is that the tree community changes in shifts.  So as a forest becomes older, the different trees can shift and better trees can come in without honeysuckle."
Diana Coronado and Dimple Dhawan were also at the event to showcase their research into best practices concerning online privacy when browsing the web.  There are a number of free online tools that deal with tracking, advertising, and any kind of user privacy.   The group used many of these free tools and looked at the post-data to form their conclusion and created a tier system that tested each of them. These practices ranged from surfing the net unprotected without any tools on Google Chrome, adding an anti-tracking tool, adding a BPM and checking each one.  Their conclusion was that by adding the tool Blur, they found that no data was collected.
Dhawan is a high-school senior from Walnut Hills who intends to apply to NKU as part of her college evaluation.
Amber Smith is also a senior biology major who conducted research that deals with cancer genetic research that measures chromosome stability in certain gene mutations.
"What we're ultimately trying to get to is finding genes that could be flags for cancer or something that we can develop a treatment or anything like that," Smith said. 
She said that while there are parts to her research that can be tedious and painstaking, the discoveries in the end make it all worth it.  She said that she loves genetics and that she plans a career in the field when she's done with college.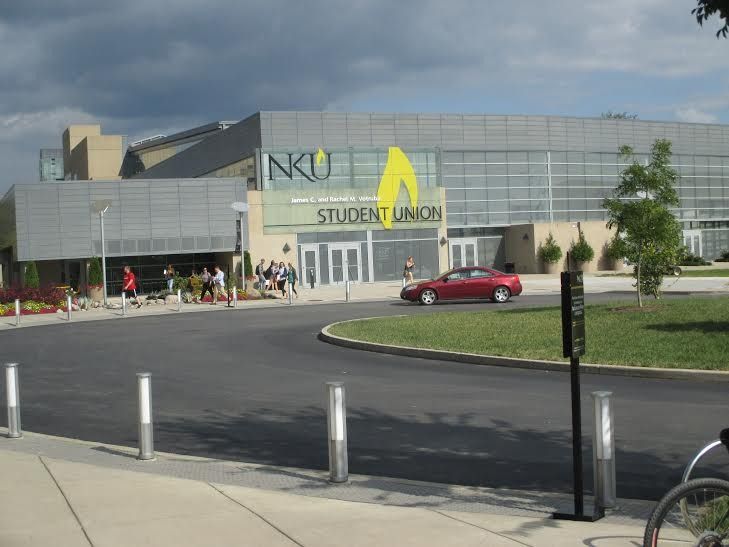 "Making the new strains actually takes a lot of time in the lab, but when you actually get to running the mutation rates, that stuff is pretty cool.  I feel like with any research, there are ups and downs, so when it doesn't work it's kind of disappointing, but when it does work, it just makes it all that much better," she said. 
Elizabeth McDonough's research dealt with graphene which is a single layer of carbon atoms all mashed together.  When layered on top of one another and rotated creates what is called a Moire pattern. 
"It not only looks pretty, but it tells us a lot about the molecule itself," McDonough said.
She said that graphene has been used to make nanotubes, but she said that the same science could be used in future development in Kevlar materials since pound-for-pound it can be up to 300 times stronger than steel.  It could also have medical applications that comfortably hold broken bones in place.
"It's extremely light, and very flexible and can conduct electricity. It's a fantastic substance that we could use for a wide variety of items," she said.
McDonough is a junior at NKU and has hopes to someday become an astronaut. 
The research event is named after Dr. Heather Bullen, a tenured analytical chemist at NKU who was a strong proponent of undergraduate research.  She passed away in 2012, and a scholarship in her name benefits first-generation students in the STEM disciplines.
The winner of the 2015 Heather Bullen Memorial Award is Lucas Edelen, a Chemistry major whose research focuses on the synthesis of microcyclamides MZ602 and MZ568.
Story & photos by Bryan Burke, associate editor