RCN Celebrates New Location in Covington's Mutual Building
Fri, 08/28/2015 - 08:32
RCN Newsdesk
Yes, we know... how tacky to write a story about ourselves!
So, forgive us?
The River City News hosted an open house and ribbon cutting at its new office at 621 Madison Avenue inside the newly renovated historic Mutual Building.
Northern Kentucky Chamber of Commerce President Trey Grayson, Covington Mayor Sherry Carran, and President & Publisher Michael Monks welcomed guests with remarks. 
Local elected, business, and civic leaders attended, representing all three Northern Kentucky counties and many cities.
Our friends at Nick & Tony's Double Deckers provided the catering (we are addicted to their chicken gyros!) and no downtown Covington celebration is complete without buckets of beer from Braxton Brewing Company.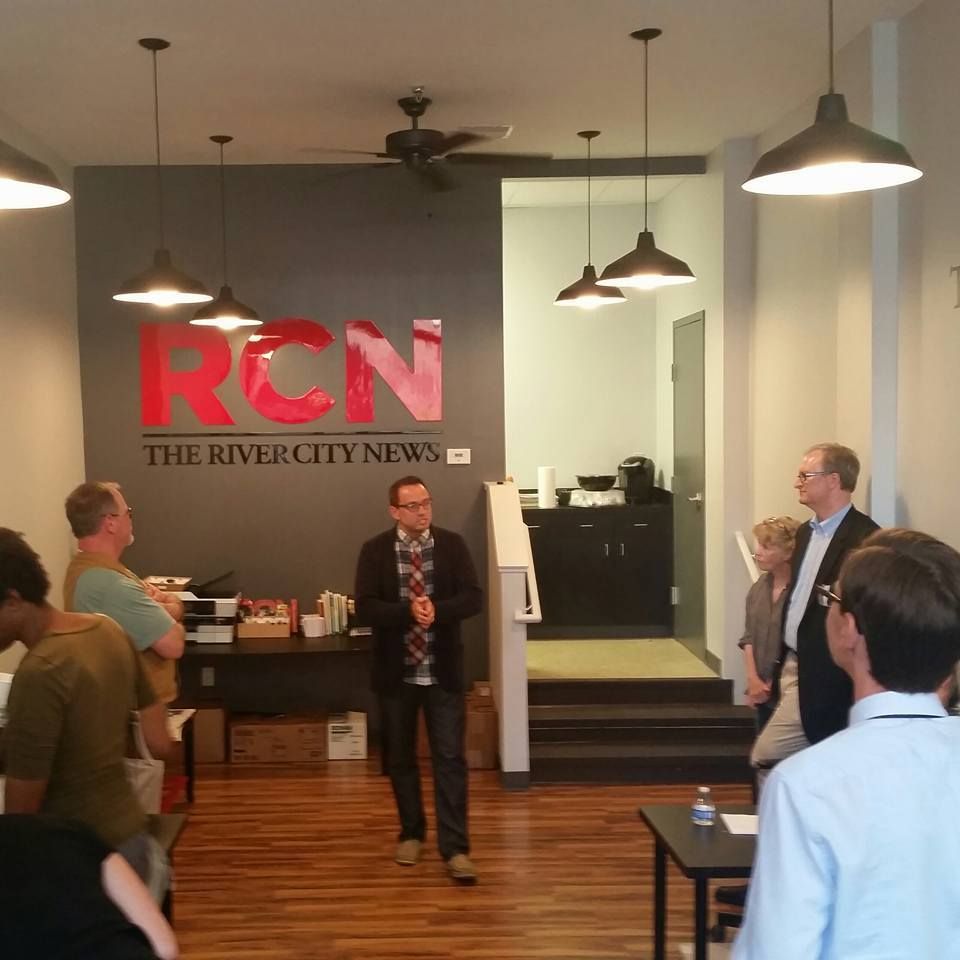 President & Publisher Michael Monks welcomes guests (Photo by Brent Cooper)
We are proud to bring back a full-time stand-alone newsroom to Northern Kentucky and are thankful to you, the readers, for helping us grow and becoming a dominant source of news in our region. We are also eternally grateful to Richard Hunt, owner of Roebling Point Books & Coffee, who allowed us to rent space at a bargain rate for two years while this publication began to sprout its wings. We named our new office The Richard Hunt Newsroom in his honor.
We may be a little slow to jump back on the horse on this beautiful Friday as it was a late night! But we've got a lot of great stories coming your way, so keep clicking away. And remember, the best way to stay informed about all the news in Northern Kentucky is to subscribe to The River City News. It's less than a quarter a day!
See you here and there and everywhere, friends!
-The River City News team
Top photo: (Left to right) Chamber Ambassador Kevin Richardson, Covington Mayor Sherry Carran, Mainstrasse Businessman Charles Killian, Chamber President Trey Grayson, associate editor Bryan Burke, President & Publisher Michael Monks, Covington businessman Richard Hunt, associate editor Chuck Beatty, and Republic Bank's Tom Tilmes. (Photo by Pam Jones)