Premium Content
Simon Kenton Teacher Wins "Art at the X"
Tue, 09/01/2015 - 14:50
RCN Newsdesk
Xavier University's annual Art at the X stars regional high school art teachers this year, with Simon Kenton High School's Matthew Archer's "Turbine Table" taking first prize winner. The exhibit continues through Sept. 26.

Juror Matt Distel, The Carnegie's gallery director, noted, "Matthew's piece demonstrated great sensitivity to both design and craftsmanship," both aspects of art-making Archer is deeply committed to. 

"I pride myself on creating furniture with simplicity in design coupled with excellence in craftsmanship," Archer said.

Distel assessed "Turbine Table" "seemed equally valid as both sculpture and functional furniture."

Archer, who lives in Hebron, created and designed Turbine Table, made of maple, steel and glass, specifically for Art at the X. "As a woodworker and sculptural artist, I have always loved the fusion of wood, steel, and glass as a design theme." 

"Turbine Table" is the first time Archer has created a work using all three materials and he's pleased with the result. "I feel that the compilation of sweeping curves in this piece keep the viewers eye occupied in all areas.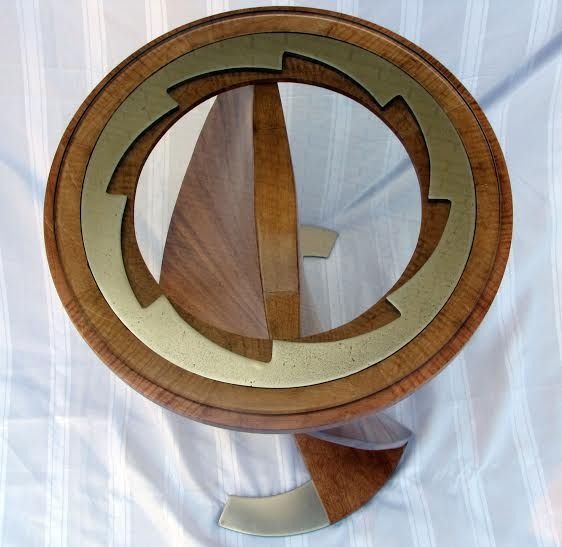 The table took approximately 100 hours of work -- steps included planning and designing, locating and preparing reclaimed lumber, constructing the form, sanding and smoothing, and spraying and polishing.

While entries could include up to three pieces, Archer only entered Turbine Table. 

"As an artist, I am my own harshest critic," Archer admitted, "and I felt that a piece created specifically for this show would be the best way to represent myself and my school in a public gallery space. I hoped to make a visually impactful piece that stands strong on its own."

Like so many artists, Distel believes he wouldn't be involved in the arts "if not for (his teachers') efforts to open up the world of art and ideas for all of us." 

Art at the X, Distel added, "is a great opportunity to see the artistic production of these teachers beyond the classroom."  

Archer says teaching visual art is "an incredible experience --I am given the opportunity to impact the live as of young people on a daily basis, fostering creativity within my students.

"With an increasing amount of importance placed upon testing in a public school setting, I find it essential that students find a creative outlet during their school day.  Students are able to decompress and create artwork that gives them a voice in the community."

Archer asks his students to create artworks that "are relative to the world around them. Taking current events and situations into account keeps students involved in the culture that surrounds them, gives them a voice. 

"The ability for students to comprehend cultural issues and make statements upon those items is paramount in establishing personal identity at a young age."

Archer is looking forward to "friendly competition" within the art department his academic year as Simon Kenton enters student work into local competitions including Scholastic Arts and Writing competition and the Northern Kentucky Regional Art Show.

Art at the X, through Sept. 26. Xavier University Gallery, A.B. Cohen Center, 1638 Herald Ave, Cincinnati. Gallery hours 10 a.m.-4 p.m. weekdays. The gallery will participate in SMITHSONIAN MUSEUM DAY LIVE! from 12-4 p.m. Sept. 26.
Written by Jackie Demaline, RCN Arts