Premium Content
NKY Football: Another Great Week of High School Action
Sat, 09/12/2015 - 09:37
RCN Newsdesk
Another exciting week of Northern Kentucky high school action saw some teams continue to roll, others get their first loss, and some slumps continue -- including Highlands, which is now 1-3 on the season.
The round-up from a rainy Friday night:
Conner 28, Scott 27
Conner scored 22 unanswered points in the second half, coming back to beat Scott, 28-27, Friday night in Taylor Mill. The Cougars' defense stuffed Scott senior running back Deondre Pleasant with 1:46 remaining in the game on the Eagles' two-point conversion attempt to seal the victory.

Despite advancing the opening kickoff deep into Conner territory to begin the game, Scott could not convert it into points. But, Conner would punt the ball back into the Eagles' hands and the home team took advantage. From its own 43-yard line, Scott sophomore Nelson Perrin took the ball down to the Cougars' two. On its ensuing play, senior running back Roberto London took it in from two yards out to give Scott a 7-0 lead with 4:36 remaining in the opening quarter.

Neither team could gather any momentum until Conner senior quarterback Kyler Padgett kept the ball and found the end zone for a Cougars touchdown. The extra point was blocked and the Eagles led 7-6. 

On the drive, Conner was aided by a defensive pass interference penalty on the Eagles' defense that gave them the ball in Scott territory despite Padgett's pass being uncatchable for his receiver, giving his team a break.

The Eagles created a break of their own on Conner's ensuing possession, blocking a punt deep in their territory at the 24. A few plays later, Pleasant found the end zone to put the Eagles on top, 14-6, which remained unchanged leading into halftime.

Nearly four minutes into the third, Padgett kept the ball again for his second touchdown of the game and the Cougars tied it up at 14, with a successful two-point conversion. But, Scott immediately countered on its next drive. On second-and-eight from its own 34, Perrin zigzagged 66 yards for an Eagles touchdown, putting his team up 21-14.

Scott's lead wouldn't last for long. Conner senior Isaiah Ebarb, who came up big with several big returns, took the kickoff 30 yards into Eagles territory. Several plays later, Padgett scored from nine yards out, outracing Scott defenders to the pylon to tie the game at 21.

Though Conner could not convert its initial drive of the fourth quarter into points, it forced a Scott punt deep in its own territory. Fielding the ball near the 50, Ebarb raced down the left sideline for the go-ahead touchdown and a 28-21 lead with 7:06 left in the game. During the Eagles ensuing drive, Ebarb nearly picked off a floating Danny Fitzgerald pass in the flat that would've sealed the game and Scott made sure to capitalize on its extra chance. Pleasant scored from a yard out to bring his team within one. Like he's done in the past, Head Coach Dan Woolley decided to go for two and the win. Pleasant's name was called again, but he was stuffed short of the goal line for a several yard loss.

With a one-point lead, Conner ran out the clock with several ground-gaining runs on its final possession of the game.

"We were down and never looked back. We kept climbing, we kept climbing, we kept fighting," Conner Head Coach Dave Trosper told his rain-soaked team after the game. "That goal line stand, that last play, that's what it's all about. That's the difference between last year and this year," he said to screaming cheers.
Conner is now 2-1 and travels to Dixie next week. Scott drops to 3-1 and visits Holy Cross next week.
-Jason Finnell
Taft (Cincinnati) shocks Holy Cross in game's final moments
Holy Cross looked to extend its winning streak to 3 on Friday night but visiting Taft surprised the Indians in the games final moments in Covington on Friday.
Despite coming off two terrible losses in which they were outscored 84-14, Taft came in confident. Holy Cross looked to pull away early, putting up a field goal in the first quarter, but Taft answered. A 71-yard drive by the Senators and 2-point conversion was part of an unanswered run that put Taft up 14-3.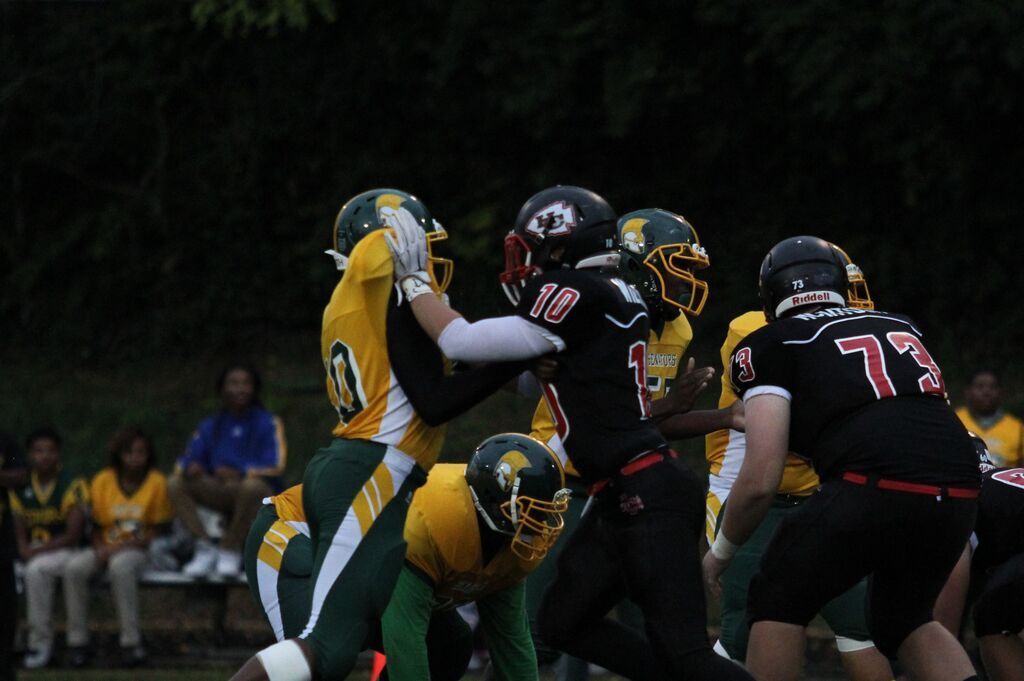 Holy Cross turned the ball over four times on the night, including once in the endzone during a scoring drive. However, the Indians rallied in the second half, putting up 13 unanswered points to take a 23-22 lead late in the fourth quarter.
Again, the Senators answered. A touchdown with 43 seconds left was enough for Taft to head back to Cincinnati with a 28-23 victory, the team's first of the season.
The Indians fall to 2-1 and host Scott next week.
-Brian Frey
Simon Kenton routs Dixie, 45-7
After a promising start to the season, Simon Kenton appeared to be the favorite heading into Friday's matchup against Dixie. Unlike Simon Kenton, Dixie has struggled so far in the beginning of the 2015 season with losses to both Milford and Scott. Unfortunately for the Colonels, the trend for both teams would continue on Friday night with the Pioneers winning in convincing fashion 45-7.
It didn't take long for Simon Kenton to get on the board. The first drive of the game ended with a 35 yard touchdown run by Junior Quarterback Cam Racke. The touchdown run was capped off with Junior Logan Kreidenweis punching it in for a successful two point conversion putting the pioneers up 8-0. Dixie would then show signs of life when Junior defensive back Zach Borchers recovered a fumble in Simon Kenton territory. Dixie went on to cut the score to 8-7 with a 2 yard touchdown run by Junior Running back Jose Torres with 4:36 left in the first quarter.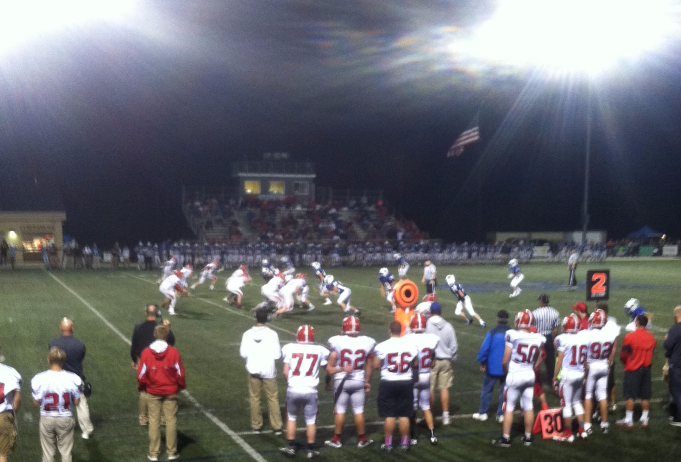 It was all Simon Kenton from there on out. With three minutes to go in the first quarter, Quarterback Cam Racke completed a 29 yard touchdown pass to Junior Wide Receiver Luke Vance. For the second time of the game Simon Kenton successfully completed a two point conversion pushing their lead to 16-7. The second quarter was much of the same for Simon Kenton.

The pioneers started off the scoring in the second quarter with Junior running back Dylan Hampton capping off an 88 yard drive by running it in for a 4 yard touchdown run. Simon Kenton then made another two point conversion giving them a 22-7 lead with six minutes to go in the half. After a punt from Dixie, Simon Kenton got the ball back and capped off the first half with a Cam Racke touchdown pass to Logan Kreidenweis. Simon Kenton led at halftime 31-7.

The dominance continued for Simon Kenton in the second half. With three minutes remaining in the third quarter, Simon Kenton blocked a punt that was recovered by senior linebacker Taylor Holtkamp at Dixie's 3 yard line. Senior Running Back Dillon Powell ran it in for a 3 yard touchdown giving Simon Kenton a 38-7 lead.  The final score of the game came on the first play of the fourth quarter when Junior Wide Receiver Tanner Green ran 8 yards on an end around for a touchdown. That pushed the Simon Kenton lead to 45-7. After that score the officials decided to switch to a running clock, and the Junior Varsity squads entered the game for both teams.

Dixie showed the ability to move the ball at times, but ultimately couldn't find a way to finish their drives. They hope to get things on track Friday when they face Conner at home. As for Simon Kenton, they have to be leaving this game feeling pretty good after another convincing win. That being said, Head Coach Jeff Marksberrty was hesitant to give his team too much praise.
In the post-game interview, Marksberry shared his thoughts. "I think we still have some room to improve and were not where I think we can be potentially. We have to keep working and continuing to find ways to get better, but it's hard to be upset about a 45-7 victory." Coach Marksberry found it difficult to be upset after a convincing win, but he understands that his team can't let up. The have to continue to find ways to improve. Simon Kenton hopes to continue their hot streak next Friday against a tough Cooper team at home.
-Patrick Henke
Other Scores:
Ryle, 48, Highlands 24 The Raiders doubled up a struggling Bluebirds squad on Friday. Ryle is now 4-0 and Highlands is 1-3 for the first time since the 1960s. The Raiders welcome Campbell Co. to Union next week and Highlands hosts fellow perennial powerhouse St. Xavier (Louisville) in Ft. Thomas.
New Miami (OH) 32, Dayton 20 The Greendevils looked to continues their momentum after last week's win over Pendleton Co. but a visiting New Miami team proved to be too much for Dayton. Next week, the 1-3 Greendevils host another Ohio team when St. Bernard-Elmwood Place visits Dayton.
Newport 8, Bellevue 0 The Wildcats picked up their first win of the season, blanking their River City rival Bellevue on Friday. Newport had been outscored 148-12 in its first three games but held the Tigers scoreless on this rainy night. The 1-3 Wildcats have next week off before heading to Owen Co. on September 25. Bellevue has lost two straight, evening its records at 2-2. The Tigers host Holmes next week.
Ludlow 43, Gallatin Co. 15 The Panthers rebounded nicely after the shellacking they took in Paris last week. Ludlow is now 3-1 on the season and heads to Trimble Co. next week.
Lloyd 27, Holmes 6 The Juggernauts improved to 3-1 on the season, taking care of Holmes in Erlanger on Friday. With the loss, Holmes drops to 1-3 on the season and goes to Bellevue next week. Lloyd has next week off before Garrard Co. comes to town on September 25.
Beechwood 35, Ironton (OH) 19 The Tigers remain undefeated, winning their first three games of the season with a big win over Ironton (OH). Next week, Beechwood hosts Covington Catholic.
Bishop Brossart 40, Trimble Co. 0 Brossart continues to be one of the big stories of the 2015 season, now 4-0 on the year. The Mustangs take a break next week but host Nicholas Co. in Alexandria on September 25.
Henry Co. 28, Walton-Verona 0 Both teams entered Friday night's game headed in different directions. Henry Co. stayed undefeated at 4-0 while Walton-Verona falls to 0-4. The Bearcats will look to put one in the win column next week when they visit Lexington Catholic.
Lafayette 56, Boone Co. 7 The Rebels' tough season continues with another blowout loss, this time time to a tough Lafayette (Lexington) team. Boone will try again, after four straight losses, to pick up a win in 2015 when South Oldham comes to Florence next week.
Lexington Catholic 15, Covington Catholic 14 The Colonels are a shocking 0-4 to start the season and will look to pull off an upset next week when they head to Ft. Mitchell to face an undefeated Beechwood squad.
Belfry 28, Newport Catholic 10 The Thoroughbreds fall to 1-3 on the year, unable to compete with an undefeated Belfry team. New Cath looks to pick up its second win of the year next week at Harrison Co.
Cooper 35, Campbell Co. 7 Cooper bounded back from an embarrassing trip to Lexington last week where the Jaguars were shut out 36-0 by Bryan Station. They answered on Friday by pouncing on the visiting Camels and improving to 3-1 on the year. Cooper will have its hands full next week when the team travels to Independence to face Simon Kenton. Campbell Co., now 0-4 this season, visits Ryle next.
-Staff report