Premium Content
NKU's New School of the Arts Prepares to Open First Artistic Collaboration
Wed, 09/16/2015 - 09:28
RCN Newsdesk
The first artistic collaboration at Northern Kentucky University's new School Of The Arts (SOTA) has it all – art, music, drama.

Theatre Sets of Liliana Duque Piñeiro, on view in Northern Kentucky University's Main Gallery from Sept. 24-Oct. 30, will have walls filled with sketches, renderings, models of past work, just as you'd expect. 

The collaboration makes it much more.
Singers, musicians, and actors will come to the gallery for special performance evenings on Oct. 1 & 2, for a short program (under 90 minutes) of opera and play readings, all with sets designed by the artist, in NKU's Main Gallery.

Piñeiro's work with NKU art and theater department students will give gallery visitors the opportunity to see art-in-progress and artists-at-work, beginning with the first day of the exhibit.

The inspiration for the performance is a deeply personal one for Piñeiro. She was researching an idea when she learned her mother was diagnosed with Alzheimer's.  

The sculptor/set designer's work at NKU "became about my childhood hero fading away." Piñeiro looked through scripts – "a lot" – searching for work "that a lot of people would be able to relate to." 

She found two plays in a collection from Memorycare, in which patients and their caregivers tell their stories. She also discovered Alzheimer's Stories by composer Robert Cohen, a work with an arc which loosely mimics the progression of the disease.

Piñeiro says, "It's sad but it's also uplifting."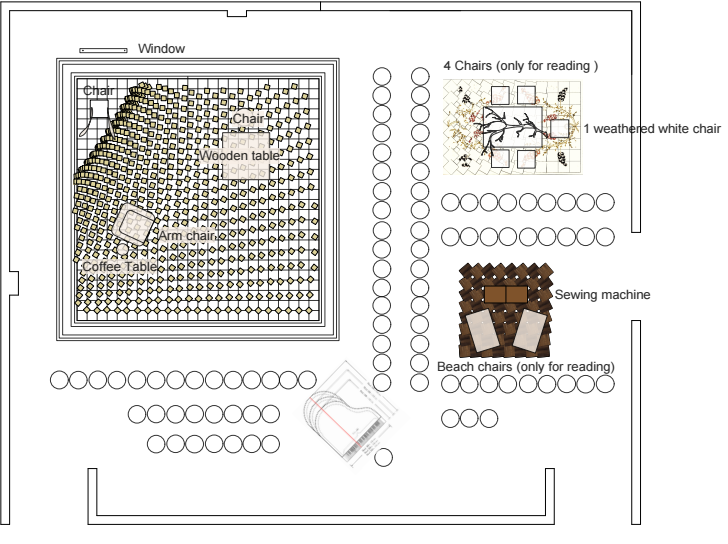 Opera faculty and students will perform the excerpt from the opera, featuring two soloists and a chorus; theater students will participate in the staged reading, with faculty members Brian Robertson stage directing and Eric Knechtges directing the music. 

The performances will be videotaped and will be on view for the remaining weeks of the exhibit. "It's so exciting – it's going to be my vision," she said, applauding the "great generosity" of the collaborating departments. "Collaboration is what makes theater amazing!"

As many as 20 "theater set design and lighting design, sculpture, and gallery intern students," says NKU gallery director David Knight, will work with the artist beginning Sept. 21 to complete the construction of the playing spaces in the gallery space. Piñeiro expects the short time frame to be "stressful but interesting." 

The opportunity to open the process to visitors is one of the most important aspects of the collaboration, says Knight. Piñeiro agrees. "I want people to understand where things are coming from." 

Some of her past work may be familiar to fans of University of Cincinnati College-Conservatory of Music, where Piñeiro designed several CCM shows when she was earning her MFA.

The new stage designs created for the live performances will be spare and symbolic. Piñeiro says they will suggest "how the past and present collide." 

Virginia Woolf's "Death of a Moth" was the point of creation for one set, in which a chair with wings stands next to a window. The tile floor has a broken grid. "There but not there," Piñeiro muses. "We recognize how it should be – and how it has disintegrated. There's still a structure – but we can't perceive it." 

What visitors won't see: The exhibition will take place during Hispanic Heritage Month (Piñeiro is Latino) and the Department of Visual Arts will offer a fall topics Art History course on Latino art. 

Area students, kindergarten through high school, are being invited to NKU to experience the exhibition and an evening workshop for Art Education professionals is scheduled.

Theatre Sets of Liliana Duque Piñeiro, Sept. 24-Oct. 30. Main Gallery, Fine Arts Center, Northern Kentucky University, Highland Heights. Gallery hours 9 a.m.-9 p.m. Monday-Friday. Artist reception and performance 7:30 p.m. Oct. 1 and Oct. 2. Free but reservations required, contact David Knight at 859-572-5148 or [email protected] VERY LIMITED SEATING. Watch for details of a free lecture by Piñeiro, which will be open to the public.
Written by Jackie Demaline, RCN Arts
Images provided