Premium Content
Another Week of NKY Football in the Books! Here's What Happened.
Sat, 09/19/2015 - 10:09
RCN Newsdesk
Another exciting week of Northern Kentucky high school football action is behind us and what a bunch of games we saw on Friday!
Covington Catholic finally picked up a win by giving Beechwood its first loss, and Highlands continued its skid while Scott rallied to rout Holy Cross, and Holmes blew by Bellevue. Simon Kenton continued to flex its muscles, too. 
Here is the round-up from Friday's games:
Scott 56, Holy Cross 39
Both the Eagles and the Indians entered Friday's match-up in Covington after losing for the first time last week. Both teams started slowly, punting on their first possessions and then Scott fumbled on its second try resulting in a Holy Cross field goal.
The Indians held a slim lead at the half, 22-16.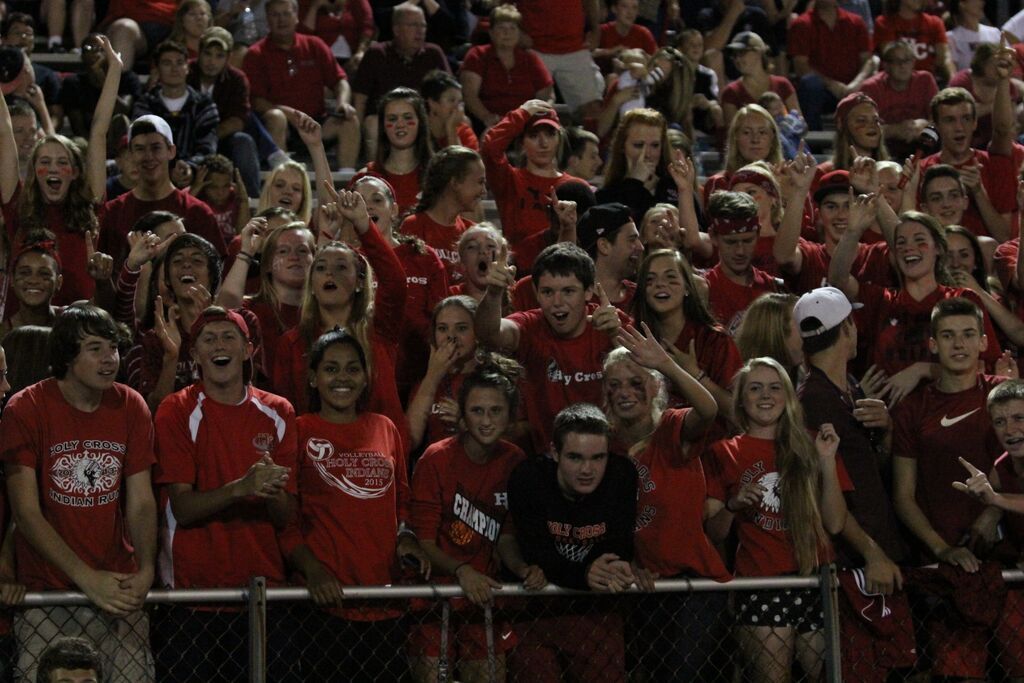 Then there was a flurry of scoring in the second half that saw the lead change hands multiple times. Roberto London put up three touchdowns for Scott, including the team's first of the game, but Holy Cross answered that one with a 70-yard passing touchdown by Jaylin Williams.
After three quarters, we were tied.
Then Scott lit up Holy Cross in the 4th. The Eagles outscored the Indians 24-7 in the game's final quarter and sealed the victory. London rushed for 177 yards with his three touchdowns.
Scott is now 4-1 on the season and will face a winless Mason Co. team next week while Holy Cross drops to 2-2 and hopes to end its losing streak when the Indians travel to Ft. Mitchell next week to face Beechwood.
-Brian Frey
Covington Catholic 41, Beechwood 21
Covington Catholic got off the schneid in a big way on Friday night when they traveled a little over a mile south on Dixie Highway and handled Beechwood easily, 41-21.
It was not only the first win for a 1-4 Colonels team, it was also a bit of payback from a season ago when Beechwood took care of business at Cov Cath and came out on top by being the tougher and more physical team.  This time, however, it was CCH that won in the trenches which translated to winning on the scoreboard.
"Our guys up front is a senior group for the most part. We like to ride that as much as possible and they played well tonight and executed. We're starting to gel," said first-year head coach Eddie Eviston.
His road has started off as quite the struggle, as his team dropped its first four, but Eviston likes the direction his team is heading as it enters midseason.  
"Everything is new, so going through this summer then going through several games we're starting to get there and we're starting to execute better. A lot of that is because we're new," he said.
Early on, it looked like it might be a back-and-forth game as both teams scored touchdowns on their respective opening drives.  For Beechwood, it was tailback Ethan Stringer, shifting his way to a 37-yard field goal.  For Cov Cath, it was wide out Ryan McGinness who took a 4-yard outside run to tie the score.
From there, though, the Colonels toughened up on the line on both on offense and defense and established supremacy up front. They were able to tip the scales their way with a lot of short passes outside the hash marks and end arounds that capitalized on their speedy and small wide outs.  On three consecutive possessions, the Colonels scored touchdowns and in between those scores, forced Beechwood into three straight punts.
As the half wound down, the Tigers put together one of their better drives, taking the ball to the 2-yard line on fourth-and-goal, but when what at first looked like a touchdown catch in the corner turned out to be incomplete when the ball squirted out once the player went to the ground, their hopes were dashed and there would no more scoring in the first half with the score, 28-7 Colonels.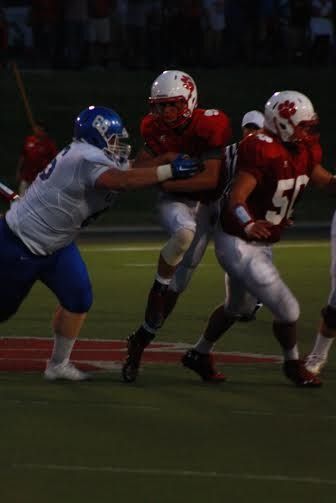 The second half didn't start much better for Beechwood as McGinness scored on a pass that went through a defensive players hands and landed into McGinness' hands.  Once he caught it, he sprinted into the endzone on a 41-yard touchdown pass from sophomore quarterback A.J. Mayer in a play that exemplified the night for both teams. While Mayer did throw for a touchdown, he was not asked to pass much for the Colonels and the whole team focused on the run.
The approach allowed the Colonels to control the game and the clock as they held the Tigers at bay through the third quarter. After McGinness scored again and put his team up 34-7, it looked like it might be the end for Beechwood's night, but then they found a spark that let them climb back into it some.
The first bright Beechwood spot came when Aiden Justice scored on a tough run after catching a 17-yard pass and then again in the fourth quarter when Justice caught a 36-yard catch for the touchdown.  After his second TD, Beechwood cut the lead to 20 points, but that lead became irrelevant after the Colonels went in again after a thorough drive capped off by a goal-line run from the one.
After the game, Eviston told his team that he thought it was the best week of practice the team has had and felt like it was a big reason why the team pulled off its first win.
"Part of me thinks that there is a mental approach to things.  It shouldn't matter who is on our schedule and that's something that we have to fix.  Our guys had a better approach to practice and we just executed more," the Colonels coach said.
When asked if breaking the seal to a win has lifted a burden from his players' shoulders, he agreed.
"A little bit," he said. "They've been trying to get that win. The whole new coaching staff is also trying to get that win to try and get this thing going."
The schedule has been a brutal one for the Colonels and it gets no easier moving forward. Next up, Cov Cath hosts St. Francis de Sales (OH). Beechwood (3-1) looks to get back to its winning ways next week when Holy Cross comes to town.
-Bryan Burke
Simon Kenton 26, Cooper 7
Simon Kenton played host to a tough Cooper team in Independence on Friday night. The crowd was electric in this much anticipated matchup between two of the top teams in Northern Kentucky. Cooper was hoping to get a big time road win against a strong Simon Kenton team, but Coach Jeff Marksberry and the Pioneers had different ideas as they pulled off an impressive win by a score of 26-7.
After somewhat of a defensive struggle to start the game, Simon Kenton got the points rolling with a 23-yard touchdown run by senior running back Dillon Powell at the 3:19 mark of the first quarter. The two-point conversion was no good making the score 6-0 in favor of the Pioneers. Simon Kenton would capitalize on the momentum in their very next series by driving the ball 80-yards down the field for another touchdown. This score was easily the play of the game with senior wide receiver Logan Scott rising up and catching a beautifully thrown pass from junior quarterback Cam Racke for a 23-yard touchdown play. Once again, the two-point conversion was no good giving Simon Kenton a 12-0 lead with 10:26 to go in the second quarter.

Simon Kenton's offense did some good things, but the real strength for the pioneers on Friday night was their defense. Although largely helped by a bad snap and an unsportsmanlike penalty by Cooper, the Pioneers defense pushed the Jaguars back to their own 4-yard line to attempt a punt. Another poor snap by Cooper forced their punter to step out of bounds in the endzone producing a safety. As a result of the safety, Simon Kenton extended their lead to 14-0 with 4:45 to go in the second quarter. The Pioneers kept things going on the drive following the safety thanks to junior running back Dylan Hampton punching it in from 3-yards out. Simon Kenton went up, 20-0 with that score. The Pioneers looked well on their way to another blow-out win, but Cooper wasn't ready to hand them the game just yet. With limited time left in the half, 

Cooper's senior quarterback Nathan Brown decided to go vertical and connected with junior wide receiver Dante Hendrix for a 53-yard completion. With the ball at the two-yard line, Cooper had 12 seconds to score and potentially sway the momentum going into the second half. 

But Simon Kenton's defense showed its toughness by stopping them on three consecutive plays to close out the first half with a 20-0 lead.

In the second, Cooper showed they weren't going to go down without a fight. After a solid drive from Simon Kenton to open the half, Coopers defense stepped up and stopped them on third down at the 6 yard line. That stop was followed up by a missed field goal from senior place kicker Aiden Mcnamara. Cooper responded to the missed field goal with quarterback Nathan Brown connecting with senior wide receiver Tyson Jackson for a 55-yard touchdown pass. With that score, Cooper cut the lead to, 20-7 with 5:32 to go in the third quarter.
Cam Racke was well aware that the game wasn't over yet. "We knew they were going to regroup and come out fighting in the second half," the quarterback said.

With Cooper gaining momentum, Simon Kenton showed their toughness once again by shifting the momentum back to their side. On the first play of the fourth quarter, Racke ran it in for a 4-yd touchdown to give the Pioneers a 26-7 lead, and essentially ice the game for Simon Kenton. With the combination of a good running game and solid defense, The Pioneers held on in the fourth quarter to win the game, 26-7.

Cooper (3-2) is a good football team that showed a lot of fight and refused to go away. They have a lot of talent, and should win a lot of football games moving forward. The Jaguars hope to get back on track next Friday against Lexington Catholic. As for Simon Kenton (5-0), they proved to be on another level, solidifying themselves as the top team in Northern Kentucky with this victory. 

Although quarterback Cam Racke feels good about his team after the win, he still feels they have things to clean up and improve on. "I think this win is a good confidence boost, but we still have some things to work on the offensive side of the ball. I made a couple of mistakes, and I need to clean that up before next week."
Speaking of next week, Simon Kenton takes on struggling Highlands at home on Friday night. Also worth noting, Simon Kenton running back Dillon Powell surpassed 1,000 yards rushing tonight after just four games. His total rushing yards for the season is now at 1,017 yards.
-Patrick Henke
Holmes 41, Bellevue 0
Holmes duo Andrew Arnold, (20 carries, 170 yards, four touchdowns) Salih Abdullah (two touchdowns) and the rest of the Bulldogs ran away from Bellevue Friday night at Gilligan Stadium, 41-0. 
Head Coach Ben Nevels said his senior running back has been fun to watch: "He's a kid who all along we've said has a chance to be very special and I think he's now starting to believe in himself and he just has the ability to take over games and that's what he did tonight," Nevels said. "We tell him, when you're running downhill, you're very hard to stop and we saw that on several carries where he's carrying four, five, six people and it's just fun to watch him play when he's getting after it."


The first quarter featured a sluggish start by each team, as Holmes and Bellevue had drives halted by penalties and turnovers. Bellevue quarterback Tucker Thomas was unable to get his team going on its initial drive, with the Bulldogs forcing a quick three-and-out. (Thomas took over the reigns for starter Nick Ackerson who was injured in the Tigers' previous game vs. Newport.) After Holmes fumbled its first possession away, it cashed in on its ensuing drive, culminating on a three-yard handoff to Arnold who found the endzone for the first of his four scores on the evening. The extra point was blocked and the Bulldogs led 6-0, at the end of the opening quarter.

Then, Holmes gained momentum it would never relinquish in the second. After several runs featuring Arnold and Abdullah, Arnold again put points on the board for his team and the Bulldogs increased their lead to 14-0. Although Holmes was assessed with an unsportsmanlike penalty for excessive celebration, the Tigers were unable to take advantage of their good field position because of Holmes' penalty. Once again, Holmes ran down the field on the Tigers, and this time, Abdullah put his team up by three touchdowns, 21-0, with a short run up the middle. 

But Holmes was not finished. Taking advantage of a Thomas' interception, Arnold again scored to put the Bulldogs up, 28-0. In the third, Bellevue still had trouble stopping the Bulldogs' duo and Abdullah scored his second and final touchdown of the evening to put his team up by five scores. With time running down in the third, Arnold put a final stamp on the scoring for Holmes, 41-0, instituting a running clock.

With the win, Holmes (2-3) begins district play next week vs. Harrison County, which it has been focused on, Nevels said. "What we just told the kids, what we've been saying all along is, now we're 0-0, it's time to start the district, get better and try to win a district title," he said. Bellevue (2-3) tries to bounce back at Bethlehem.
-Jason Finnell
Other Scores
St. Xavier (Louisville) 37, Highlands 6
The Bluebirds' troubling season continued Friday in Ft. Thomas when the visiting Tigers, one of the state's top teams, ran up the scoreboard. Highlands dropped its third straight game and fell to 1-4 on the season. Next week is not any easier as the Bluebirds travel to Independence to take on red hot Simon Kenton.
St. Bernard 27, Dayton 13
The Greendevils continue to struggle this season and fall to 1-4 with the loss. Next week, Dayton travels to Bracken Co., a team that has lost 4 straight.
Conner 13, Dixie 12
A low-scoring affair saw the Cougars eek out a win over the host Colonels. Dixie remains winless this season at 0-4 but winless Boone Co. visits next week giving the Colonels a chance to strike one in the win column. Conner improves to 3-1 on the season and travels to Newport Central Catholic next week.
South Oldham 42, Boone Co. 14
The Rebels drop to 0-5 on the season with this latest loss. A trip to visit winless Dixie next week is an opportunity for Boone to pick up a win.
Ryle 52, Campbell Co. 7
The Raiders have proven to be a force this season, now undefeated at 5-0. Ryle picked up its third straight rout by rolling over the visiting Camels in Union on Friday night. Next week, Ryle hosts George Rogers Clark. Campbell Co. dropped to 0-5 on the season and hopes to pick up its first win next week when Western-Brown (OH) visits Alexandria.
Newport Catholic 47, Harrison Co. 7
The Thoroughbreds scored their second win of the year to improve to 2-3 in a visit to Harrison Co. NCC plays host to Conner next week.
Walton-Verona 28, Lexington Christian 27
It took five weeks but the Bearcats got their first win of the year in a trip to Lexington. Walton-Verona hosts Carroll Co. next week.
Ludlow 61, Trimble Co. 12
The Panthers continue to put up big numbers in the scoring column and are now 4-1 on the year. Williamsburg pays a visit next week.
-Michael Monks contributed to this report. Scores via NKYsports.com. Photos from Cov Cath-Beechwood game by Aaron Thomas Arnold.