Community Input Sought For Mural Project in Covington
Thu, 09/24/2015 - 09:20
RCN Newsdesk
Covington-based branding agency BLDG recently received a Creative Community Grant from the Center for Great Neighborhoods (CGN) to complete a mural at the southeast corner of the Flannery Paint building on M.L. King Jr. Blvd. and James Simpson Way in the Westside neighborhood. 
In March, Mark Ramler of Newport-based Mansion Hill Properties which is developing the site, gave The River City News a tour of the building, pre-renovation. 
Today, BLDG is launching a two-week public engagement campaign asking residents and visitors to vote on their favorite design. Once the campaign ends on October 7 at 12:00 pm, votes will be counted and the design concept with the most votes wins. Upon the mural's completion, BLDG and CGN will host a dedication ceremony and invite the community to attend.
There are two State Historic Preservation Office approved concepts, which depict an inviting, celebratory message for residents and visitors. The message includes, "Welcome to the Westside" with a tagline below indicating "Covington's Bicentennial 1815 – 2015.
"We are very excited to get the community involved in this phase of the project," said BLDG's Cate Becker. "Our goal is to get as much participation as possible."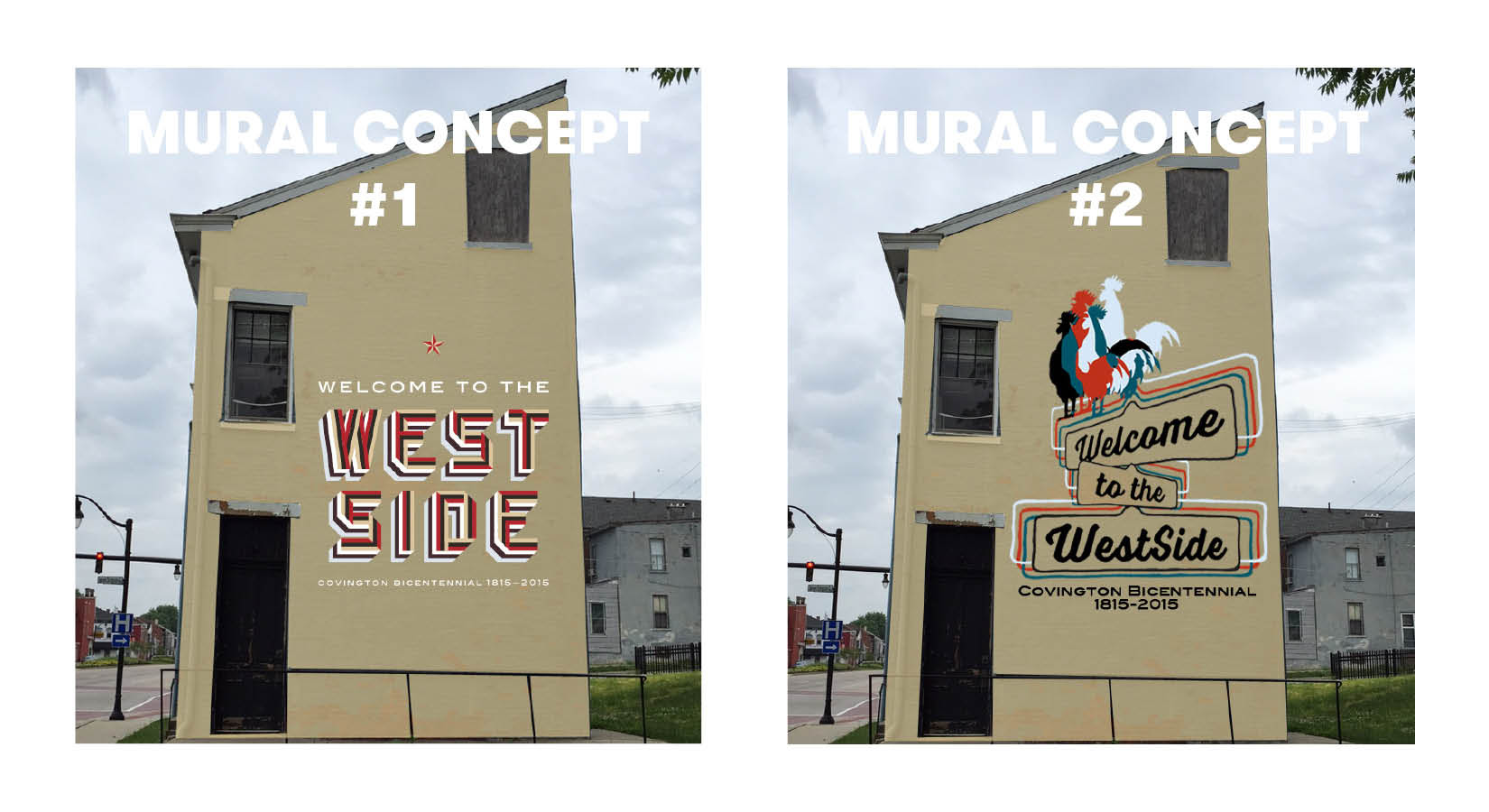 To physically vote, concept boards will be placed in four locales in the Westside neighborhood including Fika, Gutierrez, The Center and Wunderbar. Participants can vote by placing a sticker on their favorite design. Other options include emailing their preference to [email protected] or [email protected], or posting on social media with the hashtags #thecentercreates and #bldgmural1 or #bldgmural2.
Community inclusion has been an important component of this project from the beginning. The mural itself is an activation of the brand guidelines BLDG developed for the Creative Facades Look Book, a place-making initiative spearheaded by The Center in the Westside Neighborhood. Throughout the development of the brand, focus groups were conducted with community lead organizations including WAC and the Linden Gateway Small Areas Study Oversight Committee.
Additionally, WAC was involved with approving the final draft of the Look Book prior to it printing.
"The process was informed by Westside residents who indicated their desire to 'reinvigorate this historic community of makers and workers," said BLDG partner Lesley Amann. "Based on their feedback, we developed a brand to define a united aesthetic direction for the neighborhood. These designs not only reflect the input of the community and share a positive message, they situate the neighborhood within a creative context and declare it's cultural history." 
Staff report/Images provided