Premium Content
City Festival Officially Canceled in Ludlow
Fri, 10/09/2015 - 12:15
RCN Newsdesk
The City of Ludlow has officially canceled its annual event that was planned for May 2016, after numerous residents complained at the last caucus meeting, fearing that it would interfere with the annual Ludlow Youth Football fireworks festival it plans to host on June 3.
Mayor Ken Wynn said in that caucus meeting that he would put it on the agenda to cancel the city's event, and on Thursday he followed through by asking for and receiving a motion that effectively eliminated the annual event from the city's calendar.
"I did a lot of soul searching and even though I think that what we were planning to do would be good for the city, I had to take into consideration how strongly Ludlow Youth Football feels, so I would like for someone to make a motion that we go ahead and cancel our event," Wynn said.
There appeared to be another large contingent of LYF parents, supporters and children at the meeting on Thursday, yet unlike last meeting where there was a lot of discussion from the audience, no one chose to address council during that portion of the meeting.
Other notes:
There was some concern raised by multiple council members about the amount of street lights with inoperable bulbsin the business district on Elm Street. Councilman Josh Boone first asked if the city was responsible for the street lights and Public Works Project Manager Patrick Walkenhorst confirmed that the city is indeed responsible and said that his department would replace the bulbs.
The reason the city hadn't been replacing the bulbs was because there was a defect in all of the lights which prevented the bulbs from working for the full expected duration of their shelf life. Duke Energy is expected to take over control of the lighting along Elm Street, but replacement bulbs are needed until Duke takes over.
Police Chief Scott Smith said that his department has rolled out the Department's Drug Hotline where anyone who sees immediate drug activity can call and a Ludlow officer—usually a canine unit—will respond. The hotline was put in place in order to more quickly relay drug information to police that would otherwise be delayed in the dispatch process. Smith said that the hotline is for drug crime only and there has to be immediate activity taking place. He said that information of a potential residence selling drugs would not be included in the hotline protocol because an investigation of that nature would take too much time. The number to the hotline is 1-844-466-86367 (1-8444-NOTODOP).
"If you call that line, you will get an immediate response to a voice message that will tell you what we're looking for and what to do," he said.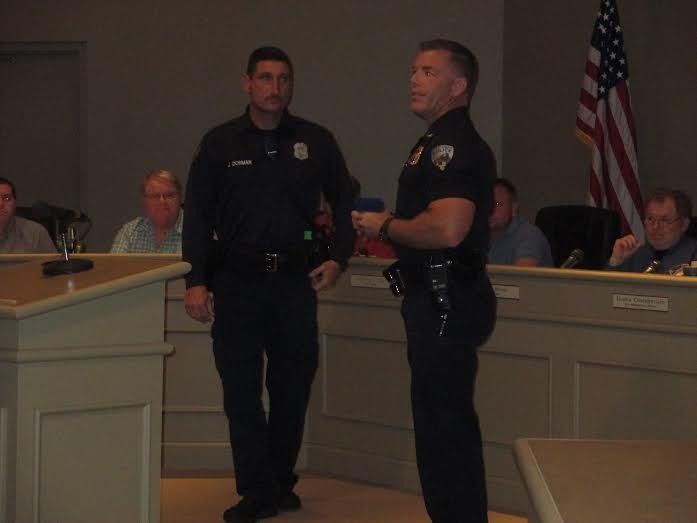 Smith also commemorated Officer John Dorman for preventing a woman from committing suicide in May when he physically kept her from leaping off of the 65-foot train trestle above Sleepy Hollow Drive.  The woman's mother approached Dorman and told him she was worried her daughter was on the trestle and was suicidal.
In recognition of saving her life, we want to present Officer Dorman with the Life-Saving Award. I want to say that it's good that officers like Dorman. It's good that he cares about life," Smith said.
In June, Ludlow Police reported that the woman who attempted suicide is in treatment and is doing well. 
Story & photos by Bryan Burke, associate editor