Premium Content
NKY Football: Cooper Takes Down Ryle; Simon Kenton & Brossart Remain Unbeaten
Sat, 10/10/2015 - 10:00
RCN Newsdesk
Another wild week of Northern Kentucky high school football has come and gone (except for you Cov Cath and Grant Co. fans who have a Saturday match-up) and what an exciting one it was!
Ryle took its first loss at the hands of crosstown rival Cooper, Highlands got back on track with a rout of Dixie, Newport Catholic picked up a win, and Brossart continued to roll.
RCN's roving sports reporters were in all corners of the region on Friday. Here's what happened:
Cooper 27, Ryle 21
In a bruising game of hard-hitting defense and pivotal scoring moments, Cooper emerged over Ryle, 27-21, handing the Raiders their first loss of the season and setting up a fascinating run at the district championship in the remainder of the regular season.
"You have, in my opinion, two really good football teams and that's what it's supposed to be about," said Cooper head coach Randy Borchers after the game.
The turning point of the game came in the fourth quarter with the score tied at 14, when kick returner Byron Brown gathered the kick on a bounce, found room along the right sideline, and outran every Raider to the end zone for the go-ahead score. The Jaguars would score another touchdown on their next possession when wide receiver Dante Hendrix caught a 17-yard out route near the pylon where, on a bad ankle, was able to get the ball across the plane to put his team up two touchdowns, 27-14. Ryle would score a meaningless touchdown in the last 10 seconds when Bryce Ashley caught a slant pass and went in from 17 yards.
The night was marred by a number of injuries to both sides, perhaps most notably talented Cooper running back Torey Cordell-Armstrong who left the game after only three plays with what appeared to be a lower leg injury. Cordell-Armstrong sat on the trainer's table the entire first half and walked the sidelines on crutches in the second.
As a result, the Jaguars offense sputtered in the early going. Quarterback Nathan Brown did not have much time, and the rushing game was stymied early and often by the quicker Ryle defensive line.  Cooper attempted multiple shotgun handoffs to backup running back Jaden Jackson, but he was able to gain very little if at all on these plays, thanks to players like outside linebacker Tyler Selby exploding around the weak side edge and dragging the ball carrier down before the play could properly develop.
The Ryle offense in the first half, wasn't much better. The Raiders took the opening kickoff deep into Cooper territory, but only came away with three points. Quarterback Tanner Morgan was hit, hurried and sacked too often in the first and second quarters and could not effectively move the ball
At halftime, the game was 3-0 Ryle and looked like a classic slugging match that could be won by field goals.
"We were a little frustrated," said Borchers. "They did some things in the first half that bothered us a little bit."
The second half, though, would turn out far more exciting with a combined seven touchdowns in the last two quarters.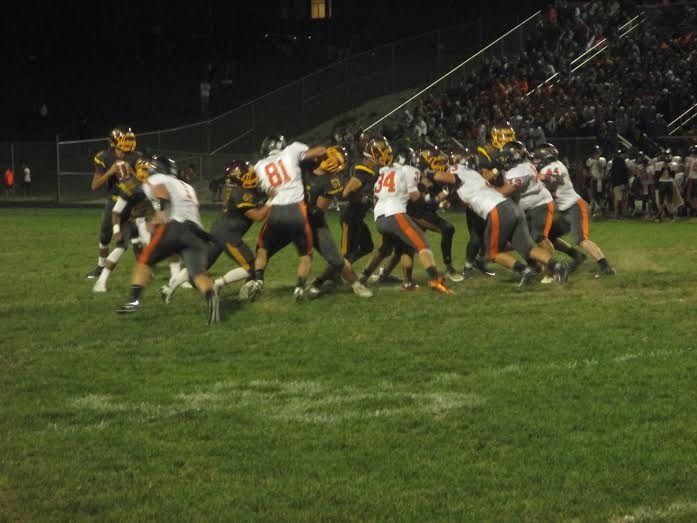 Cooper struck first with a long drive that started at their own 20 yard line. Out of the locker room, it was clear that the Jaguars had made offensive adjustments, as the run plays now came with the quarterback under center and wide receiver Dante Hendrix became more involved in the offense. On the drive, Hendrix caught two crucial first down catches to set up Jackson for a four-yard touchdown run, giving Cooper its first lead, 7-3. Hendrix was great in the second half with numerous big catches for long yardage.
"I think we came out in the second half and made some adjustments and were able to run the ball a little bit.  They had a couple of injuries defensively so were able to exploit that a little bit. It was one of those things that whoever got the ball last seemed like would win."
The Raiders responded with their own scoring drive, but only managed another field goal by freshman kicker Mason Molique.
Then the teams swapped touchdowns. First it was Cooper scoring on a Nathan Brown quarterback sneak from a yard out, then Ryle scored on a drive set up by a number of short passes, mostly toward the sideline, that drove the ball downfield easily and was capped off by Jacob Chisolm scoring up the middle from three yards out. After the successful two-point conversion, Ryle was back in it, all tied at 14.
Prior to the Ryle scoring drive that tied it, though, the Raiders had the ball, down 14-6, when Tanner Morgan hit wide out Bryce Ashley on a slant pattern that went for over 40 yards on the play and deep into Jaguar territory. When Ashley was tackled, however, he landed on the ground, causing the ball to slip from his grasp and come loose. Cooper recovered and became the recipients of a very questionable fumble call. 
Either way, the drama came to a head with the big kick return from Brown that swung the momentum toward the Jaguars for good and opened up Class 6A District 5 for any of the three teams involved: Cooper (6-2), Ryle (6-1), and Conner (6-1).
"The kick return was huge," Borcher said. "They scored to tie it and really had the momentum. We did enough offensively, but weren't great offensively, and he kind of sparked to give us the lead. Our defense is playing well. We feel if we can get the lead, we're pretty confident. That's a great offensive team in Ryle and for us to hold them to 21 points says a lot about our defense."
Next week, Cooper hits the road to Florence to take on a winless Boone Co. team while Ryle will have its hands full with Conner at home in Union.
-Bryan Burke, associate editor
Lloyd 42, Newport 6
Newport played host to Lloyd on Friday night and the Juggernauts were thought to be the heavy favorite due to the Wildcats' struggles so far this season. Unfortunately for the Wildcats, the struggles continued as they fell to Lloyd by the score of 42-­6.
Lloyd got the ball rolling with the first score of the night thanks to 15­yard touchdown catch by junior wide receiver Lashunn Townsend. The score was 6­0 with that touchdown because of an unsuccessful two­-point conversion from the Juggernauts. Newport would then answer and come back with a score of its own thanks to a touchdown catch by senior wide receiver Ryan Ochoa.

Newport also failed to convert the two­-point conversion, making the score 6-­6 with 3:00 minutes remaining in the first quarter. After a hopeful start from Newport, that score would wind up being the Wildcats' last of the game as Lloyd went on to score 36 unanswered points.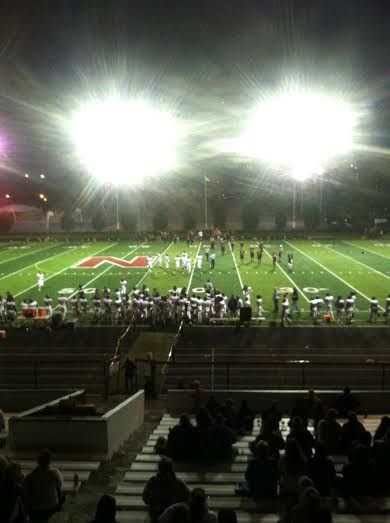 Lloyd's next score would come at the 1:36 mark of the first quarter with an 11-­yard touchdown run by junior running back Justin Durham. After another unsuccessful two­point conversion, the score was 12-­6 in Lloyd's favor. Lloyd was forced to punt on the following possession, but a questionable "illegal touching of the ball" penalty was called on Newport, giving the Juggernauts a fresh set of downs at the 50-­yard line. Lloyd would take full advantage of the penalty by marching the ball down the field, and eventually capping off the drive with a 2­-yard touchdown run from Justin Durham. With that score; Lloyd went up, 20­-6 with 9:01 remaining in the second quarter.

As was the case most of the night, Lloyds defense forced a turnover on downs on the ensuing drive. Once again, Lloyd was able to move the ball down the field with relative ease. They would cap off the impressive drive with an explosive 38­yard touchdown run from Justin Durham. That score was Durham's third of the night, and it put the Juggernauts up, 28­6 with 3:22 left in the second quarter. After a couple of short drives from both teams, 28­6 would end up being the score going into halftime.

With a sloppy third quarter from both teams, the next score didn't come until there was only 12 ­seconds remaining in the third quarter. However, the scoring play was anything but sloppy as Lloyd's senior running back Bradley Creech laid out for quarterback Alex Runion's pass completing a 25­yard touchdown play. In what was easily the play of the game, that score pushed Lloyd's lead to 36­6 as the third quarter came to a close. The Juggernauts would tack on one more score in the fourth quarter putting the final tally at 42­-6.

Newport is a young team, and that youth showed quite a bit in Friday's game. Their body language wasn't great, and they let their frustrations get the best of them by committing seven personal foul penalties on the evening. Out­matched or not, it would be difficult for any team to win while committing seven personal fouls. Head Coach Tim Viox hopes to right the ship as the Wildcats (1-6) take on Holy Cross next Friday at home.

As for Lloyd, they have to be feeling good after tonight's dominating performance. The Juggernauts (5-2) have a lot of athletes that can cause matchup problems for any team that they face.

They also have a lot of size in their offensive and defensive line. I wasn't the only one impressed with Lloyd's performance tonight. Head Coach Eric Turner was equally impressed himself. "We made plays when we needed to make plays. And our O­line really stepped up tonight and got things done on the inside," said Turner.
Lloyd returns to Newport next week to face the Thoroughbreds of Newport Central Catholic.
-Patrick Henke, RCN contributor
Newport Catholic 20, Holy Cross 13
After evening their records at 3-3 last week, the Holy Cross Indians are back below the .500 mark as New Cath rolled into Covington and snuck out with a win.
Defense was strong on both sides of the field, as 13 drives ended with punts. The Thoroughbreds started the game hot, with a 3-play, 80-yard touchdown drive by Jacob Smith, who took a 55-yard run into the end zone. 
Holy Cross struggled to move the ball early, but was able to stop a New Cath drive deep into Indian territory late in the first quarter with an interception. However, Holy Cross could not capitalize with points. The Indians got on the board late in the half with a 74-yard touchdown run by Xavier Abernathy. The point-after was lost as the Indians were called for having too many players on the field. New Cath led 7-6 at halftime.
In the second half, New Cath put together a 43-yard drive that culminated in a 12-yard touchdown pass from Patrick Henschen to Erik Anderson. Holy Cross answered with its own 7-play, 80-yard drive that ended with a 12-yard touchdown run by Abernathy.
Holy Cross trailed by one in the fourth quarter but a fumble deep in its own territory put the Thoroughbreds in scoring position and New Cath took advantage with another touchdown by Jacob Smith. A blocked extra point attempt kept the Indians within a touchdown.
That touchdown would be elusive, and New Cath (3-4) would hold on for the 20-13 win, as Anderson intercepted the Indians' (3-4) final solid attempt to score again.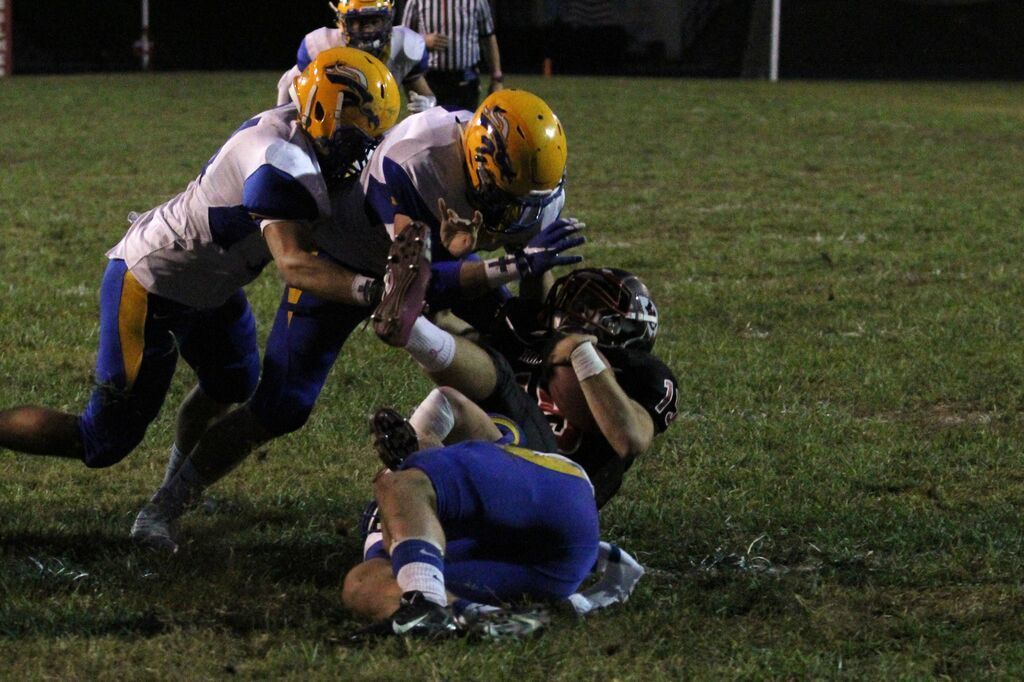 The teams spent most of the game on the ground, only attempting 19 passes combined. NCC's Jacob Smith had 31 carries for 208 yards and 2 TD while Holy Cross's Xavier Abernathy carried the ball 19 times for 142 yards and 2 TDs. Holy Cross's Hamilton Scott had a 36.1 average on his 7 punts, and NCC's Trent Wrobleski averaged 42.7 yards on his 6 punts. NCC takes on Lloyd next week, and Holy Cross heads to Newport on Thursday night.
-Brian Frey, RCN contributor
Beechwood 49, Bellevue 0
Traditionally, the annual Bellevue-Beechwood game has been one-sided in favor of Beechwood, with Bellevue's last victory coming in 2005. The trend continued Friday, this time a 49-0 victory by the Tigers from Fort Mitchell.
It was 7:02 p.m., two minutes in and Beechwood already found its way on the board, 7-0. And they were far from finished. After a short Bellevue possession that ended in a punt, the Tigers' began at their own 20. On its ensuing play, senior running back Ethan Stringer raced around the left side 80 yards for a 14-0 Beechwood lead and they would receive the ball back almost immediately. Early in Bellevue's ensuing drive, senior running back Cameron Chase was stripped and Beechwood recovered at their 43. But, the Tigers were unable to take advantage this time, as Stringer fumbled inside the Bellevue 5, turning the ball back over to the home team.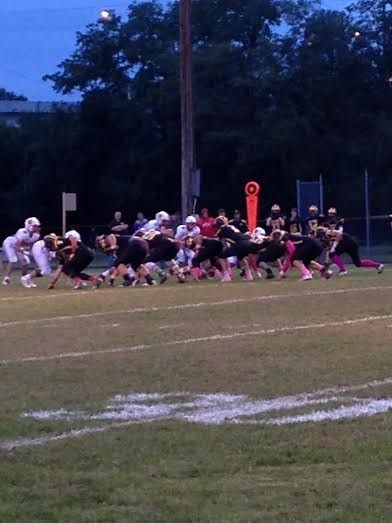 Following another Bellevue punt, Beechwood played add on, with senior standout receiver Brett Slusher scoring from 14 yards out, making it 21-0 with 8:40 left in the second quarter. It was the second scoring play for the Tigers, but an initial touchdown run by Stringer was nullified by a false start penalty.
Beechwood received the ball after a short Bellevue drive and put points on the board again before halftime. On first-and-10 from the Bellevue 46, senior quarterback Kyle Fieger was sacked, but would quickly bounce back on the next play. On second down, Fieger rolled left and found sophomore Logan Castleman for a 16-yard gain. After a series of converted first downs, Slusher found the end zone for a 28-0 lead into the break.
The Tigers' kept the barrage coming in the second half with Stringer again on a long run, breaking tackles for another score and a 35-0 margin only a few minutes into the third. Unable to get the ball moving, Bellevue punted once again to Beechwood. With nice field position, junior Aiden Justice took a screen pass from Fieger 39 yards to the end zone, instituting a running clock and a 42-point lead with just over three minutes remaining in the third.
With mostly backups in the game, Beechwood took the ball down the field once again against Bellevue's defense, putting a cap on the night's scoring, 49-0, with a touchdown run by sophomore James Davis.
Beechwood moves to 6-1, with a home game next Friday vs. Ludlow. Bellevue (2-5), on a five-game slide since opening its season with two-consecutive victories, faces River City rival, Dayton.
-Jason Finnell, RCN contributor
Other Scores
Highlands 42, Dixie Heights 7 The week off for the Bluebirds proved to be fruitful as Highlands picked up its second win of what has been an unusually difficult season in Ft. Thomas. Highlands improves to 2-5 on the year and travels to Park Hills next Saturday to take on Covington Catholic. Dixie, meanwhile, falls to 1-6 and will head to Grant Co. next week.
Simon Kenton 37, Boone Co. 13 In Florence, it was a game between two teams having two very different seasons. If anyone is to stop the Pioneers of Simon Kenton, it probably wasn't going to be the struggling Rebels of Boone Co. Simon Kenton remained perfect, now 7-0 on the year, with the rout. SK returns to Independence next week and will play host to another struggling team, Campbell Co. Boone falls to 0-7 and it won't get any easier when Cooper comes to town next week.
Bishop Brossart 36, Bracken Co. 0 The Mustangs continue to roll. Brossart is now 7-0, easily departing the Polar Bears' stadium with a win. The unblemished record will be tested again next week when Brossart travels to Paris.
Walton-Verona 35, Gallatin Co. 7 After a winless start to the season, the Bearcats have rebounded with 4 straight wins to even their record at 4-4. Next week, Walton heads to Trimble Co.
Bourbon Co. 41, Holmes 14 It was an unpleasant trip for the Bulldogs who fall to 2-5 on the year. Mason Co. comes to Covington next week.
-Michael Monks, editor & publisher