Here's What Happened in NKY High School Football on Friday Night
Sat, 10/17/2015 - 11:03
RCN Newsdesk
Another great week of Northern Kentucky high school football action!
Simon Kenton stayed perfect... Bishop Brossart lost for the first time... Scott and Newport Catholic sneak away with wins... Bellevue routs its rival Dayton... Holmes wins on Homecoming night...
Here's how it all went down:
Holmes 41, Mason Co. 6
The Bulldogs flexed on Homecoming night, keeping Mason Co. winless and improving to 3-5 on the year.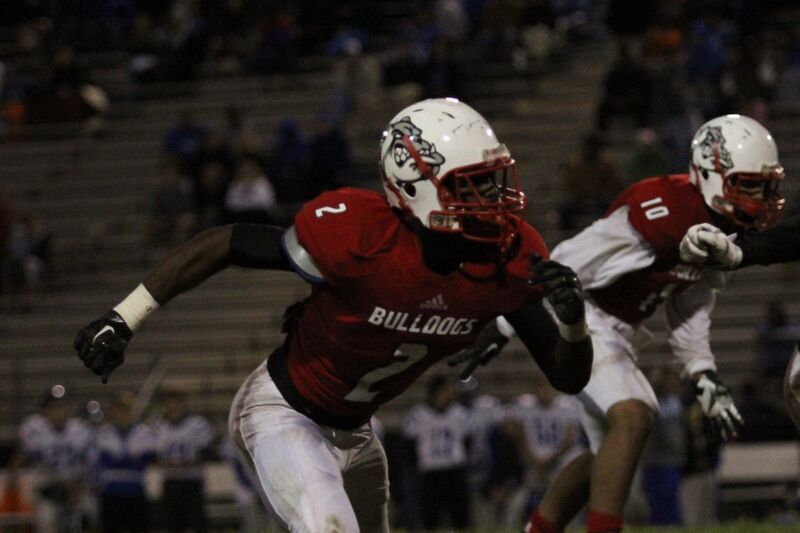 The undermanned Royals arrived in Covington from Maysville with 15 starters on the injured list. One coach quipped that it was the highest number of injured players he'd ever seen in his sixteen years of coaching.
Meanwhile, Holmes got on the board early and often, jumping out to a 14-point lead in the first quarter and extending it to 27 by halftime. The Bulldogs put up more than 500 yards on the night in a run-heavy game.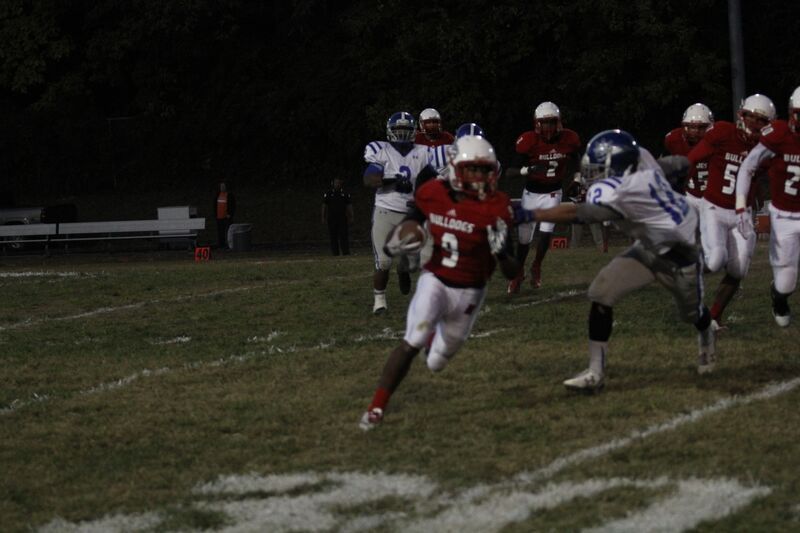 Holmes is home again next week when Scott (7-1) pays a visit.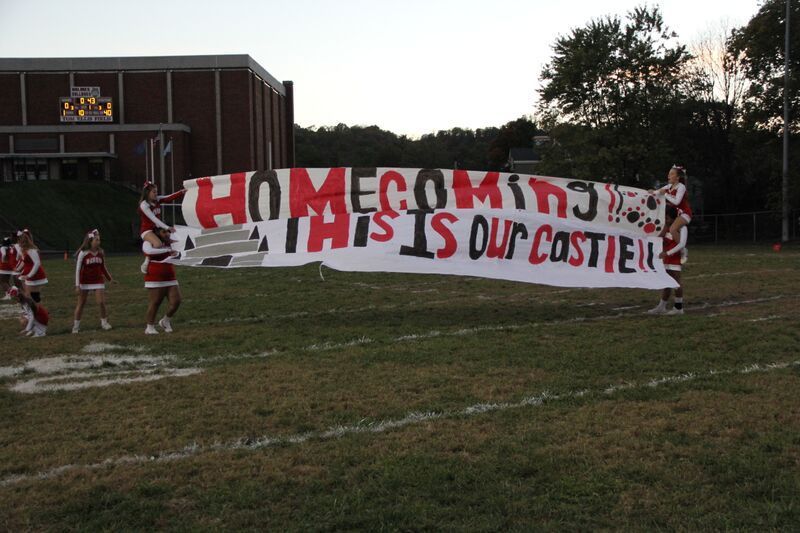 -Brian Frey
Bellevue 31, Dayton 0
Not every high school football game provides a scoreboard stumper, but there was one offered up in Dayton on Friday night during the Battle of the Paddle between the Greendevils and the Bellevue Tigers. 
The question was in what year did the two teams first play football...
...and the answer is 1927. 
The history is palpable at Davis Field, can't be missed, and after all this time, it still draws some energy from the community when the game is played. 
"Two neighborhood rivals getting after it and playing hard," said Bellevue head coach Woody McMillan after the game.
The game itself was not as classic as its hallowed venue, however, as Bellevue was able to shut out Dayton again, 31-0. The rivalry has been immensely lopsided of late, exemplified by the 197-0 scoring margin over the last four games. Dayton football has an optimistic future with the emphasis that key community members have put on Dayton youth athletic programs which encourage kids to play for their home city high school instead of leaving for greener football pastures, but for now, it's still a slow build toward hanging with Bellevue.
The Tigers looked tougher and physically stronger than the Greendevils. Dayton quarterback Dillon Adams had no time in the pocket to get many decent downfield throws, even though that plan of attack was successful a few times. The Dayton offensive line just could not hold up well enough at the point of attack to establish either a ground-game push or sufficient pass protection to move the ball through the air.
Senior Cam Chase was the best player on the field, making plays everywhere on offense, and providing hard nosed tackling on the other side.  When the Tigers needed to grind it out and methodically advance downfield, it was Chase running over tacklers. When they needed a big play, Bellevue would throw it up to him and watch him box out the defender and make the grab on a long pass.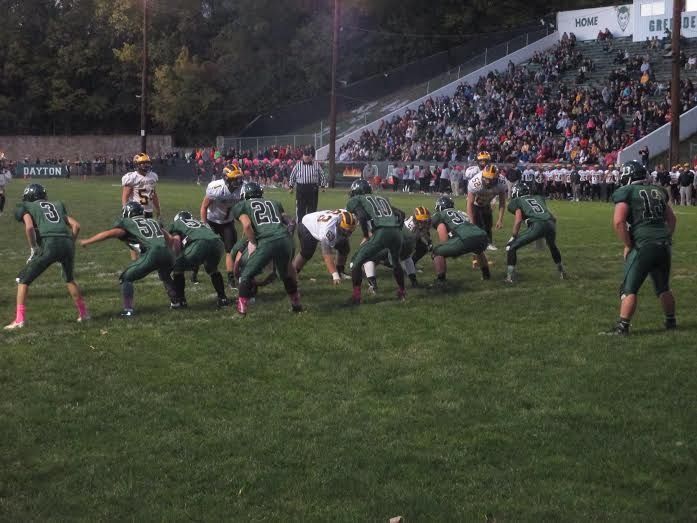 "Last week was the first time we had him healthy," McMillan said about Chase. "He got better as the game wore on."
While so many teams these days spread their formations with multiple receivers on the outside, throwing the ball often, Bellevue bunches up and runs between the tackles more often than not. They will mix in a sweep here and a slant there, but by and large, there are not many bells and whistles to what they do on offense.
"We're a little throwback. A lot of old-time Bellevue people like that offense," McMillan said.
Dayton had two red-zone opportunities in the game but failed on fourth down on both occasions. There were a handful of quality offensive plays throughout the evening for Adams and Coach Montgomery, but the Greendevils simply could not string enough together to put points on the board.
It's McMillan's first year as Bellevue head coach after starting the football program at Walton-Verona. His Tigers started off well this year with two wins, but then dropped their next five in a row. The win over Dayton gives his players the chance to focus on winning on the road in a meaningful gam. The Tigers travel to Ludlow (5-4) next week to determine the number-two seed and a home playoff game.
Despite the score, and probably too many personal foul calls on both teams throughout the game, good sportsmanship was shown among neighbors in the end as Bellevue was once again presented with the paddle.
"Two backyard neighbors, sometimes they fight a little bit. We wish Dayton the best next week," McMillan said.
Dayton (1-7) travels to play Beechwood (7-1) next week. 
-Bryan Burke
Newport Central Catholic 29, Lloyd 26
Despite repeatedly shooting itself in the foot with costly penalties early – it had six for 55 yards in the first half alone – Newport Catholic held off Lloyd, 29-26, Friday night at Newport Stadium. Lloyd came out of the gate strong vs. the Thoroughbreds, getting on the board early, courtesy of a touchdown pass from junior quarterback Alex Runion to senior wide receiver Charles Gaines. The two-point conversion was good, and the Juggernauts led early, 8-0.

On its ensuing drive, New Cath was plagued by penalties; something Head Coach Dan Wagner said has been his teams' Achilles heel all season. "We just gotta quit pushing ourselves backwards, which we harped on all week. We do up downs for every penalty yard we get and last week, they had a bunch of them. But we've got to quit hurting ourselves, have to," he said.

But following a Lloyd punt, New Cath bounced back with a scoring drive of its own. Beginning in Juggernauts' territory at their 47, Thoroughbreds' junior quarterback Patrick Henschen led his team down the field with a couple scrambles, in addition to several carries by senior running back Jake Smith. 

After Henschen was sacked by Gaines on third down, he found freshman Hunter Cain for a 30-yard touchdown. On its ensuing play, the quarterback outraced Lloyd defenders to the right pylon for a successful two-point conversion, and the game was tied, 8-8, with 2:18 left in the opening quarter. 

In the second quarter, New Cath was again nagged by penalties. On first down, a Smith run was nullified by a personal foul penalty, putting the ball back at the Juggernauts' 41. After Henschen scrambled around the left side for 10 yards, two consecutive false start penalties made it second down and 24. Making up yards with several positive plays, New Cath was able to regroup and add a field goal to take the lead, 11-8.

Following punts by each team on their ensuing drives, Lloyd redeemed itself shortly before halftime. 
Risking giving the ball back to New Cath with decent field position and enough time to work with to generate points before the break, the Juggernauts' gambled on fourth down from the Thoroughbreds' 41, and junior running back Justin Durham shot up the right side, 41 yards for the touchdown and a 14-11 lead at the break for Lloyd.

Though it was forced to punt on its opening drive of the second half, Lloyd received the ball back immediately as Travon Mason recovered a fumbled punt by Smith. Sophomore quarterback Jordan Fann spotted junior Lashunn Townsend at the New Cath 12, who found the end zone two plays later for a 20-11 Juggernauts' lead with 7:08 left in the third.

Beginning its drive on the Lloyd 47, Henschen completed a pass over the middle to Griffin McHugh for 38 yards. A few plays later, Smith took a handoff three yards around the left side for his first touchdown of the evening, inching closer to the Juggernauts, 20-17. But on its ensuing drive, Lloyd countered with a quick strike score of its own, a 46-yard pass play from Fann to Gaines and a 26-17 margin.

Despite good field position once again to begin their drive, the Thoroughbreds missed a short field goal, and the score remained 26-17, at the end of the third. But on their initial possession of the fourth, New Cath began its comeback. Carrying the load, Smith took his team down the field with several big runs, culminating in his second score of the game to bring the Thoroughbreds to within three, 26-23.

On its next possession, Lloyd drove down the field, looking like it may put the game out of reach. But as it entered into New Cath territory, Fann overthrew Jamorrow Dawson inside the 20, and Thoroughbreds' senior defensive back Erik Anderson picked off his pass, giving his team the break it was searching for.

With over six minutes remaining, New Cath began to wear down Lloyd, with several runs by Smith and senior John Harris. With 1:15 remaining and deep in Juggernauts' territory at the 16, Smith gave the Thoroughbreds the lead with a 16-yard run, 29-26.

Lloyd was unable to move the ball much or take advantage of a pass interference penalty on New Cath on its final drive, as Fann was sacked multiple times, the last on fourth-and-nine, turning the ball over on downs.

With the win, New Cath moves to 4-4, and hopes to continue its winning ways with upcoming district foes; next, Newport, October 23. "Hopefully, we'll be down here (at home) the rest of the year," Wagner said.

Lloyd (5-3) looks to bounce back vs. Holy Cross at home.
-Jason Finnell
Ryle 46, Conner 34
Ryle played host to Conner for it's senior night on Friday.
Ryle was hoping to rebound from a hard fought loss to Cooper in the previous week. Conner, on the other hand, was hoping to extend a five game winning streak. Unfortunately for Conner, it was Ryle who would ultimately prevail in what was mostly a back and forth football game. The final score ended up being 46-­34 in Ryle's favor.
However, it was all Conner to start the game.

The Cougars jumped out to an early 7­-0 lead thanks to a 19­-yard touchdown run from senior quarterback Kyler Padgett. A few minutes later, Ryle's junior
quarterback Tanner Morgan made a costly mistake deep in his own territory by throwing an interception on a screen pass. The interception was made by sophomore defensive lineman Peyton Kippenberg. Conner would capitalize on the turnover two plays later with a 20-­yard pass connection between Padgett and senior running back Joseph Warwick. With that score, Conner went up 14-­0.

Ryle was able to find a way to overcome the early push by Conner and get back in the game. Ryle's comeback was kick-started by a 28-­yard punt return by senior wide receiver Eric Wright that put the Raiders at the 14­ yard line. Tanner Morgan was able to punch it in from 2­ yards out a few plays later, cutting Conner's lead to 14-­7 with 10:27 to go in the second quarter. Conner looked like it was going to answer with a score of its own on the ensuing drive, only to have that drive cut short by Ryle defensive back Cooper Scherr's first interception of the year.

Unfortunately for Ryle, the Raiders were unable to capitalize off that turnover. However, Ryle would have another chance to tie the game before halftime thanks to a turnover on downs from Conner with 4:32 remaining in the second quarter. The Raiders methodically drove the ball down the field, and finally capped off the 83­yard drive with a 4­yard touchdown pass from Morgan to junior tight end Jake Long. With that touchdown; the score was tied 14­14 with 29 seconds remaining in the first half. That would wind up being the score as both teams headed to the locker room.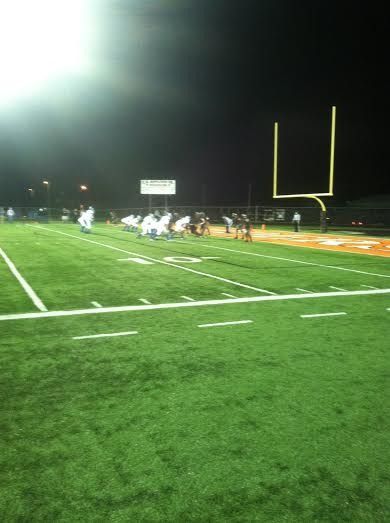 Ryle carried the momentum into the second half by striking first. The scoring play came from a 3-­yard touchdown run by sophomore running back Jacob Chisholm. With that score, Ryle went up 21-­14 with 8:05 to go in the third quarter. Conner would then answer a couple of drives later with a 13-­yard touchdown catch by senior wide receiver Tanner Nyers. The touchdown was made possible by Kyler Padgett converting a 4th and 10 with his legs on the previous play. After the score, Conner successfully converted a two­-point conversion, giving them a 22-­21 lead with 2:08 left in the third quarter.

On the ensuing drive, Ryle took the ball all the way down to the 3 ­yard line where they were stopped on third­ down by the Conner defense. Ryle decided to try a field goal to take the lead. The field goal was good, but a devastating "running into the kicker" penalty was called on Conner, giving Ryle a fresh set of downs at the 1­ yard line. On the following play, Ryle's senior running back Mitchel Bateman ran it in for a 1­-yard touchdown run. Tanner Morgan then connected with Jake Long for a successful two-point conversion, giving Ryle a 29­-22 lead with 11:08 remaining in the fourth quarter.

It didn't take long for Conner to answer thanks to an explosive 33-­yard touchdown run from Kyler Padgett. Unfortunately for Conner, Padgett was stopped just short of the goal line on the two-­point conversion attempt. The score was now, 29­-28 Ryle with 9:43 left in the fourth quarter. On the following drive, Ryle converted a big 4th and 2 around the Conner 10­yard line.

Two plays later, Chisholm ran it in from 4­yards out for his second touchdown of the night. With that score; Ryle went up, 36­28 with 6:19 to go in the game.

With six minutes left in the game, Conner was hoping to get the ball with a chance to tie the game but Ryle recovered a perfectly placed squib kick on the ensuing kickoff. After a third down stop by the Conner defense, Ryle showed that they trusted freshman kicker Mason Molique to make it a two-possession game. Molique proved worthy of that trust by making a big field goal from 38 ­yards out putting Ryle up, 39­-28 with 5:31 left in the fourth quarter.

After a turnover on downs from Conner on the following drive, Ryle iced the game with a 5­-yard touchdown catch from Jake Long. Conner would end up scoring one more time, but it was too little too late for the Cougars as they would end up losing by a final score of 46-­34.

Conner (6-­2­) gave it all they had, but ultimately fell short. Quarterback Kyler Padgett put forth an impressive performance finishing with 227 passing yards and 125 rushing yards on the evening. The Cougars hope to get back to their winning ways next Friday against Cooper.

Ryle on the other hand, has to feel good about pulling this one out after last week's loss to Cooper. Head Coach Mike Engler wasn't thrilled with how his team started the game, but gave Conner a lot of credit for coming out of the gate strong. "Conner came out well prepared. Conner's a good football team. They're probably the most improved team in Northern Kentucky from this year to last year," said Engler. He then would go on to say how is team played much better once they settled down and stopped making mistakes.
Ryle (7-­1) has its hands full next Friday, taking on an undefeated Simon Kenton team.
-Patrick Henke
OTHER SCORES
Paris 34, Bishop Brossart 21 The Mustangs' perfect season was finally blemished at the hands of Paris. Brossart (7-1) became the 9th straight victory for the Greyhounds who remained perfect at 9-0. Next week, Brossart hosts Berea.
Simon Kenton 51, Campbell Co. 15 Two contrasting seasons continued in Independence on Friday night as the Pioneers of Simon Kenton extended their winning streak and improved their undefeated record to 8-0. SK gets a big test next week when Ryle comes to town. The Camels, meanwhile, drop to 0-8 on the year. Next week, winless Boone Co. visits Alexandria where each team will look to pick up its first win of the year.
Scott 42, Bourbon Co. 35 The Eagles escaped with a win in Taylor Mill on Friday. It was the fourth straight win for Scott (7-1), a team that counts a 1-point defeat at home against Conner as its only loss this season. Next week, the Eagles head north to face Holmes.
Beechwood 62, Ludlow 6 This cat fight in Ft. Mitchell belonged to the Tigers in a big way as Beechwood handed the Panthers of Ludlow its worst defeat of the year. The 7-1 Tigers host Dayton next week. Ludlow (5-4) hosts Bellevue in its regular season finale next week.
Cooper 43, Boone Co. 7 The Jaguars have now won four straight to improve to 7-2 on the year and travels to Conner next week for its last regular season game. Boone Co.'s long season continues as the Rebels drop to 0-8. Next week's game at Campbell Co. features two winless teams.
Walton-Verona 49, Trimble Co. 14 Make it five wins in a row for the Bearcats who had no trouble on the road in Bedford, routing a Trimble Co. that is now 0-9 on the year. Brossart (5-4) wraps up the regular season next week with a visit from New Richmond (OH).
Dixie Heights 28, Grant Co. 20 The Colonels picked up their second win of the year, holding off the Braves in Dry Ridge. Dixie (2-6) returns home to Edgewood for its final two games of the season against Covington Catholic and Ryle. 
-Michael Monks