Premium Content
In Ludlow, School District Aims to Become Destination
Sat, 10/17/2015 - 13:42
RCN Newsdesk
A child born in Ludlow today has a bright future ahead of him.
Ludlow Independent Schools contacts a child's family as soon as he or she is born and stays on top of that child's progress until graduation

"When I became superintendent four years ago, I tried to assess what we were lacking as a school district," said Michael Borchers, whose 21 years in education include being a teacher at Ludlow, director of curriculum, assistant principal, principal, and now superintendent. "I thought we had to see the needs in the community and not use it as an excuse. I wanted us as a school district, to give our children the opportunities that every other child in the area has."
In the recently released state test scores, Ludlow ranked 85th out of 173 districts statewide. It is the highest-ranking district among the Northern Kentucky River City independent districts, aside from Fort Thomas which ranked as the best in Kentucky. 

He proceeded to build a team with Travis Caudill, principal of Ludlow High School, Jason Steffen, principal of Mary A. Goetz Elementary, and Jenny McMillen, College and Career Readiness Coordinator. He brought the whole staff on board, and also the school board members, Steve Chapman , Amy Hayden, Bill McMillen, and Cindy Powell.
Mr. Caudill congratulates Brittany Cole after the graduation ceremony last year (provided)

The Born Learning program is a United Way program fueled by Toyota, and open to children from birth to five years. Once a month, from November through March, parents with their children are invited to the elementary school to share dinner, and then a class for the parents while the children do fun activities. All the families then go home with a little present­­­ such as laundry detergent, or diapers, or something else they can use. The classes stress the importance of learning by taking advantage of everyday opportunities, and parents are encouraged to read to their little ones.

Cathy Pedro, family resources and youth service center coordinator, oversees the Born Learning program with help from Beth Ketzer.

All four­-year ­olds in the city are included in the preschool program in which the district partners with Children, Inc. to provide a program that instructs the children so that by the end of the year, they can easily pass the kindergarten readiness test, and they are eager to jump into the full-day system by the time they are five. Beth Ketzer, preschool director, has worked hard to get a full-day preschool program with Children, Inc. and is convinced that it will happen for next year. Three­-year ­olds attend preschool, also, but when they are four, all children go at no charge to the families.

The district offers half-day and full-day kindergarten, also in partnership with Children Inc. 

Principal Jason Steffen is proud of this year's test scores for the elementary school.

"We started in the 16th percentile," he said. "Since then we progressed to the 26th percentile, then 62nd, 68th, and this year up to 79th percentile. It is rewarding to see the programs that have been put in place pay off."
Elementary Principal Jason Steffen sits among his students at a district pep rally (provided)

The grade school offers the 21st Century Shine program, a before and after school program that includes the students in activities that interest them, and gives them a chance to be tutored if they are failing in a subject.

"This is for grades K through 6, and it is funded through a federal grant," said Steffen. "We partner with Children, Inc., and until 5:30 p.m. the students can have their choice of activities like Taekwondo, art, a book club, and guitar. They also receive a snack, and get help with their homework. Every day is a different thing."

When parents have to be at work earlier than children have to be at school, the program includes a before-school-time where the children receive breakfast. The entire school district qualifies for free breakfast and free lunch.

"We have just gotten a grant this year for grades 7 through 9 and we call this program SOAR," said Travis Caudill, principal of the high school. "We have time before school and after school, and the same thing happens, the students will be tutored if they need it, get help with their homework, and get a snack, but the activities are geared more toward the older students' tastes, like maker space, and eventually learning about a 3D printer."
The district partners with NaviGo College and Career Prep Services for this program and another program for high school students in which teachers are trained. This is the second year for the program, and now the ninth graders are included, so all four grades meet with a coach on Fridays to discuss possibilities for a career that they might be interested in.

Sophomores can take a test to see if they qualify for dual credit college classes so that they can graduate from high school with a little less than a year of generalized college courses already completed. When they go to college they can then concentrate more on their major. The only cost to the student is the application fee for each school. The district picks up the cost of the college course work, which up to 24 credits can be applied towards. 
"The district and donors pick up the cost of the college, the text books, the laptops and the ebooks," said Borchers. "We don't want not having the money or the technology to be a barrier to any of our students not taking advantage of this program. This year, 41 students out of a possible 130 who could take the courses are in the dual credit program. More apply for dual credit courses every year."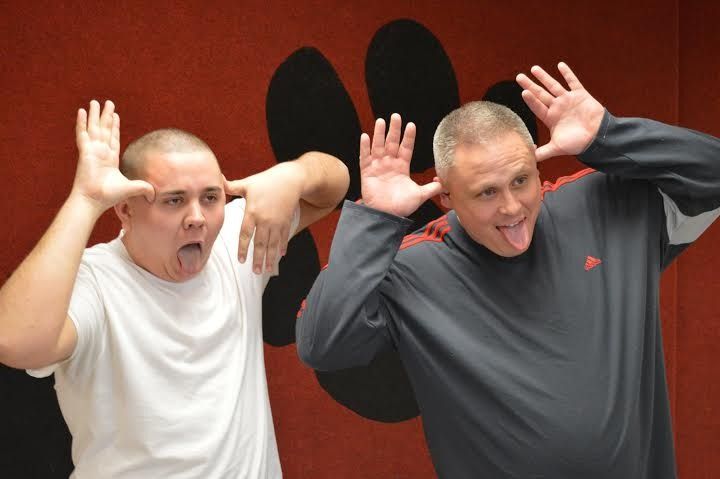 Mr. Caudill clowns around with a student, Jordan Scheid, at the photo booth at the Lock-In, held in the school's cafeteria after the Snowball Dance (provided)

The school district also has a full time therapy program for any mental health problems, open to students and their families.
A goal in the district is to build a culture where teachers are part of a tight-knit team that takes ownership of the welfare of their students. These are teachers that take turns with the after-school programs to help students with homework and tutoring. Over the last four years any faculty turnover has resulted in new teachers especially dedicated to the success of the programs that have been set in place to personalize the attention given to the students.
"We want to be a destination school," said Borchers. "We want to be a place where teachers want to come to teach, and the students that graduate have a good idea of the path their career should take. Together, we want the district to be a place where parents want to send their children because they know they will get a top notch education. We already have a lot of community pride and we are starting to see the programs pay off for the students. Our team is passionate about our kids, and our goal is to have our students be the future leaders they can be."
Written by Patricia A. Scheyer, RCN contributor
Top photo: Borchers talks to 2nd graders about college (provided)