NKY Football: Simon Kenton Flexes, Scott & Beechwood Roll, & More
Sat, 10/24/2015 - 10:27
RCN Newsdesk
The second-to-last week of the regular season in Northern Kentucky high school football gave us much to be excited about. Simon Kenton finally collided with Ryle... Beechwood and Scott flexed their muscles... Highlands continues to bounce back from a disastrous start... Campbell Co. picked up its first win... 
Let's take a trip around the region:
Simon Kenton 28, Ryle 7
In a highly-anticipated match-up that had been circled on the calendar months ago, the unbeaten Simon Kenton Pioneers stymied the Ryle Raiders, 28-7 on Friday night in Independence.
Simon Kenton has been an offensive juggernaut all season and the four touchdowns in this game were the fewest all year. Early on, however, it was the Raiders that looked more explosive, scoring on the first drive and moving the ball on the second, establishing the first lead, 7-0.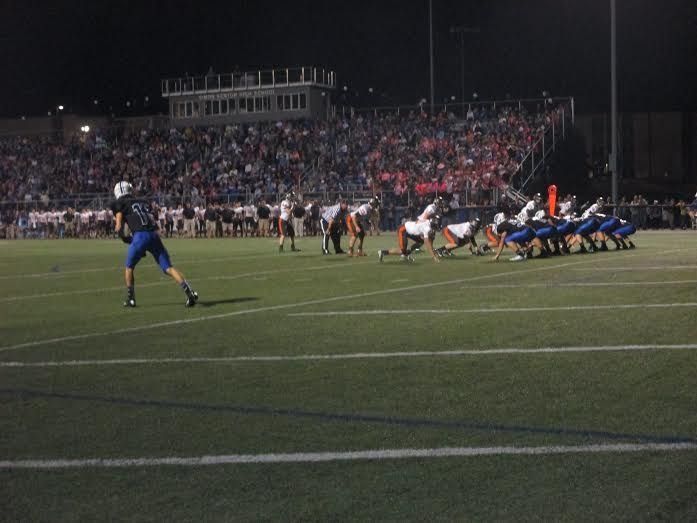 Ryle quarterback Tanner Morgan then hooked up with Jake Long for 31 yards to put Ryle deep into enemy territory again. On fourth and one, however, the Simon Kenton defensive line rose to the occasion when Markie Rider stuffed the Ryle ball carrier for no gain.
"I challenged them earlier in the week to be a physical football team, and I think they really got my message and really executed tonight," said Simon Kenton head coach Jeff Marksberry.
In the second quarter, and down a score, SK took over at their own 6-yard line after a nice pooch punt by Morgan to pin them deep. That is when their heralded offense came to life. They converted five first downs on the drive and capped it off with a four yard Dillon Powell run to tie the game at 7-7.
On the ensuing kickoff, the Pioneers called for an unorthodox kickoff that had their kicker blast a line drive off a Ryle player that was standing in front of the ball.
"It's something that we've practiced. We wanted to kick right at someone; it was not an intentional onside kick where we kicked on top of the ball and try to get it to bounce. He's a former soccer player and when he tries hard, he can be really accurate. Usually people offset their guys from the ball, but he lined up right in front of the ball when we first kicked off, so I thought why not try it if we can get him to touch it. Worst-case scenario they have a short field, we'll try to play and defend," Marksberry said.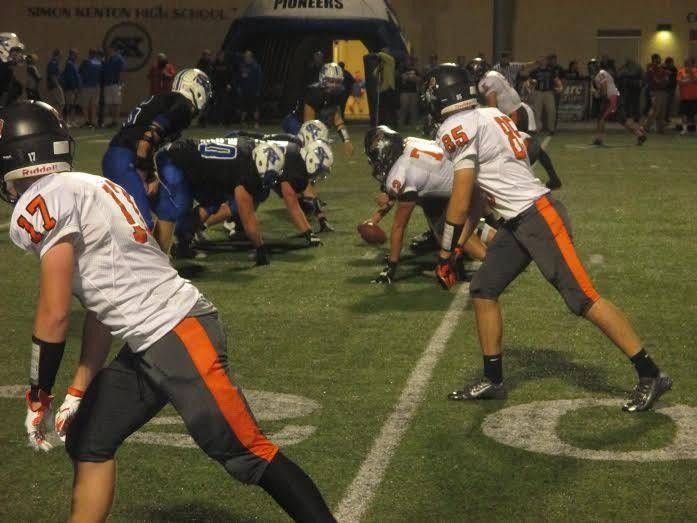 Simon Kenton immediately capitalized on the extra possession when SK quarterback Cam Racke hit wideout Logan Scott on a deep ball for an easy 25-yard touchdown. It looked to have been a blown coverage assignment because he simply ran past everyone down the middle of the field, and put his team up 14-7.
By that point, the momentum had surged in the Pioneers' favor and they rode the wave to a 9-0 record.
"Huge," Marksberry said of the momentum swing the score and the recovery on the kickoff created. "It got our guys' motors running and the juices flowing."
On the ensuing Ryle possession, Morgan went deep across the middle for an incompletion on fourth down, giving SK the ball around midfield. A few plays later, Racke dropped back to pass, was flushed out of the pocket, then rolled back into it, then found a crease in the middle and then darted into the end zone for a terrific 17-yard quarterback scramble. It was certainly not a designed run, but it worked to perfection and put the Pioneers up 21-7, which ended as the halftime score.
The second half belonged almost entirely to the Simon Kenton defense, highlighted by the big guys up front. Tucker Mueller is a monster in the middle for this three-man front and he and his line-mates wreaked havoc for Morgan the rest of the way, forcing him to throw on the run nearly every time he dropped back to pass. Morgan has a strong arm, and has performed well this season for the Raiders but after the brief success early in the game, he and his crew were never able to find any kind of collective rhythm on offense.
"Obviously we were concerned about Tanner Morgan—he's a heck of a talent—but we talked to our guys all week about staying in coverage, staying on top of things and breaking on the football," Marksberry said
He was careful not turn the ball over much, but he did throw a fourth-quarter interception to defensive back Trent Kincaid which is the 14th of his career. The combination of good coverage and a consistent pass rush disrupted the Raiders into no points in the last three quarters.
"The strength of our defense is the defensive line and when you play 6A football, you better have some guys up front that can get off of blocks and make plays. They're big strong kids that move very well for being their size. We thought that would be the strength of our defense and in a big game tonight, that came through," said Marksberry.
The only scoring for either side after halftime came when Racke hit Luke Vance on a lob down the sideline for a catch and run of 78 yards and the touchdown. It appeared the Ryle defender fell on the play allowing Vance to catch in stride and bolt to the endzone.
Simon Kenton (9-0) goes to Scott (8-1) next week, while Ryle (7-2) travels to play Dixie (2-7).
-Bryan Burke, associate editor
Scott 42, Holmes 6
The visiting Eagles rolled into Covington and ruined Holmes's senior night with a big 42-6 win. Scott has not won five straight games to improve to 8-1 on the year while Holmes falls to 3-6.
Holmes struggled to move the ball consistently and hurt themselves with pre-snap penalties and costly 15-yard penalties. The Bulldogs' first drive ended with a 3-and-out, and a 10-yard punt putting the Eagles at the Holmes 26. Scott could not convert, turning the ball over on downs.
But a second meager punt by the Bulldogs on the following possession gave the ball back to the Eagles in excellent field position and this time Scott converted on a 36-yard run by Roberto London. 
Following another Holmes punt, Scott hit the end zone again on a 66-yard run by Nelson Perrin. Scott added two more touchdowns before halftime where the Eagles led 28-0.
The second half belonged to Scott, too, as Holmes struggled to move the ball. 
On the night, Scott rushed for 250 yards, but both teams passed for fewer than 75. 
Holmes's Andrew Arnold scored a late rushing touchdown to avoid the shutout.
Next week, Scott has the chance to shock the region when undefeated Simon Kenton visits Taylor Mill. Holmes takes a trip to struggling Newport to finish the regular season.
-Brian Frey
Ludlow 34, Bellevue 14
Ludlow overcame numerous penalties in a chippy, penalty-filled game vs. river rival Bellevue to win 34-14, Friday night at James Rigney Memorial Stadium. Chippiness reached a breaking point in the third quarter when the head referee summoned each coach to the field to warn each team that cooler heads must prevail.
"He was just saying there's too much talking and they're going to have to start throwing some people out," Ludlow Head Coach Rick Hornsby said of the meeting. "It worked out for everybody; everybody settled down and started playing football."

The Panthers' pounced on an early Bellevue mistake on its opening drive, recovering a fumble by Bellevue senior running back Cameron Chase. But, Tigers sophomore defensive back Eric Atkins picked off Ludlow's Justin Blackburn near the goal line, keeping them out of the end zone on its first possession.

After it forced Bellevue to punt, the Panthers' finally found the end zone despite having an initial 36-yard touchdown catch and run by senior Trent Ledbetter called back due to holding. Blackburn found the right corner, outracing Tigers' defenders to the goal line and a 7-0 lead with 3:09 left in the first quarter.

Due to a personal foul penalty it incurred after Blackburn's score, Ludlow kicked off from its own 25, giving Bellevue good field position. But, it was Blackburn who stopped the Tigers' momentum, intercepting Tucker Thomas' pass and returning it 30 yards to the Bellevue 40. On fourth-and-10 from the Tigers' 30, Blackburn scrambled to his left and found senior Kalib Mitchell for the touchdown and a 14-0 lead.


Only over a minute later in the second, Ludlow again found the end zone due to another Bellevue fumble, this time a Michael Camarena score and a 20-0 advantage. On its ensuing drive, Chase put his team on the board before the half, capping a long drive for Bellevue, which still found itself at a 20-8 deficit.

The third quarter brought about additional penalties for each team, culminating with the on-field meeting with each coach, although the amount of penalties did not surprise Hornsby to a certain extent.

"When you have a rival like that, you know it's going to be tough, there's going to be a lot of talking on the field. But we did what we needed to do, we got the W."

In the final quarter, Blackburn came up big for his team, scoring the final two touchdowns, the last a game-sealing run with just under three minutes remaining to cap the night's scoring, 34-14. "He's an athlete, he's a competitor. He needs to grow about four or five inches for me," Hornsby said, laughing, likely referencing his non-traditional height for a quarterback.

With the win, Ludlow (6-4) is assured a home playoff game in two weeks, while Bellevue (3-6) hosts Holy Cross next Friday.
-Jason Finnell
OTHER SCORES
Highlands 56, Grant Co. 22 The Bluebirds have racked up three straight wins after starting the season at 1-5. Highlands easily handled the Braves of Grant Co. on Friday night in Ft. Thomas and improved to 4-5. Highlands can even its record in the regular season finale against a winless Boone Co. team next week in Florence. 
Newport Catholic 48, Newport 8 The Wildcats' woes continue as Newport failed again to score double digits and was routed by the crosstown rival Thoroughbreds. New Cath has won three straight games and is now 5-4 on the year but faces a big test next week with a trip to Ft. Mitchell to take on a surging Beechwood squad. Newport, meanwhile, has lost five straight and falls to 1-9 on the season and faces Holmes at home in next week's regular season finale. 
Campbell Co. 35, Boone Co. 21 This was a battle between two winless teams and the Camels came out on top and added one to the win column. Campbell Co. is now 1-8 and will finish the regular season next week at home with a visit from Lexington Henry Clay. Boone Co. falls to 0-9 and will have a tough time adding a win next week when Highlands visits Florence.
New Richmond (OH) 28, Walton-Verona 21 The Bearcats came up short on Friday, ending their five-game winning streak and finishing the regular season at 5-5. Walton has next week off and prepares for the playoffs.
Lloyd 42, Holy Cross 36 This shootout was one of the night's most exciting games with host Lloyd coming out on a top with a narrow victory in Erlanger. The Juggernauts have assembled a 6-3 record on the year and finish the regular season next week at Harrison Co. Holy Cross, meanwhile, drops to 4-5 and goes to Bellevue next week for the regular season finale. 
Covington Catholic 42, Dixie 14 Two sets of Colonels took the field in Edgewood on Friday night with two very different results. Cov Cath ran up the scoreboard and struggling Dixie to move to 3-6 on the year. Next week, Cov Cath travels to Scott Co. to end the regular season. Dixie falls to 2-7 and hosts a tough Ryle team next week.
Beechwood 69, Dayton 0 The Tigers showed no mercy on Friday, routing Dayton in Ft. Mitchell to improve to 8-1. Beechwood has won five straight heading into next week's regular season finale against New Cath at home. Dayton is now 1-8 and will look to pick up a second win at Carroll Co. next week.
Bishop Brossart 39, Berea 6 The Mustangs had little trouble with a winless Berea team on Friday and are now 8-1 on the year. The regular season concludes next week with a trip to Pendleton Co.
-Michael Monks, editor & publisher