Premium Content
It's a Busy November for Cold Spring's Forward-Thinking Drama Teacher Richard Hess
Sun, 10/25/2015 - 20:23
RCN Newsdesk
Richard Hess is a busy man.
There's the 48-Hour Film Festival, a week of free play readings, moving forward with plans to film a student screenplay, a workshop of a new play, preliminary planning for Transmigration (a mini-festival of devised performance produced every winter.) And, of course, classes.

And that's just November.

Longtime Northern Kentucky resident Hess (he and wife Lauren, live in a Cold Spring condo after years in a Newport historic home) is chair of drama at College-Conservatory of Music at the University of Cincinnati. 

So build administration time into the list above. 

Hess initiates, inspires, and collaborates. And always looks to the future where he sees ever-widening opportunities for his students. He regards an ever-changing landscape for working actors, from live theater to streaming video. "Voiceovers, commercials," Hess adds. "We must train them for that." 


And, "I have student who are hungry." He feeds them and notes CCM's actors-in-training "are probably working on three different roles at any given moment."

First up, the second annual 48-Hour Film Festival, co-hosted by the Drama Department and the Division of Electronic Media. The Festival is open to all UC students. Hess arranges teams to storyboard, write, cast, film, score, and edit short films in two days. It's the kind of project, Hess muses, that would have been impossible even a few years ago. Now students "can edit their films on their laptops." (That's how digital teams create trailers for CCM productions.)

Last year 70 students with majors ranging from aerospace engineering to English signed on; this year Hess is hoping for 100. The entry deadline is 5 p.m. Nov. 2. Any UC student interested in participating in the CCM 48-Hour Film Festival is invited to apply online here. The movie-making marathon begins Nov. 6 and culminates with a public screening of the student-created films at UC's MainStreet Cinema at 7 p.m. on Sunday, Nov. 8. 

Six guest filmmakers and actors from Kenyatta University in Nairobi, Kenya will come to UC to participate. They are all former students of Hess, who was a Fulbright scholar in 2013 and taught acting and directing and the Kenyan university. (Hess first went to Kenya with CCM Drama students and alumni in 2011, working with young refugees from the Dadaab Refugee Camp in Kenya for World Refugee Day.)  


The Kenyan students will attend classes at UC and explore the city and its arts for a few days before they're each assigned to different filmmaking teams. 

Hess's trips to Kenya were "life-changing," and he wants all the students to experience a taste of that by widening their world views and artistic viewpoints by working together.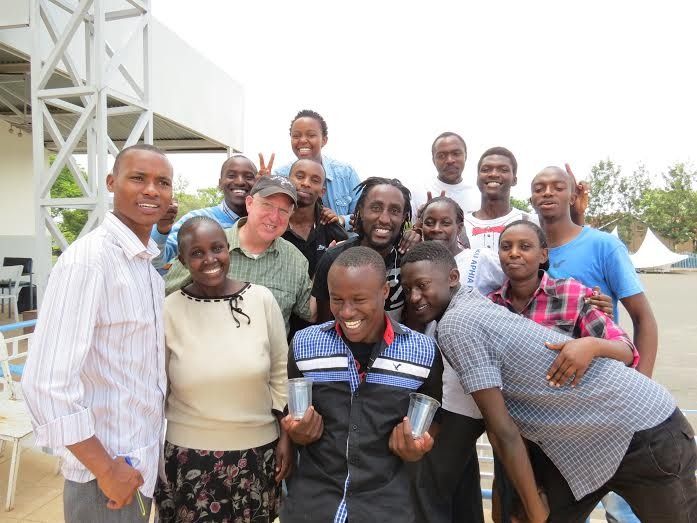 From Nov. 16-19, the public is invited to hear free readings of plays mostly unknown to Cincinnati theater fans. Hess began the series a few years ago, always based on a theme, this year Alienation. They will be presented at 7 p.m. in Classroom 4755 of Corbett Center.

The plays are: Nov. 16, The Great Majority by Gracie Gardner; Nov. 17, Stone Cold Dead Serious by Adam Rapp (it's been produced locally); Nov. 18, Will Eno's Middletown; and Nov. 19, Punk Rock by British playwright Simon Stephens. 

Pay special attention to The Great Majority. It's a developmental workshop and, says Hess, CCM Drama has first right of refusal for the completed play. If all goes well, it will be on the schedule in 2016-2017. 

Hess sighs. "It's such a responsibility," he notes, "being a teacher in the arts, when you know success is not a straight line."

Life is never a straight line, but Richard Hess is providing a road map to young theater artists to help them get where they want to go.

Among the current collaborations: CCM Drama and Know Theatre co-produced The Hunchback of Seville in October; and Hess and CCM Drama are working on a Digital Media Collaborative with the College of Design, Architecture, Art & Planning (DAAP) and the McMicken College of Arts & Sciences to create a 10-minute "proof of concept" film for Binary, the winner of this year's short screenplay contest.
Written by Jackie Demaline, RCN Arts