Premium Content
Norse Basketball Ready for New Challenge of New League
Tue, 10/27/2015 - 18:56
RCN Newsdesk
The Northern Kentucky University men's basketball team experienced a whirlwind of change in the off-season. Not only did the Norse leave the Atlantic Sun Conference for the Horizon League, they also have a new head coach for the first time in 8 years when John Brannen replaced Dave Bezold in April.
The program welcomed the media on Tuesday afternoon and Coach Brannen, senior center Jalen Billups, and Horizon League Commissioner Jon LeCrone talked about the upcoming season.
"NKU will be a program that establishes toughness first and foremost," said Brannen, a Northern Kentucky native who was most recently an assistant at Alabama and served as head coach during the Crimson Tide's appearance in the 2015 National Invitation Tournament. "I hope that shows itself sooner than later, but it will over a period of time. This will be a program that is an exciting brand of basketball to watch. What I want to do this year is take strides towards that. This will be a team that finds success on a defensive standpoint and a team that will find success by handling adversity."
NKU was picked to finish last in the Horizon League preseason media poll and still has one more season of waiting before being able to play in the NCAA Tournament due to their transition from Division II to Division I.
All three men who spoke on Tuesday though, dismissed the polls as meaningless.
"I think any coach will tell that those polls are for you guys," Brannen said to the media.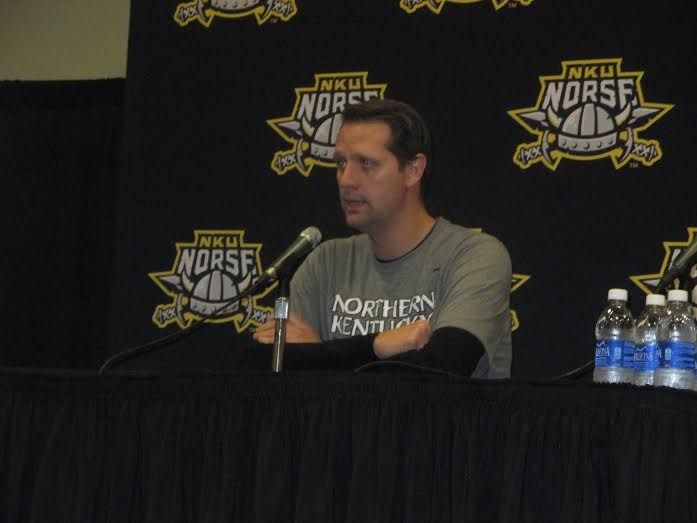 Brannen and his squad are aware of their postseason restrictions and each person in the program is dedicated to strengthening NKU's place in the new conference, but with five seniors on the roster, it's important to work toward success now, even if it won't translate to a ticket to the Big Dance.
"We've got five seniors. I'm here to build a program that will be sustainable, but I also owe it to these seniors to do everything we can to have success this season. We're creating a culture. We don't have a culture established yet, but we have a group of young men with a high care factor. They care about this university first and foremost. The other part is that they care about each other," Brannen said.
Most of the players on the roster had become used to Bezold's style and it has taken an adjustment to get used to the conditioning that Brannen's fast-paced version of the game requires.
"I would describe Coach Brannen's coaching style as very intense. Every day he brings it, and there is constant movement," Billups said. "The approach to practice is different because it's a different style of play. Now there is more conditioning, more skill development. It's a different culture."
The word adversity was mentioned by both player and coach because each knows there will be times when they as a collective unit will need to address some setbacks.  
"I know there are going to be times where things aren't going to go our way, but we just have to keep pushing through instead of just laying down and giving up," Billups said.
As for player roles, individual fits on the roster, style of play, and other questions, not even those inside the program are certain what they're in for as they take on a brand new group of competitors.
"We're excited about the prospects of playing someone else. We've been banging on each other for quite a while. If you asked the players if they're ready to play someone else, they would say yes, but I could do with another two or three weeks of practice," Brannen said. "When I got the job in the spring, I had a little bit of time to work with the team, then I had eight weeks with them in the summer, so the start of practice used to be around October 15, but it's kind of changed. You never really know your team until you play outside competition so maybe that will be the next step in terms of really getting to know what we have and how we will handle some different things with some roles."
Billups will also assume more responsibility in leading the team.  
"I have to take more of a leadership role now. Because I'm a senior and this is my last go-around, I have to be more vocal and supportive of the other leaders of this team," Billups said.
"When you have a leadership role, you have to attack it every day. I had a vision of how to build this program and that was based on my experiences of guys that I have learned from," said Coach Brannen.
NKU kicks off its regular season on November 13 at West Virginia to take on coach Bob Huggins and the Mountaineers. The first home game for the Norse is November 17 against Tiffin. Another big game in November is when NKU travels across the Ohio River to play Xavier on the 23rd.  The first conference game in the Horizon is scheduled to take place on January 2 at Green Bay.
The Horizon League Tournament will be played at Joe Louis Arena in Detroit, March 5-8.  Commissioner LeCrone said that the Horizon League will play in Detroit for the next five seasons for its conference tournament.
Story & photos by Bryan Burke, associate editor