Premium Content
Florence: K9 Made Surplus Property So He Can Stay With Officer; Company Celebrates 50 Years
Wed, 10/28/2015 - 19:25
RCN Newsdesk
Florence Mayor Diane Whalen presented a proclamation to Jake Santora, General Manager of Eagle Manufacturing on Industrial Road, a subsidiary of Linamar Corporation, to celebrate the company's 50th anniversary. The company planted 50 trees around Boone County, and four of them, all Canadian maples, were planted at Stringtown Park,
located off Route 18. Santora announced that the company has secured three contracts which ensures business until 2022. Eagle Manufacturing is responsible for manufacturing automotive components for Ford, Chrysler, and Toyota. They are hoping to create more manufacturing jobs in the future.

Representatives from Yealey Elementary's fourth grade class from last year came to the regular council meeting Tuesday night to explain the project they created in the courtyard of their school. Julia Blair, Samantha Disken, Aaliyah Kaseke, Jonathon Miller, Lerin Moreland, and Charlotte Webster, students under the supervision of teachers Sheila Huff and Vanessa Vandergriff, told how they helped create a turtle pond, and planted vegetables for use in the cafeteria, as well as trees and flowers.
They also collected plastic caps that were recycled to create four benches, and they are working on a picnic table. The presentation was accompanied by a slide show. The group received an environmental educational award for the project.

"Congratulations on your award," said Mayor Whalen. "As you get ready to go into middle school maybe you can encourage others in the school to help the environment, too. We are impressed and proud of your achievements here."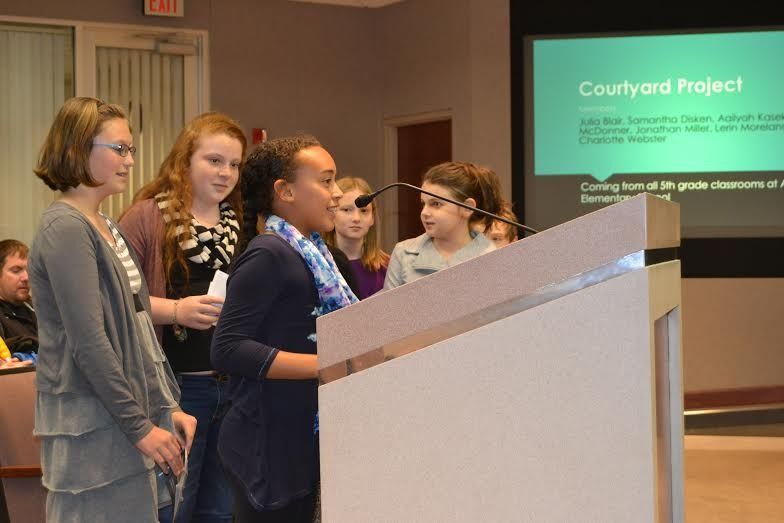 Ed Huddleston, Betsy Conrad, and Don Volland to the Kentucky Urban Forest Commission for another three year term for each.

"We would like to commend all three for their service," stated Councilman Mel Carroll.

Amadeus, a 7-­year ­old German shepherd who partnered with Officer Brian Murphy, was declared surplus property. As Murphy is getting ready to retire, it was determined that the dog wouldn't be able to make the transition to another handler, so the order included that the dog would remain in the custody of Murphy and his family.

Finally, Mayor Whalen advised everyone to be aware of the trick-or-treaters on Saturday between 6 and 8 p.m. She also said that the caucus meeting set for November 3 is canceled and asked everyone to vote that day.
Story & photos by Patricia A. Scheyer