NKY Goes Big for Bevin; Edelen Shocked; Grimes, Beshear Save Dem Face
Tue, 11/03/2015 - 21:46
RCN Newsdesk
Kentucky turned red on Tuesday night, and Republican Matt Bevin is the new governor.
Perhaps the anti-President Barack Obama sentiment in the state is still at a fever pitch and perhaps Republican presidential candidate Donald Trump's popularity influenced turnout on behalf of the outsider Bevin, but whatever it was, Tuesday was an historic day for the Kentucky Republican Party.
Bevin will be only the second Republican governor of Kentucky of the 21st century and only the third since 1967. Lt. Governor-elect Jenean Hampton is the first African-American elected to statewide office in the Commonwealth's history.
Bevin easily downed Democratic Attorney General Jack Conway by more than 80,000 votes and a margin of 52-48 percent. The Republicans also took the Treasurer's office by a wide margin as Allison Ball defeated Democratic State Rep. Rick Nelson by nearly 200,000 votes, and in the night's most shocking outcome, Republican State Rep. Mike Harmon upset incumbent Democratic Auditor Adam Edelen to claim that office.
Edelen was widely believed to be a heavy favorite to represent the Democrats in the 2016 race against Republican U.S. Senator Rand Paul.

Screen shot of a tweet from Adam Edelen moments after his loss
Only Secretary of State Alison Lundergan Grimes and Attorney General candidate Andy Beshear prevented the Republicans from a clean sweep. Grimes held on to beat former Erlanger City Councilman Stephen Knipper 52-48 percent, and Beshear squeaked out the tightest of victories against Republican State Senator Whitney Westerfield.
Bevin, who lost in the 2014 primary against Republican Senator Mitch McConnell before upsetting the GOP establishment in May by eeking out an 83-vote win over Agriculture Commissioner James Comer (whose running mate was Kenton Co. State Senator Chris McDaniel) for the party's gubernatorial nomination, spoke of unity during his victory speech.
"We need a fresh start," Bevin said, who acknowledged "a great night for conservatives" in Kentucky. "We need a call out to everyone in Kentucky tonight. This is your Kentucky. This is your America. This is our opportunity to come together as one. We have much work ahead of us, but we have extraordinary opportunity."
In his concession speech, Conway expressed gratitude for the opportunity to serve Kentucky. "I ran for governor because I believed in fighting for the values and the interests of Kentucky's working families, and it's been an honor to serve as a strong voice for so many in this election," Conway said. "I also want to thank the people of Kentucky for allowing me the tremendous honor of serving as the 49th Attorney General of the Commonwealth of Kentucky. Whether in public or private life, I look forward to always working to improve our Commonwealth."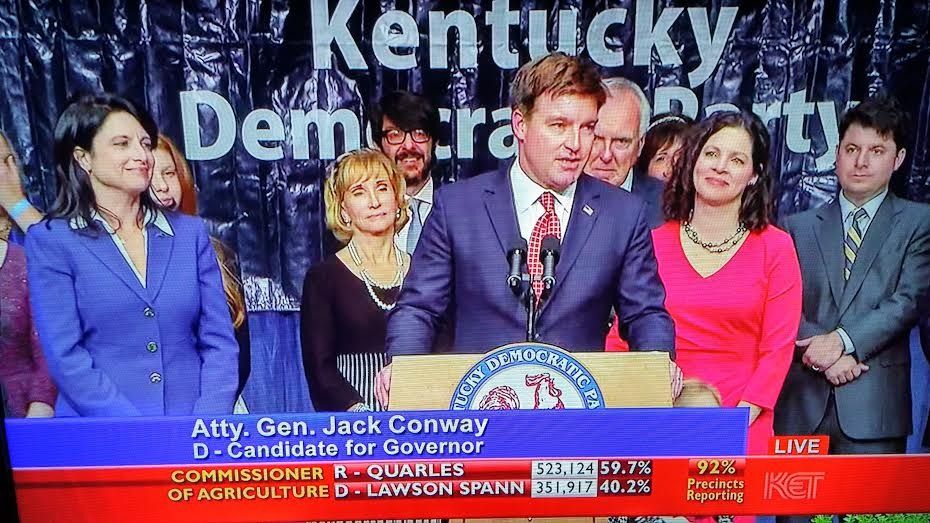 Conway speaks after his defeat (Image of KET feed)
The national Democratic Governors Association blamed Trump's popularity for Conway's loss. "Attorney General Jack Conway ran a strong campaign focused on the issues that matter to Kentuckians: good schools, good-paying jobs and economic opportunity," executive director Elisabeth Pearson said. "Unfortunately, he ran into the unexpected headwinds of Trump-mania, losing to an outsider candidate in the Year of the Outsider. While Jack Conway came up short tonight, his presence in this race strengthened the issues debate in Kentucky." 
Democratic House Speaker Greg Stumbo, a state representative from Prestonburg, attempted to rally crestfallen Democrats. "Our challenge is to get back up," Stumbo said. "When the sun rises in the morning, we may have had a bad night but it's a new day. This is not over. A new day is coming. Our message has to be reflected upon. We can't let them communicate what our core values are. We can't let them make people believe we are not godly people. We can't make them believe only Christians are Republicans and therefor Republicans are entitled to hold office."
Northern Kentucky turns out big for Bevin
Bevin won Boone, Kenton, and Campbell Counties by wide margins. 
In Boone, Bevin took 65 percent; in Kenton, Bevin won 57%; and in Campbell, Bevin took 54 percent to Conway's 41. In all, Bevin won about 16,000 more votes than Conway in Northern Kentucky.