Premium Content
Ken Rechtin's Another Voice: The Number & the Cost of Low-Performing NKY Schools
Thu, 11/12/2015 - 21:11
RCN Newsdesk
Needless to say I have received numerous emails comments and phone calls about my column regarding the ranking and performance of our 14 NKY School Districts. Just last week I received the following email from Alexandria Mayor Bill Rachford:
Ken, I brought up the same topic at the Mayor's Meeting (a meeting held in conjunction with a Campbell County Fiscal Court) this week. You will see an article in the
(Campbell County) Recorder about it. I suggested a county-wide task force to see if we can get some dialogue going.

Keep up the good work.

Bill
And, in a follow up email, Mayor Rachford sent me a copy of the letter that he sent out to all school superintendents, boards of education members of Campbell County, Dayton, Bellevue, Ft. Thomas, Southgate, Silver Grove, and Newport Schools, and Mayors of Dayton, Bellevue, Ft. Thomas, Southgate, Silver Grove, and Newport, and Campbell County Fiscal Court.

In his letter, Mayor Rachford begins by asking that all "city egos be put aside....for our children". He expresses his sadness in that "while Ft. Thomas Independent rated #1 and Campbell County Schools rated #21 in the Kentucky Department of Education School Report Cards for 2014­-15 year for the 173 public school districts", the "small districts were dismal failures: Dayton (#125), Bellevue (#155), Southgate (#158) Silver Grove (#162) and Newport (#172)."

Mayor Rachford closes his letter with the following request: "I urge everyone in a leadership capacity in these school systems and cities or who is a tax paying resident of these jurisdictions to seek a satisfactory solution to this problem. I suggest we form a county-wide task force to identify best practices to develop solutions that best serve our children. Don't we owe them a good education? One of the major factors in a person's long term success in life is their quality of education. I believe this is an opportunity to significantly improve the quality of education for many of our county's children so I ask that everyone put aside city egos for the benefit of our children. After all, our children are our future!!!"

Mayor Rachford and I spoke about his letter. I offered my support and my help. Would you do the same? Call Mayor Rachford at his offices at the City of Alexandria and join the effort.

Some of you who have written to me suggest that with additional spending we might be able to improve the "dismal" ranking of 7 of our NKY districts. Their logic is: "If we would only spend more in those 7 districts, we could improve their ranking."

We can just look at the stats from the Kentucky Department of Education website and find out if more money is the answer.

The following chart is similar to one presented in a prior column:

I added two additional columns to the grid: Total Expenditures per Student and Percent of Administrative to Total Expenditures. I also added one row, titled "State Average", to the grid. All of this data comes from the Kentucky Department of Education's website. (Yes, it is deeply buried within the site and requires some digging to see it.)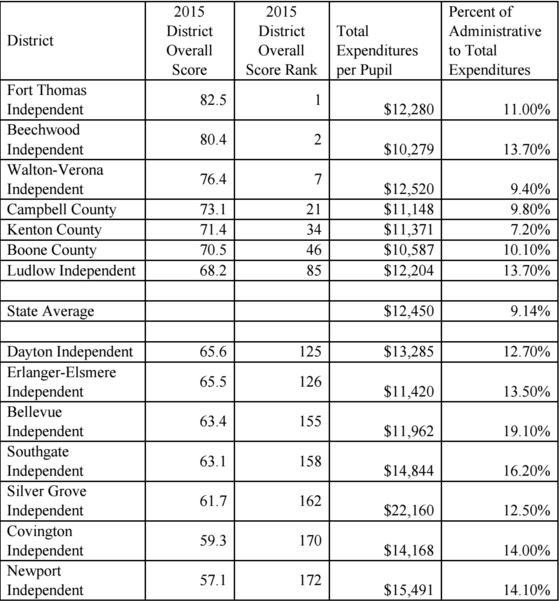 Please focus your attention on the seven NKY districts which are below the midpoint in ranking within the state. These seven districts are the most troublesome. Two of these districts spend less than the state average per student. The other five spend more that the state average. Some of them spend considerably more! No, you are not reading a misprint: Silver Grove spends almost $10,000 per student more than the state average!

All seven of these districts spend more than the state average as a percentage of total expenditures on their administrations! And again, you are not reading a misprint: Bellevue's administration expenditures are 19.10% of their total spend!

Five of those seven bottom tier districts spend more per student than the state average. Now, do you still think that we need to spend more money to improve the results?

Some readers have suggested that we could allow parents to spend their public education money within the private system.

The following is a chart of the Diocese of Covington Catholic high school tuition for "Non-Diocesan" children:
The above chart lists the tuition that these schools charge. Please realize that the actual cost per student is more. All of these schools have fundraisers throughout the year. The proceeds of these fundraisers as well as interest income from any endowment are used to augment the tuition. A leader at one of these schools indicated that the real cost per student per year would be about 10 to 20 percent more than the tuition that is charged. The Kentucky Department of Education does not rank private schools. But, the Council for American Private Education, which touts itself as the "Voice of America's Private Schools", reports the following:
Students with diplomas from private high schools are considerably more likely to be ready for college than those with diplomas from other schools, according to data from ACT, which produces a standardized test for college admission that carries the same name.

Eighty-­five percent of 2015 graduates of religious and independent schools who took the ACT met or exceeded the test's college readiness benchmark score in English, compared to 61 percent of graduates from public schools. The share of students who met or surpassed the benchmark scores in other subjects was also higher in private schools (reading ­ 66 percent vs. 44 percent; math ­ 60 vs. 40; science ­ 55 vs. 36).
Now, you be the judge. Do you think spending more money within our current system will improve school results?
The views and opinions expressed here in "Another Voice" do not reflect the views or opinions of The River City News, its owners, writers, or editors. These are solely the ideas of Ken Rechtin. If you wish to make comment to Another Voice, Ken can be reached via email at [email protected] or you may leave a comment here. All rights to use of Another Voice in any fashion are retained by Ken Rechtin. Please contact him for any use of his columns.