NKY Football Playoffs: Simon Kenton Rolls, Scott's Dream Season Continues
Sat, 11/14/2015 - 08:30
RCN Newsdesk
Eight Northern Kentucky teams survive and advance in the high school football post-season after Friday night's games.
Simon Kenton proved to be unbeatable again. Scott's dream run continues after a big comeback. And the season ends for Walton-Verona, Ryle, Holy Cross, and Conner.
Here's what happened:
Scott 28, Ashland Blazer 18
Ashland Blazer junior running back Kurtlen Brown played a key role in the Tomcats' early 18-0 lead in the first quarter Friday night vs. Scott with two touchdowns. But, he later fueled an Eagles' comeback, fumbling twice – each time ending in Scott touchdowns -- as the home team stormed back with 28 unanswered points to advance to the third round of the Class 4A playoffs for the first time in school history, 28-18.
Brown diced up the Scott defense on the Tomcats' initial drive of the game, opening up with a 58-yard run down the sideline into Eagles' territory. A few plays later, he found the end zone, completing a three-play, 69-yard drive for a 6-0 Ashland Blazer lead.

On its first drive, Scott senior quarterback Danny Fitzgerald tried to pull the ball back to his chest, deciding not to throw, but fumbled and Tomcats' defensive lineman Bryce Wright scooped it up and rambled down to the Scott 12. But four plays later on fourth down, Ashland Blazer still found itself at the 12-yard line and were unable to take advantage of its great field position and gave the ball back to Scott. 

Only this time, the Eagles gave it right back. The Tomcats took advantage of a Fitzgerald sack-and-fumble inside the Scott 10, and three plays later, fullback Noah Roberts gave Ashland Blazer a 12-0 lead with a one-yard run up the middle.

Following a Scott punt on its next possession, the Tomcats' would find the end zone for what would be the final time of the evening. With under a minute left in the first quarter, Brown found the end zone from five yards out, capping a six-play, 65-yard drive for Ashland Blazer and an 18-0 advantage.

Then, the Eagles began to chip away into the Tomcats' lead. Led by several big runs from sophomore Nelson Perrin, Scott was able to score before halftime via a fourth down slant pass from Fitzgerald to sophomore receiver Ryan Muck. Beginning its next drive deep in its own territory at the 14, Brown took a handoff around the right side but was hit and fumbled. Two plays later, Perrin inched Scott closer with an eight-yard touchdown run and the Ashland Blazer lead was cut to five going into halftime.

To begin the third, Eagles duo Perrin and senior running back Roberto London took turns gaining significant yards on the ground, culminating in a one-yard run for London with 6:38 to go, giving Scott its first lead of the game, 21-18. On its first play from scrimmage on the next drive, Brown put the ball on the ground for the second time, giving Scott another chance to capitalize. But Tomcats' senior cornerback Josh Bradley intercepted a third-and-long Fitzgerald pass over the middle, bailing out his teammate. 

Despite being knocked out of the game briefly on their ensuing possession following an 11-yard scramble and hit out of bounds, Fitzgerald returned to give Scott a key third down conversion to Perrin. 

Following a facemask penalty on the play that gave the Eagles' possession at the Tomcats' 18, Muck capped an 80-yard drive for Scott on a pass from Fitzgerald and a 10-point lead heading into the final quarter, 28-18. The Eagles' did not score again in the fourth but held Ashland Blazer scoreless, sealing the game with 3:17 to go, picking off a floating pass over the middle from Tomcats' junior quarterback Tate Dowdy.

With the win, Scott (10-2) advances to the third round of the playoffs for the first time in school history and did so without one of its best players, senior running back Deondre Pleasant. Despite his season-ending injury against Rowan County last week, Scott Head Coach Dan Woolley said his team was up for the challenge. "Anytime you lose a player the quality of Deondre, it's a big loss. We've had a good team the whole year and it hasn't been a one-man show and we've got multiple guys…we've got multiple guys with 500 yards rushing, five or more touchdowns. We've got a lot of weapons to account for," he said, also giving his team credit for the fight it showed after being down 18 points early. "The game ain't over until it says zero," he told his team.

Johnson Central (10-1) pays a visit to Scott next Friday at 7:30 after its 49-6 victory over Greenup County.
-Jason Finnell
MORE SCORES AND STORIES ON THE NEXT PAGE!
Simon Kenton 41, Ryle 23
Simon Kenton is a factory of points and no opponent knows that better than Ryle who went down again at the hands of the Pioneers, 41-23, in the second round of the Class 6A playoffs.  SK (12-0) will host Cooper next week in the regional championship.
In their previous meeting in October, Ryle was able to hold Simon Kenton to 28 points—one of only two times the Pioneers were held under 30—but were only able to manufacture one touchdown of their own.
On Friday night, the Pioneers found all kinds of ways to into the end zone, including an 89-yard kick return by Jacob Harney in the third quarter, and a razzle-dazzle trick play that saw three passes thrown on the play and ended with quarterback Cam Racke catching a backwards toss behind the line and finding Logan Scott wide open for an easy touchdown.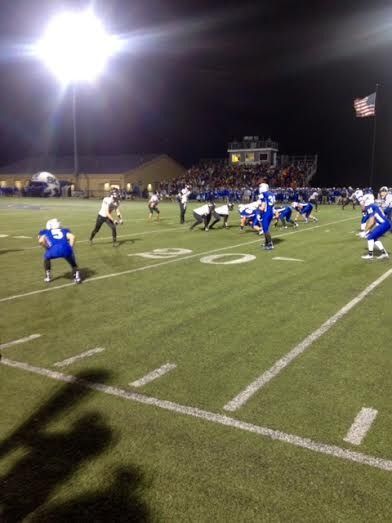 All throughout the first half, Ryle looked competitive. After Simon Kenton put together a long drive that ended with a touchdown, but a missed extra point, Ryle quarterback Tanner Morgan orchestrated his own scoring drive that included three third-down conversions and was highlighted by halfback Colin England's five yard touchdown run from the wildcat formation.
Throughout the evening, Ryle went with the wildcat on third down with mostly disappointing results. While England scored on the direct snap, there were crucial times in the game when the Raiders had to pick up a first to stay in the game, but instead fell short.
No situation became more of a head-scratcher than when Ryle decided to run a halfback pass to England on 4th and 15 from inside the SK 20 yard line. England was hit as he threw for an incompletion and the turnover on downs with his team down 13-7 in the second quarter would prove to be big.
The Raiders were able to tack on three more when they drove 58 yards on squeak in a Mason Moulique field goal with under 30 seconds in the half to make the score 13-10.
At halftime, it felt Ryle had outplayed the district champs but were still down on scoreboard. The Raiders had dominated time of possession and when Tanner Morgan could drop back in rhythm, he threw fast accurate passes. The Ryle defense held Simon Kenton to under 120 yards of total offense in the first half, which was very likely the least generated all season for head coach Jeff Marksberry's team.
The second half was a completely different story, though, as the Raiders went three and out with an awful punt and then were victimized by a Dillon Powell 43-yard scamper down to the six, where he punched in on the next play to give SK a two-possession lead, 20-10.
After another Ryle punt, the Pioneers dug deep into their playbook and bag of tricks for a wild touchdown play. First Racke took the snap and fired it out quickly to the flats to wide out Tanner Green. Because it was technically a backwards throw, Green was able to toss it back to Racke who caught it and chucked it deep to Logan Scott for one slick scoring play. That turned the pressure up on Ryle even more with the score, 27-10. 
From that point on, the SK defensive line took control of the point of attack, and—similar to what caused the Raiders' demise in the first meeting—flushed Morgan out of the pocket and made him throw more desperately on the run. Once he threw a fourth-quarter interception to Brian Carter, the game was in hand for the Pioneers.
Simon Kenton will see Cooper (10-2) for the second time this season after beating them 26-7 in Week 5. The winner of that game will go on to play in the state semifinals against either Scott County or Lafayette. Ryle finishes their season at 9-3. 
-Bryan Burke
MORE STORIES AND SCORES ON THE NEXT PAGE!
Newport Catholic 46, Holy Cross 15
Newport Catholic continues to roll in the second half of the season. Since starting the year 2-4, the Thoroughbreds (7-5) have won five of their last six.
New Cath beat Holy Cross earlier in the year 20-13 and had less trouble with the Indians in the second round of the Class 2A playoffs.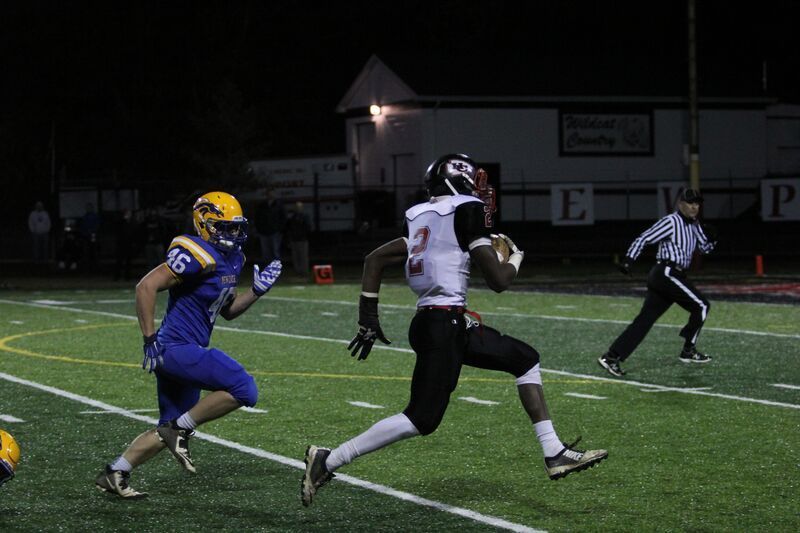 Holy Cross fell behind early, 2-0, after being charged a safety but then took the lead after New Cath fumbled a kick resulting in an Indians touchdown. That lead would be short-lived and most of the game was all Thoroughbreds.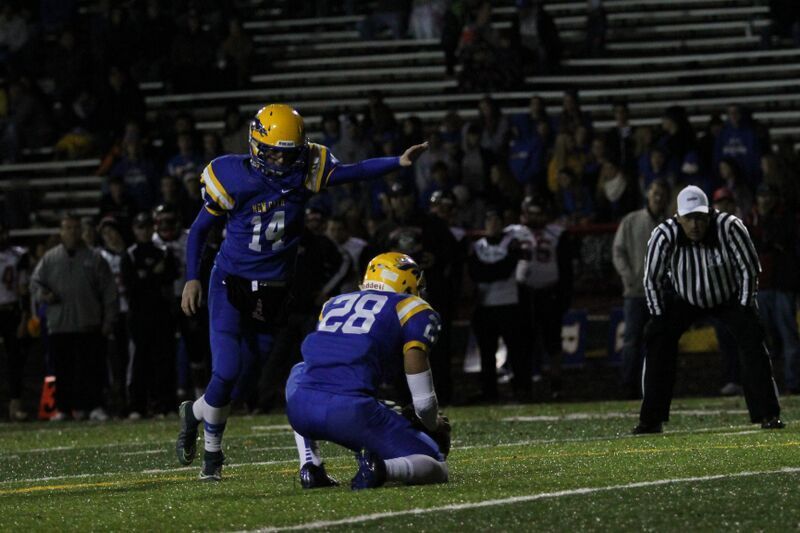 New Cath's Patrick Henshen connected on 9 of 12 passes for 176 yards and four touchdowns, and Jacob Smith added 177 yards on the night.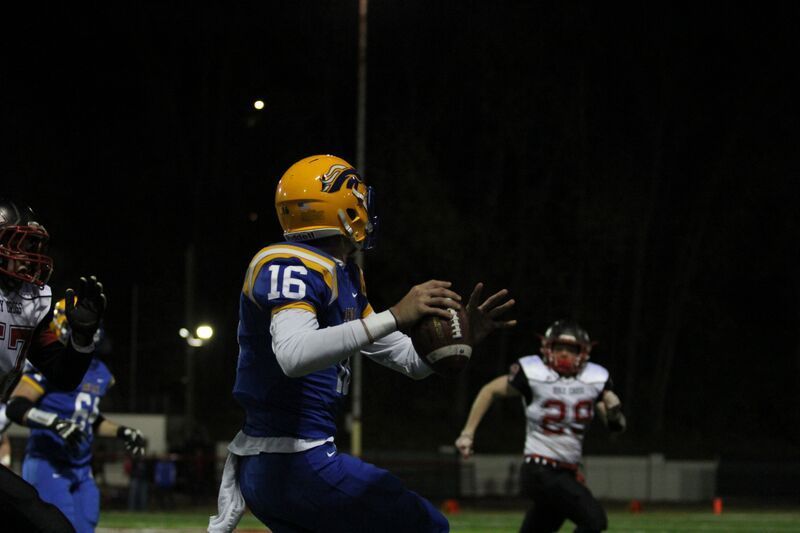 Holy Cross's Derrick Barnes led the team in rushing yards. The Indians finish the season 6-6. Holy Cross had won only 6 games in the previous three seasons combined.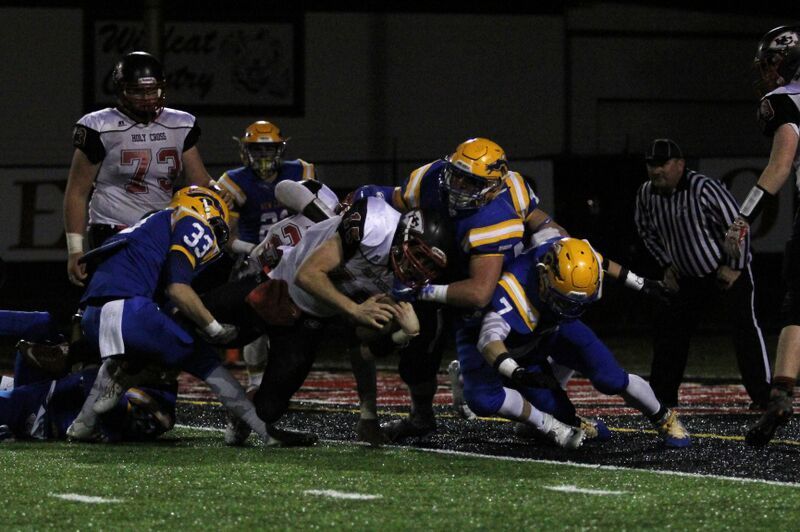 New Cath will host Lloyd (9-3) next week.
-Brian Frey
MORE SCORES ON THE NEXT PAGE!
CLASS 1A
Beechwood 28, Frankfort 10 The kids from the state capital were sent packing after being walloped in Ft. Mitchell. Frankfort saw its season end at 3-9. Beechwood has now roared its way to an 11-1 record and a date with Louisville Holy Cross on the road next week.
CLASS 2A
Lloyd 31, Walton-Verona 14 The Juggernauts continue to flex this season, this time rolling into Walton and leaving with a big win over the Bearcats whose season ends at 6-6. Lloyd is now 9-3 and next week will travel to Newport Catholic.
CLASS 5A
Highlands 52, Dixie Heights 21 The Bluebirds put an end to Dixie's surprise run, running up the scoreboard on the Colonels in Ft. Thomas. Dixie finishes the year at 3-9. Since starting the season 1-5, Highlands has assembled a 6-game winning streak and next week will host Covington Catholic in Round 3.
Covington Catholic 28, Madison Southern 7 Cov Cath went to the Richmond area and came back with an easy win over Madison Southern (5-6) to improve to 5-7 on the year. Next up: Highlands.
CLASS 6A
Cooper 14, Conner 6 Another close game between these two ended with a Cooper victory. The Jaguars defeated the Cougars earlier this season, 15-13, and again on Friday night in a one possession game, 14-6. Conner's season ends at 8-4. Cooper is now 10-2 and will travel to Independence next week with something to say about Simon Kenton's undefeated season.
-Michael Monks