Premium Content
The Most Important Intersection in Northern Kentucky is Ready for Its Comeback
Thu, 12/10/2015 - 21:30
RCN Newsdesk
Madison Avenue and Pike Street are the actual names given to Memory Lane, that nostalgic road so many travel down when reminiscing about downtown Covington's heyday, an era that stretches back before the automobile through the arrival of serious urban decline in the 1970's.
For a century, downtown Covington was the center of Northern Kentucky's universe.
Historic photos remind us of a time when men wore top hats, and ladies floated across the avenue, their long dresses touching the streetcar tracks beneath their feet.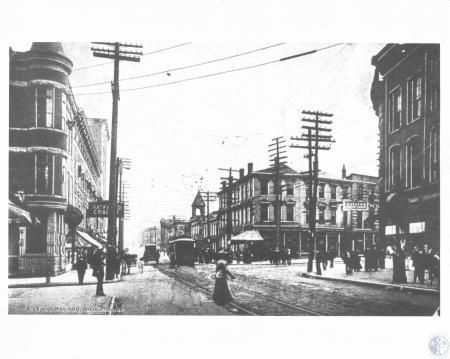 Even then, the hands of time spun around the Motch Jewelers clock with its front row seat at Pike & Madison where it watched this downtown rise and fall.
Banks and businessmen, shops and restaurants, streetcars and carriages, have all come and gone, and come and gone again. But there was a depressing time five decades ago when it looked as though all those things had gone forever.
Suddenly, the center of Northern Kentucky's universe drifted southward, bypassing Pike Street for Interstate 75, and Covington for Florence where a new mall welcomed excited shoppers, many of whom would spend their dollars at marquee brands that once proudly shared Madison Avenue or nearby addresses. A last-ditch effort by the City of Covington to slow the rapid flight from the region's urban core is now recalled with great disdain: Old Towne Plaza eliminated vehicular traffic on the first block of West Pike Street and installed a walkable city center that aimed to attract the shoppers and diners and workers who once so easily came here.
When that plan failed, the plaza was removed, and though cars were permitted to drive through again, there were fewer than before.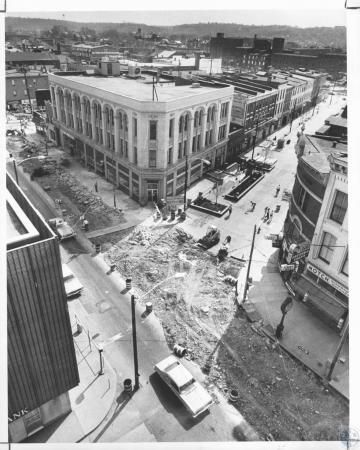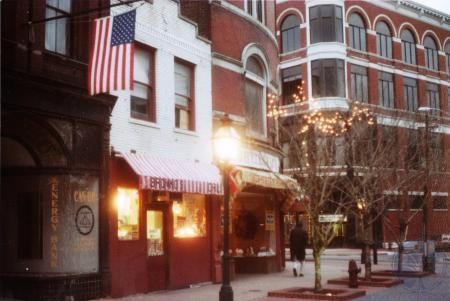 Decades of doubt and depression would follow.
But light is starting to shine at Pike & Madison once more, and while rebuilding a legacy as grand as the downtown Covington of yore will take many more years, for the first time since that plaza was dug up and tossed aside, serious signs of new life are emerging.
In a big way.
Much of it culminates in a celebration on Friday when multiple storefronts celebrate their grand opening. At 2 West Pike Street, that unique building with the rounded facade that travels with pedestrians and drivers from Madison to Pike Street, Renaissance Covington will open its first standalone office. Earlier in the fall, the downtown promotional and booster group, known primarily for embracing hip trends in the new urban lifestyle like pop-up shops and creative placemaking through activating otherwise dormant spaces, separated itself from the City of Covington. Though it will receive city funding for the next five years and city staffers will retain seats on the nonprofit's board, Renaissance Covington will assist aspiring entrepreneurs directly at street level.
The organization's executive director, Katie Meyer, joined The River City News for a podcast interview about the upswing at this important intersection:
Renaissance Covington will be first floor neighbors at 2 West Pike Street with Durhan Dept., the new retail establishment launched by Austin Dunbar who has operated Durham Brand & Co. on the second floor. Stretched across the windows of the second floor, for all to see, are the words: The Old Has Gone & The New Has Come.
Ain't that the truth?
"We craft work for clients around the world and create goods for ourselves and decided to get serious open a brick and mortar destination for our city and abroad," said Dunbar.
On why he chose Covington to locate his business, Dunbar said, "Everything in my life is focused in Covington -- where I live, raise my family, work and play. Investing in the community I call home makes sense for what I stand for and the city I believe in."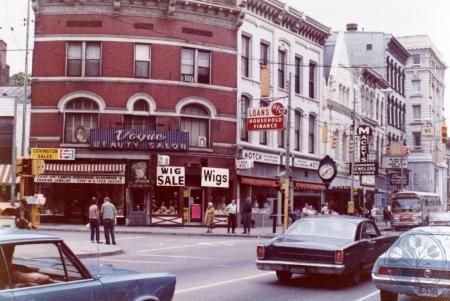 Developer Kelly Charlton purchased 2 West Pike Street and renovated the upper floors to include new apartments and Dunbar's branding firm. The storefronts were redone and now call Renaissance and Durham Dept. tenants. Charlton has now turned her focus to another Pike Street building and more businesses are populating these spaces.
Around the corner, on Madison Avenue, the Law Offices of Shannon Smith and Body By Bree fitness studio will also open their doors to visitors on Friday. Two living spaces are also included in the stunning building that is 605 Madison Avenue. 
"Our motto is 'Client Focused. Results Driven.' We work hard to make sure every client receives a return communication the same day or within 24 hours - our clients and customer service are an absolute priority," said Smith, the attorney. "We also make being the best in our field a priority which is why we take continuing education courses and obtained a certified estate and trust specialist designation."
"There is a strong community here and [the city is] in the midst of a revitalization which is attracting a diverse group of businesses, many of which we have had the pleasure to work with. I saw a passion in local business owners and citizens and could not wait to be part of it and help other owners realize their dreams."
Smith and trainer Bree Singer have been working on the building that houses both their businesses and their home.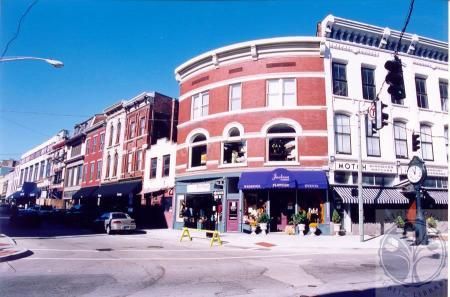 "The motto of the Studio is, 'Fitness is beyond the physical.' We believe fitness is not just about aesthetics, it is the foundation of health and happiness," said Singer. "Fitness is a life long journey which is why we provide not only conventional work outs and nutrition plans, but innovative fitness programs."
Covington is also a source of inspiration for the fitness instructor.
"Nothing sets my soul on fire more than passionate people and good old fashioned hard work. The passion I have for building my business I saw in other local business owners and citizens. I recognized that the area is on the upswing and something great is happening here," she said.
Also on Friday, Point Perk will open at 43 West Pike Street, in the unique building that sits at the tip of West Pike where it hits Washington Street. The new mission-driven coffee shop is brought to town by the Point/ARC, the nonprofit that empowers those with intellectual developmental disabilities. 
Though Friday's celebration is about these new buildings, the energy stretches beyond their storefronts. Right on these immediate blocks of Madison Avenue and Pike Street, new development is erupting. Where shoppers once flocked for fine clothing and accessories in the towering Coppin's Department Store, guests will soon sleep overnight when The Hotel Covington, a $21.5 million boutique hotel project, opens next summer. The former Citizens Bank building is now home to a new Barnes & Noble student bookstore that serves the students of Gateway Community & Technical College and its ambitious urban metro campus that is bringing back to life nearly a dozen properties downtown. Next door to that, the old YMCA that currently houses the Commonwealth of Kentucky's local offices for its Cabinet of Health & Family Services will soon be vacant again as those offices move to a new building in Latonia and Gateway prepares to renovate it for administrative space.
On the other side of Madison, the Mutual Building, a prominent property that sat mostly vacant for decades but that was once home to landmark jewelry stores and popular eateries, now has a dozen upscale apartments fully rented and new storefronts ready for tenants. The River City News moved its offices there and is joined by flow - a shop for men and Cutman Barber Shop. A Jimmy John's sandwich shop franchise will soon open on street level, too, giving downtown Covington its first new fast food chain in years.
The renaissance in downtown Covington is nascent and fragile, but it is unmistakably real. There will be ribbons cut on Friday to welcome these new arrivals, and those who choose to join in the revelry can also enjoy dinner at popular KungFood Chu's AmerAsia, Riverside Korean, Inspirado, or Wabi Sabi. They can browse new furniture at the newly expanded Sims, or see what's playing at the Madison Theater music venue or Backstage Cafe. Afterwards, cheers to the New Covington with a glass at the always packed Braxton Brewing Company, the most exciting new addition to downtown in decades, a thriving new business that joins its neighbors that survived the downturn and remain to see the upswing like Klingenberg's Hardware and Old Towne Cafe.
It is no small task to rebuild a fallen downtown.
But brick by brick, and storefront by storefront, downtown Covington has quietly embarked upon an earnest comeback.
On Friday, it plans to roar about it for a while.
And then on Monday, it's back to work, to taking the next steps of many more to come restoring and redefining the intersection of Pike Street & Madison Avenue, and spreading that newfound energy and passion to all corners of Northern Kentucky's capital city.
Point Perk opens its doors at 3 p.m. on Friday, while Renaissance Covington, Durham Dept., the Law Offices of Shannon Smith, and Body By Bree will open at 4 p.m.
Written by Michael Monks, editor & publisher
Top photo by The River City News; All other photos appear courtesy of the Kenton County Public Library