Old & New: Changes, Memories at Covington Fire Department
Sun, 12/20/2015 - 20:48
RCN Newsdesk
It was quite a sight last weekend as retired firefighters gathered outside the old Covington Fire Company #4 on Main Street.
The building is now a beautiful single family residence, restored by C.J. and Cindy Novack who welcomed a group of retired members of the Covington Fire Department who shared memories of their time at the firehouse before it was shuttered in 1983. The 1888 building is a loft-style residence used by the Catalytic Fund during its first Beyond the Curb urban living tour to highlight the diverse offerings of River City real estate.
Before it was used as an example of exciting urban living opportunities, it was home to the fire department and its retired members shared memories of criminally-motivated explosions and well-known fires like the one at St. Aloysius while they served the city.
Present last weekend for the tour were Mike "Fuzzy" Swain, Mike Newcomb, Charlie Stulz, Chuck Baird, Joe Heringhaus, Bill Engel, Terry Keller, and Tom Hall.
An increase in public safety staffing
The celebration last weekend was symbolic of the change and restructuring at the Covington Fire Department. On Friday, at Covington City Hall, ten new firefighters were sworn into service.
Additionally, three firefighters were promoted to new positions at Tuesday's city commission meeting, part of the city's goal to increase police and fire staffing.
In October, the city commission passed legislation approving an increase in Police Department staffing levels from 106 to 110 employees and Fire Department levels from 109 to 110.
On the police side, Tiffany Schuler was added as a part-time Police Department cadet. Her employment follows the addition of three officers hired on November 10. Timothy Cochran, Scott Menefee, and John Adkisson were lateral transfers from other area law enforcement departments. Having already completed the 23 weeks of state-required training, the officers were able to quickly begin work in Covington.
Mayor Sherry Carran swears in the new firefighters at City Hall (provided)
Meanwhile, the firefighter promotions are the result of the addition of a Captain position, approved on December 8. The new position will allow for a Captain to cover each shift in Car 9, the Fire Department's inspection services vehicle, adding more supervision and oversight.
Mike Lee was promoted from Lieutenant/EMT to Captain/EMT, filling the newly created opening. Mike Davis was promoted from Engineer/EMT to Lieutenant/EMT, and Joe Finan was promoted from Firefighter/EMT to Engineer/EMT. All candidates were at the top of their respective promotional lists.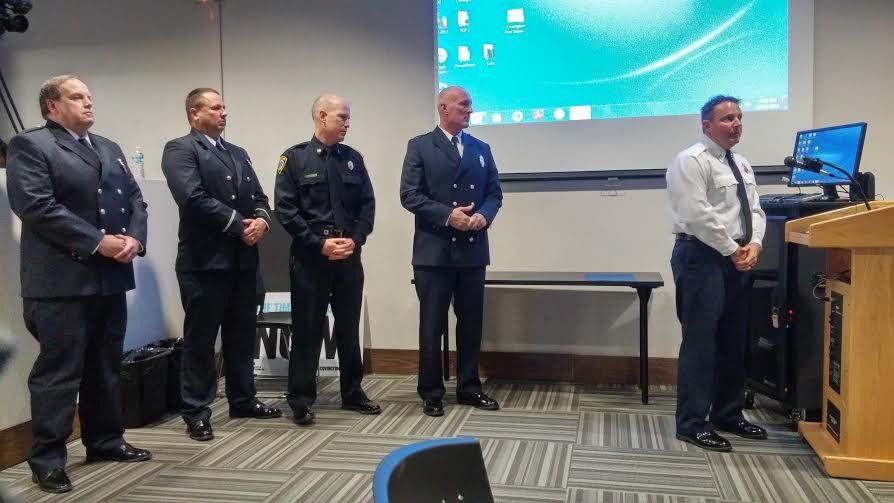 Firefighters promoted by Fire Chief Dan Mathew (RCN file)
"The Mayor and Commissioners are very pleased to add to our public safety positions, especially increasing Police Department staffing from 106 to 110. This is the first time in several years that the City budget has allowed for additional police officer positions," said City Manager Larry Klein. "We are very proud of the job that all our City employees do every day to serve our residents and businesses."
The new firefighters added to the staff include John Baer, Benjamin Erdman, Daniel Hodge, Benjamin Kennedy, Michael Koeninger, Adam Mardis, Dylan Meyer, William Stevie, Kyle Vogelpohl, and Jacob Westrich.
Changes in union leadership
In addition to being promoted to his new position as a captian/EMT, Mike Lee was also elected president of Local 38 of the International Association of Firefighters, which represents Covington's department. 
Lee replaces Jimmy Adams, the outgoing president who challenged the city commission and administration on staffing levels throughout his tenure.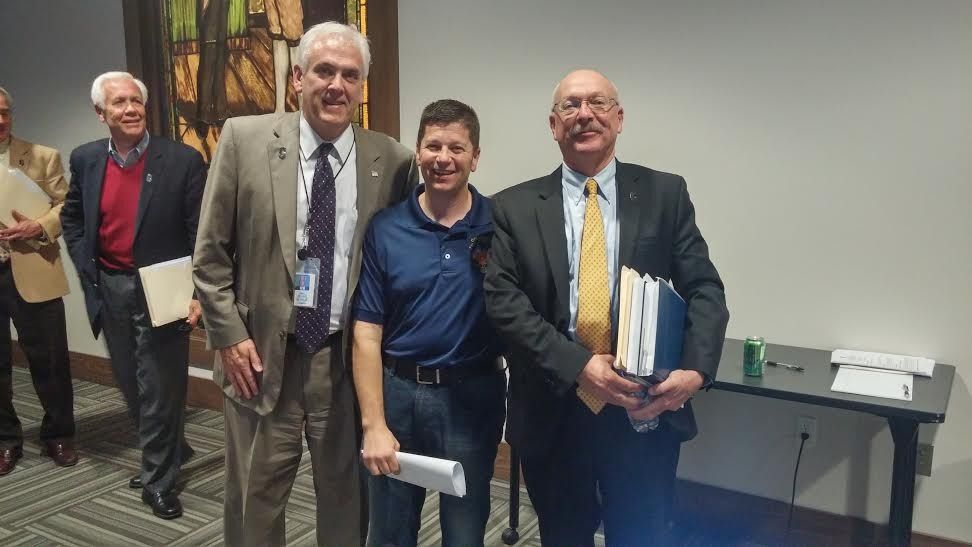 Jimmy Adams (center) poses with frequent adversaries City Manager Larry Klein (left) and City Solicitor Frank Warnock (right)/(RCN file)
Adams spoke as president for the final time at the city commission's December 1 meeting. "It's been an interesting two years," he said. "Looking back at it, I think we accomplished a lot. Sometimes things got a little tough. I spoke to Larry (Klein) a couple weeks ago on the phone. It's never personal. I got 110 guys that I represent well and I want to make sure they all go home and I like to think that things are going to better than I found them. I think the relationship between Local 38 and the city administration as a whole is better than when I took over."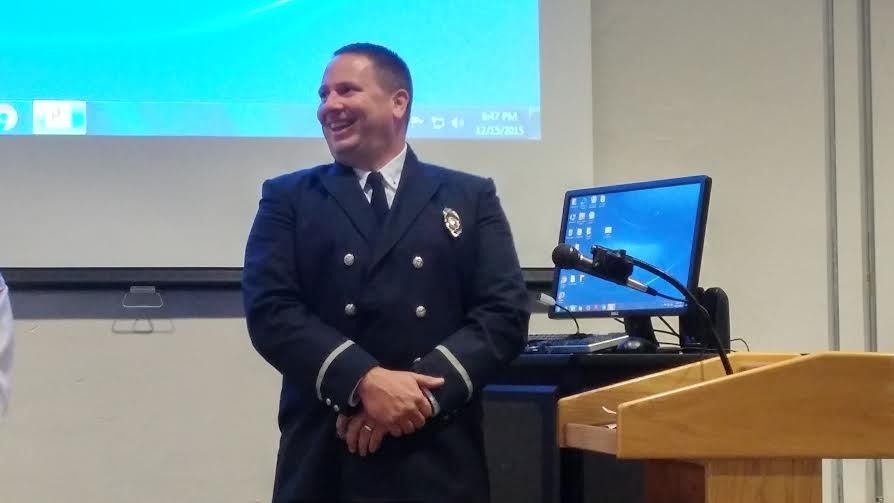 Mike Lee (RCN file)
Adams said that he has newfound respect for the city staff and how city government operates. "I learned a lot and I will pass that knowledge on as best I can to the new people on the (executive) board," he said. "Next time you see me, hopefully I have one or more promotions in me. Then I'll have a retirement speech some time in the next four years."
-Michael Monks, editor & publisher