Premium Content
175 New Apartments, New Commercial Spaces Part of Massive Downtown Covington Project
Tue, 12/22/2015 - 12:07
RCN Newsdesk
For the first time since it was announced, in an exclusive report by The River City News more than a year ago, Duveneck Square was presented publicly.
Covington's urban design review board gave the OK to the massive project's developer to tear down surrounding buildings to make way for a new mix of commercial spaces and approximately 175 new residential units.
The development will occupy what is now a parking lot on the west side of Washington Street bordered by Pike & Eighth Streets, as well as the east side of Washington Street where a row of historic buildings currently stand. Those buildings will come down as part of the approval gained Monday night.
"In 2009, we identified this site as an important economic development opportunity because of its excellent location. It was underutilized and was a big, huge hole in Covington's urban fabric," said Jeanne Schroer, president of the Catalytic Fund, the organization responsible for putting together several important real estate deals in the Northern Kentucky River Cities.  When the site was first identified, the capital markets were not strong enough to support large capital development, Schroer said. Instead, the Catalytic Fund worked with developers to complete projects like the Market Lofts and the Mutual Building which each added 15 new residential units in downtown Covington.
Duveneck Square will be different as it brings an instant critical mass to the urban core
"We are seeing some new and unique retail businesses beginning to open but the area is somewhat fragile and at a tipping point. It is difficult for these businesses to survive without a critical mass of residents and office and commercial uses," Schroer said. "The Duveneck project will fill this critical gap."
Phase One of the project will being more than 100 market rate apartments, 5,000 sq. ft. of commercial space, and will represent a $17 million investment. It will be constructed on the east side of Washington.
Later, Phase Two, which will be constructed where the parking lot currently sits, will represent a $40-$50 million development with more retail, office, and residential units.
"This is an opportunity to provide 150-plus quality, new market rate apartments and what this will do to this area is increase Covington's downtown population and therefor appeal to new businesses," Schroer said. "It will create sustainability of new and existing businesses in the corridor and I think most importantly, some of the other historic buildings in need of renovation and adaptive use, this project will increase feasibility of investment in those buildings."
Biggest new development downtown yet
The Duveneck Square project, named for famed Covington artist Frank Duvebeck who is represented by a statue in the park at Pike & Washington, will be the largest development in a downtown renaissance that is quickly picking up its pace. As Schroer said, the Market Lofts added 15 new market rate apartments to the neighborhood just a block away, and rented out before the building's restoration was completed. The Mutual Building on Madison Avenue also saw its 15 residential units fill up swiftly, and three of its commercial spaces are occupied by flow - a shop for men/Cutman Barber Shop, The River City News, and soon, a new Jimmy John's.
The Hotel Covington, a $21.5 million project that will transform the old Coppin's department store/Covington City Hall building into a boutique hotel, is well underway. The Doctors Building is also well into its renovation that will add more market rate downtown apartments. Gateway Community & Technical College continues its mission to expand its urban metro campus across the downtown fabric, and already has four buildings to its credit with plans for more. In all, the college's total project represents roughly $80 million in investment.
But the Duveneck project is different in more ways than its price tag and size.
"This is also an opportunity to work with a quality new development team that has experience in urban revitalization projects," Schroer said. The team is comprised of NorthPointe Group and John Senhauser Architects. Most recently, the team worked on Seven at Broadway, the 111-unit luxury apartment tower in downtown Cincinnati. Other NorthPointe projects include (in part or in whole) Mercer Commons, Gateway Condominiums, and the Westfalen Lofts, all in Cincinnati.
A major player in downtown Cincinnati's and Over-the-Rhine's revitalization is now settings its sights on downtown Covington.
"The attempt here is to develop a critical mass of residential construction," said John Senhauser, the architect whose firm will design the project. "The majority of this is 4-story structures with primarily residences on Washington Street with commercial on the ground floor on Seventh Street. The desire is to develop a strong residential neighborhood that would have around 175 dwelling units, perhaps more. We feel that this is very much a keystone project."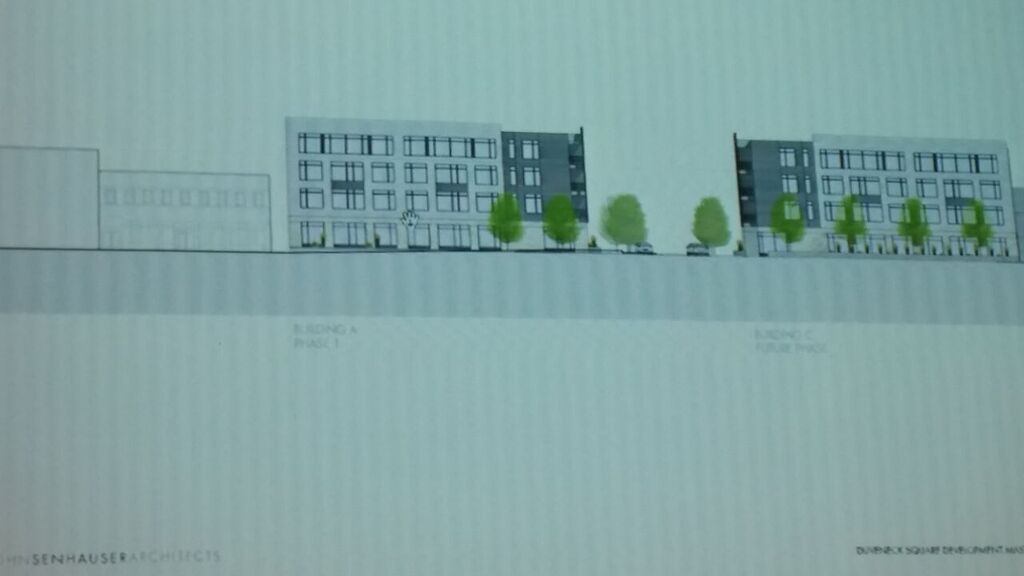 The residences along Seventh Street would feature small walk-up units, "that mimic some of the historic walk-up type of front doors in a lot of the historic buildings, and then returning to a building that holds a corner and steps back again," said Andreas Lange, an architect at Senhauser's firm. The units will range in size from studio to 2-bedroom.
STORY CONTINUES ON NEXT PAGE WITH DETAILS ABOUT BUILDINGS TO BE RAZED
Historic buildings slated to come down
To make way for Duveneck Sqaure, some existing buildings on Washington and Eighth Streets will be demolished. The urban design review board gave the OK to tear down the buildings that currently house Be Concerned, the 722 Club, and a church.
One church member spoke at the UDRB meeting on Monday, expressing concern for the church's future. "We're putting money into it to keep it going and on Saturday we have a preacher from Ohio come down here for the homeless in Covington," said David Wallace. "He puts in three hours here on a Saturday and the homeless go in there and talk to God.
"It don't make sense to me because in Covington there's a lot of churches that get sold and they have bars in them like the one on Main Street. If they go in there and try to take something, all this land they're trying to take down, to me it's not right and I don't see where it's gonna help Covington."
No one else spoke against the demolition of the other buildings, located at 32-34 West Eight Street (the church), 710-720 Washington (Where Be Concerned currently operates in a building constructed around 1937 as a warehouse for Sears, Roebuck & Co. which operated a store on Seventh Street), 722-24 Washington (the 722 Club, a building that is non-contributing the historic district), 726-728 Washington (an Italianate home from the mid-19th century that is currently vacant), and 732-734 Washington (a former gas station built in the 1930's).
The development will also occupy the parking lot that was turned into the Madlot performance space at the southeast corner of Seventh & Washington Streets.
When completed, the project could be the new home of the City of Covington, which currently rents a space on Pike Street from the Salyers Group, which is renovating the old City Hall as the Hotel Covington project. Kenton County's government was also expected to be part of the project at one time but those plans have since stalled and the county is actively exploring development opportunities for its tower near the riverfront.
Before the buildings on Washington and Eighth Streets are razed, the developer will have to get design approval from the UDRB for the building that will ultimately be placed there, must allow for architectural salvage, and must fill out an individual survey form for submission to the Kentucky Heritage Council. The UDRB unanimously approved the demolition plans.
Surrounding businesses are excited about the development.
"The context of the original buildings has been forever changed by the loss of adjoining structures and they are now isolated remnants of what was once there," said Clete Benken, of MKSK Architects, which operates at 27 West 7th Street. "The project is sensitively designed and will have a dramatic influence on the cultural and economic vitality of the area. We look at this project as an opportunity to allow our employees to be residents and investors in this area and to take more of a stake in the renaissance of Covington."
"As someone who opened a business here nine months ago, one of those things we thought about was what this area could be," said Jake Rouse, CEO at Braxton Brewing Company, the popular new brewery on Seventh Street. "We have gotten fantastic press about being able to revitalize an area. When I first heard about this project, I got excited for a lot of reasons. At 26 years old, something like this would attract me to live here." Rouse said that projects like Duveneck Square help him attract talent when he's recruiting staff.
The original deal that paved the way for Duveneck Square resulted in the swap of lot ownership between the City of Covington and Corporex. The development company previously owned all the properties that will make up Duveneck Square, and the City of Covington owned a parking lot closer to the riverfront near the Ascent luxury condo tower that was developed by Corporex. Since the swap, it has not been made public what may come of that parking lot in Roebling Point, but at Washington Street, the continuation of Covington's downtown revitalization picks up even more speed.
"This is an opportunity to execute the City Center Action Plan," Schroer said about the 2012 plan adopted by the City of Covington to guide its downtown revitalization efforts. "It accomplishes the attraction of jobs and support of existing businesses. It will cultivate thriving retail. It will activate development opportunities, attract young talen, and make Madison & Pike inviting with affordable housing options."
Written by Michael Monks, editor & publisher