Editorial: For NKY River Cities, 2015 Was Banner Year and 2016 Could Be Even Bigger
Mon, 01/04/2016 - 18:40
RCN Newsdesk
For the Northern Kentucky River Cities, 2015 will be hard to top -- but in 2016, it might just happen.
Covington, Newport, Ludlow, Bellevue, and Dayton created much buzz for themselves last year, attracting new attention from visitors, residents, and developers in a volume not seen in decades. 
Make no mistake about it: Northern Kentucky's urban core is alive.
Think about this: The Catalytic Fund, the ambitious $10 million fund that invests in and offers gap financing for urban redevelopment projects, had the wild idea that maybe people would want to take a look at what living in the NKY River Cities is like. "Beyond the Curb" was born, and the walking tours of historic and new living spaces in Covington in the spring and Newport in the fall were massive successes, attracting more than 1,500 people. Ludlow, Bellevue, and Dayton will host tours soon.
Meanwhile, Homefest rocked Dayton, showing that luxury riverfront living on the south side of the Ohio is available in a beautiful setting.
When Covington, Newport, and Bellevue linked into Cincinnati's bike-sharing program, Red Bike, it was an instant success, and added to the vibrant connection between Kentucky and Ohio where the border is blurring for true urban dwellers.
Whether you toasted your neighbors at Braxton Brewing Company in Covington or Second Sight Spirits in Ludlow, there was much to celebrate on the Southbank in 2015. 
Here is a look at the big wins (and some misses) from 2015 and a quick look at the possibilities for 2016.
STORY CONTINUES ON NEXT PAGE!
COVINGTON
Northern Kentucky's capital city celebrated its 200th birthday in 2015, and set off on a banner year with a beautiful gala celebration, and an enthusiastic attempt to generate civic pride on the occasion of the bicentennial with its COV200 organization. Though COV200 overall was a mixed bag of hits and misses (including the sad instance in which the organizers' long-hoped for opportunity to seize attention during the Major League Baseball All-Star Game in Cincinnati was mostly washed out on the Covington riverfront), the year-long celebration benefited from timing: Covington saw tons of new developments in 2015.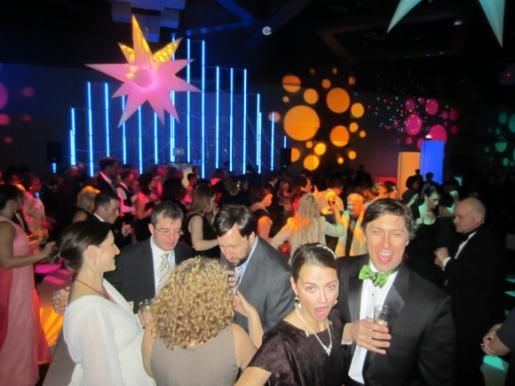 The Hotel Covington project finally got rolling, Gateway Community & Technical College opened up newly renovated historic buildings, the Mutual Building opened and fully leased its apartments and offered new commercial spaces (most of which are occupied or soon will be), and the Doctors Building is currently under construction for even more apartments.
And how about the Boone Block Building? The sprawling, mostly-vacant structure at 4th & Scott is being transformed into 9 luxury 3-level townhouses -- six of which are already under contract.
Up and down Madison, Pike, Scott, and Greenup, and surrounding urban streets, there are dumpsters outside historic buildings that are getting new lives for new residents.
Developers can't build apartments fast enough in Covington. Even River's Edge at Eastside Pointe finally welcomed tenants after more than three years of construction work.
But they are trying. The estimated $50 million Duveneck Square project will replace under-utilized buildings and parking lots at Pike & Washington Streets, bringing with it more than 170 market-rate apartments and new commercial opportunities. That project took a big step in receiving permission to raze a few historic and non-contributing buildings just as 2015 was winding down.
And let's talk about food! Mainstrasse Village staked its claim as a true foodie destination with the addition of new hot spots like Frida, Son & Soil, Pizza Tower, and soon Mac's Pizza and Lisse, to join the already celebrated and eclectic mix of dining options in the region's favorite entertainment district. Meanwhile, downtown Covington saw the arrival of new favorites Inspirado and Wabi Sabi, and will soon boast of a new Jimmy John's -- the first national chain to open on Madison Avenue in years.
In 2016... Covington has many opportunities to capitalize on the downtown successes. It will work to better connect Madison Avenue to Mainstrasse with its Sixth Street project. At long last, the city's riverfront will get the attention that it deserves thanks to a multi-million dollar federal grant awarded through the Commonwealth of Kentucky. And finally, the city is getting serious about finding a developer for the city-owned 501 Main building in Mainstrasse.
Plus, what will Kenton County do with its administration building? Will it be the new home for Northern Kentucky University's Chase College of Law? Will it become a luxury apartment tower? Will the county stay? This year, we will probably know.
Meanwhile, it's time for Covington to shift major focus towards development efforts in Latonia. There is an attractive "downtown" environment at Ritte's Corner begging to become the next niche hotspot in the region but it will need a fully committed effort. The city missed a chance to redirect resources to this effort when it agreed to allow Renaissance Covington to become a semi-independent agency instead of one fully backed by the city. Latonia needs a city-backed effort like Renaissance or a second economic development staffer that will work full-time at creating incentive packages for Ritte's Corner business opportunities, attracting developers for mixed-use opportunities, and most importantly, driving a change for the Latonia Shopping Center, an incredibly valuable piece of land that benefits not only from being next to the charm of Latonia, but also right next to I-275 and all of Northern Kentucky!
Downtown Covington and Mainstrasse Village are really getting into a nice groove (although they could be much, much cleaner -- it's disgraceful --  and a business improvement district would be beneficial), and now it's time for the city to shift and share that focus with other parts of the city that can also be economic drivers.
THIS STORY CONTINUES ON THE NEXT PAGE!
NEWPORT
Newport has spent the entire 21st century as the reigning champion of Northern Kentucky riverfront development and 2015 was no different as seemingly every couple months or so a major announcement was made about another mega project.
But Newport flexed its development muscles in more ways than the riverfront. Three shopping centers in the city all boasted big triumphs in 2015: Newport Pavilion completely filled up with retail outlets and restaurants and is constantly packed; The classic Newport Shopping Center managed to reinvent itself, overcoming the loss of Remke Market by allowing for the expansion of Planet Fitness and the forthcoming arrival of Fresh Thyme; and Newport Plaza II is no longer missing Kmart as ALDI sets to open and other developments on the site are sure to follow.
It was also a BIG year for hotel news in Newport. Not only will the city be able to brag about having the first Aloft Hotel in the area, as part of the massive project west of Newport on the Levee that will bring more upscale residential units and commercial space, but even the raggedy old Travelodge, long the bane of the police department's existence, has been torn down to make way for a new Hampton Inn. The Comfort Inn is also undergoing a $1.5 million renovation.
Though ground was broken on Aqua on the Levee in late 2014, work really got going strong in 2015 and people will be checking in at the Aloft before you know it.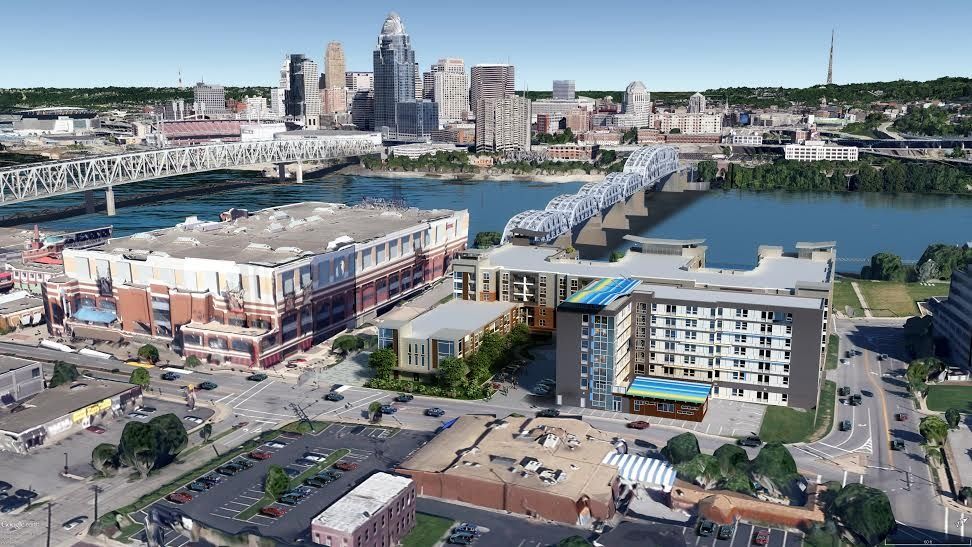 On Monmouth Street, new small businesses continue to pop up and ambitious firms like Nexigen have selected Newport as their home.
Though the Levee has struggled to maintain a strong retail presence, it has also reinvented itself and has grown the number of office tenants, including the David J. Joseph Company.
A former Newport school building will be razed and replaced by a brand new apartment building, adding even more market rate residential units like the successful Monmouth Row. 
Riverfront festivals continued to draw big crowds in 2015, and the new Bacon, Bourbon, and Brew Festival was a welcome addition (particularly since the long-running Seafood Festival was kind of a dud).
In other words, people like being in Newport, and developers, entrepreneurs, and visitors are noticing in droves.
In 2016... Newport will continue to dominate the headlines with its massive development projects. How good are things on that front in Newport? The city is putting a ferris wheel on the riverfront.
Moving forward, Newport has other tasks at hand, too. The city has to seize development opportunities along the new Kentucky Route 9 project and perhaps new interest in some of the beautiful old warehouses near the 11th Street Bridge. After all, new development in the city's West End would be welcome after growing concern that too much concentration of social service agencies and poverty programs have been placed there.
Oh, and then there's Ovation, the wildly expensive and long dormant mixed-use riverfront development project at the confluence of the Licking & Ohio that spwans a story seemingly every few weeks in the Cincinnati Enquirer about how finally, it's going to happen. Will 2016 be the year?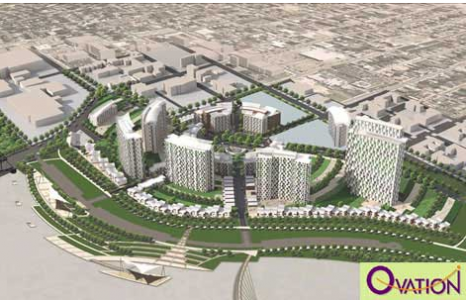 If any city in Northern Kentucky can figure out a way, it's Newport.
THIS STORY CONTINUES ON THE NEXT PAGE!
DAYTON
Dayton wins the prize for being the most-improved of the NKY River Cities. Like Ludlow in the west, Dayton keeps the home fires burning in the east, but is often left out of River City connectivity efforts like Red Bike or the Southbank Shuttle because of geography.
So, on its own, Dayton has gotten its act together and in 2015 even walked around with a little bit of swagger.
It's no secret that there was some strong contention among the city council for much of 2014, but the election that year changed the makeup of the city's leadership and with that change came a calmer and more focused form of governance. That's not to say that this crop of council members and mayor are better than the previous, it's just an observation that the fights are not so public and intense, and there is a concerted effort to create sustainable energy and vibrance in Dayton.
So, how good are things in Dayton these days?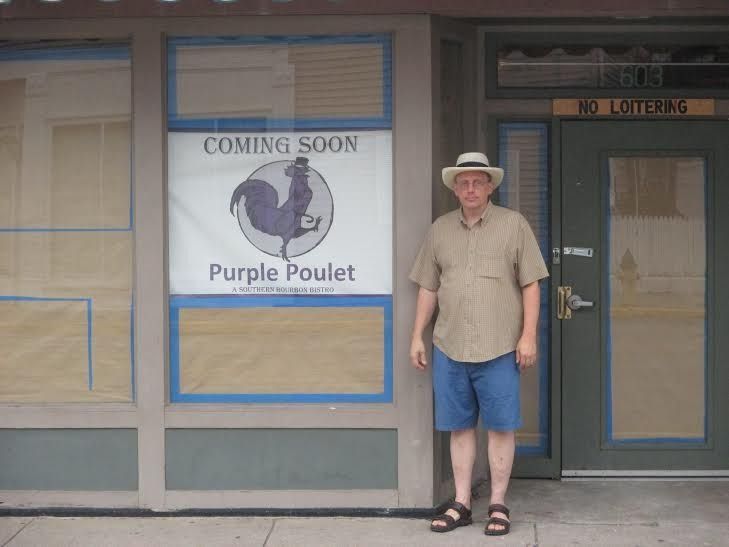 The city was host to Homefest at its Manhattan Harbour development where pricey luxury homes are being built so close to the river, the wealthy owners will be able to dip their toes in it. Well, almost. Both the development, which will also feature market rate riverfront apartments and townhouses, and the event are the envy of the region.
The city adopted an economic development program to incent entrepreneurs and developers to Sixth Avenue and its surrounding Main Street area. The city will soon see folks eating at the Purple Poulet, a southern-inspired bistro. Kate's Catering opened up in Dayton, and while the city's first shot at jumping aboard the brewery bandwagon fizzled, it has embraced The Lodge as a center for creative types.
2015 was also a year that Dayton residents stepped up and claimed a stake in the city's future. The Civic Club was reborn and hosted multiple successful events, including its inaugural Kite Festival at Gil Lynn Park. Though Dayton is to be part of the Riverfront Commons recreational trail project that connects the River Cities, residents and their committees have led the effort to create a pier in the city.
In 2016... Dayton has to tell Dayton's story, and longtime residents have to be a part of that while also understanding that there are chapters yet to be written and that some of those forthcoming chapters will be written in part by people who are new to the city. Dayton must move on from its past internal squabbles and general aloofness from its neighbors and should be proud to let others know what a charming place it is.
Dayton learned in 2015 what can happen when it gets out of its own way. In 2016, that sharp focus and civic enthusiasm should not only continue. It should grow.
LUDLOW
Ludlow has done a great job of embracing its sleepy river city heritage while also attracting hip entrepreneurs like Second Sight Distillery and Folk School Coffee Parlor. Even the mayor caught the entrepreneur fever and opened up a coffee shop of his own. A fencing studio has opened in the city. Fencing!
The city still has its staple attractions like the Yacht Club and Elm Street is on the verge of having that small town Main Street buzz that Bellevue's Fairfield Avenue has owned for the past ten years.
$300,000 was awarded to the city to work on a portion of its share of Riverfront Commons.
On the other hand, the quiet tension in Ludlow between government officials, some business owners, and other civic groups is starting to boil over in the public. It's for the best that these issues be ironed out swiftly, but it would be wise for Ludlow to do so with the care of a city on the verge of some really great happenings. 
Ludlow has the best school district among the independents in the River Cities and is an affordable, clean, and safe city for families. 
In 2016... Ludlow should work on fixing its internal and external squabbles because the stakes are too high and you never know when the iron will be hot enough for striking again. Northern Kentucky's urban center is hot right now. Seize the moment, Ludlow. Distractions be damned.
BELLEVUE
Bellevue has consistently set the standard for simply having the right attitude. Fairfield Avenue has long been the envy of surrounding Main Streets, because even as the ebb and flow of businesses coming and going transpires, the city still celebrates its shopping destination each month with a themed event. The streets are clean and inviting. The people of Bellevue are proud of their city.
In 2015, Bellevue showed just how serious it is about its own vision, even at the risk of slowing some developments. Kroger -- freaking Kroger -- came to the city building and said that it wanted to put a gas station at its store on Donnermeyer Drive. Bellevue didn't like the design and said, no. To Kroger! Perhaps the city's most recent form-based code decision, which resulted in another corporate power brand, Arby's, finally relenting and conforming to the pedestrian-focused vision, has emboldened Bellevue.
And with good reason.
The city has spent far too many years cultivating a brand. It knows what it wants, mostly. 
Speaking of brands... B In Vue! Talk about making a splash in 2015... It's never easy to reveal a new brand, particularly a municipal brand. Bellevue could have asked Covington about how painful it can be. But, like Covington, Bellevue learned that the initial ruckus subsides and what is left is a colorful image that, while it does not win universal praise, inspires enough people to keep waving the Bellevue banner in the battle of urban revitalization.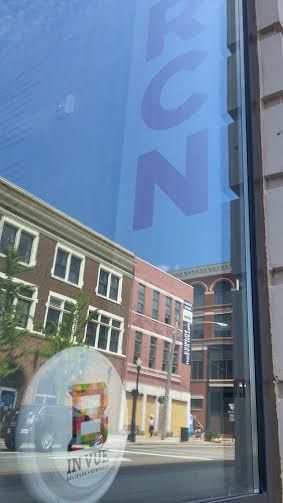 Bellevue also scored a big win when it finally found someone whose vision aligned with theirs for the Marianne Theater. It's going to make for a fine brewery and it's a win not only for Bellevue but for the entire region that this beautiful old movie theater that everyone had an idea for is finally going to welcome guests through the doors again.
In 2016... Bellevue must avoid the type of internal fighting that can doom a city's vision. There is already visible tension emerging among members of the city council as competing visions for what Bellevue should and could be are revealed. Communication can go a long way in that regard.
Additionally, Bellevue must once and for all figure out what to do about Harbor Greene, where the developer wants to put apartments where condos were originally promised. The lawsuit and lack of progress on the additional phase of this project are costing the city money and leaving a coveted piece of riverfront real estate empty. Surely the smart people in the city, at the developer's office, and inside the condo tower (and all their attorneys) can figure out what's best for Bellevue before it's too late.
Easy for us to say. We just write about these things...
And we can't wait to write the next chapter with all of you.
CHEERS TO 2016 AND A SUCCESSFUL YEAR IN THE NORTHERN KENTUCKY RIVER CITIES!