Premium Content
Real-Life Story of the Poionsing of Working Women Told in "Radium Girls"
Mon, 01/04/2016 - 11:15
RCN Newsdesk
1926. Radium is a miracle cure and glow-in-the-dark watches are the rage. Until the girls who paint the watch dials begin to die.

Few things make better drama than everyday people fighting the good fight against wrongdoing by giant corporations. Erin Brockovich fighting Pacific Gas and Electric Company or whistleblower Jeffrey Wigand versus Big Tobacco's suppression of the dangers of cigarettes – sadly we could go on and on.

In Radium Girls, opening Jan. 8 at Mariemont Players, it's the story of U.S. Radium Corporation in Orange, N.J. assuring its employees that radium was harmless, harmless! No problem, lick the paintbrushes to give them a fine point. (The owners and scientists stayed safely behind lead shields.)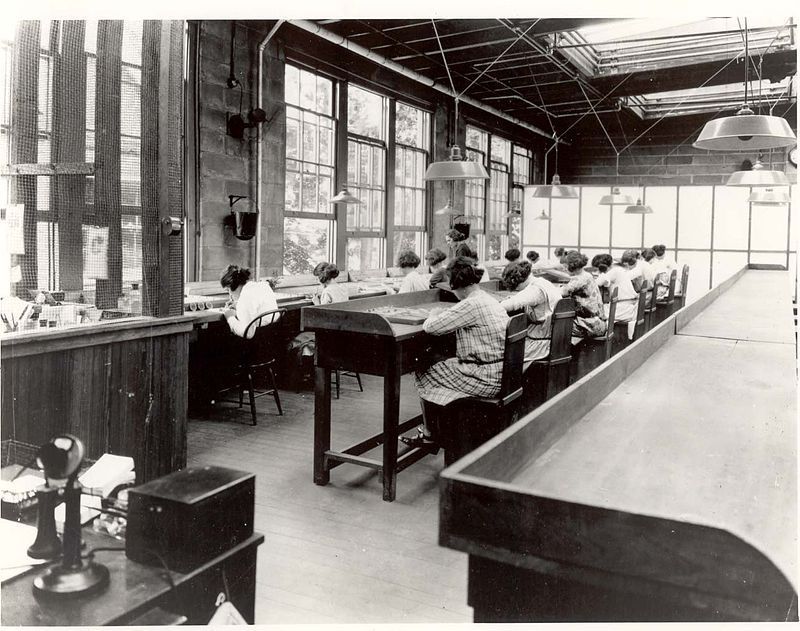 Northern Kentucky's Laura Berkemeier is the lead 'radium girl,' playing Grace Fryer, who was one of five women who went to court in an ugly, hard-fought, years-long case that ultimately improved safety standards and established the right of individual workers who contract occupational diseases to sue their employers.

The show resonates today, Berkemeier says. "There's a line of dialogue in the play -- 'We just didn't know as much about science.' But the company knew. It's like concussions in professional football. The powers that be know but they're not doing what they should be doing."

Berkemeier is definitely "Theatre Girl." She liked theatre at Scott High School, although a decade ago the program was basically one musical a year. When she was looking at universities, Thomas More College invited her to apply for a scholarship. Going to Thomas More, was "the most important decision I've made in my life. It really changed my personality."
Shy in high school, at TMC she had a double major of theatre and communications and the theatre department was hands-on. Students were on stage, but they also learned stage management, lighting, set construction. "It was all hands on deck."

She "grew" and "adapted."

Theatre and communications come together in her day job as ArtsWave's manager of corporate and employee engagement. Among her duties is Cincy Sings, the still new (third year) and popular corporate choir competition. (This year the big citywide show is April 13 at Music Hall, hosted by Drew Lachey.)

Combining showbiz and fundraising, Berkemeier calls it her "passion project at work."

Berkemeier only has time for two or three shows a year and her theater passion is directing – last season, she directed The Glass Menagerie at Mariemont, which was judged one of the top community theater entries of the year and went on to state competition.

She'll be directing The Wizard of Oz for Beechmont Players this summer and will be back at Mariemont Players in Spring 2017. 

Berkemeier wanted to be part of Radium Girls to work with highly regarded community theater director Dee Anne Bryll, and the script.

She shares a few characteristics with her character Grace. "It takes her a while to find her voice and stand up for what is right and then she can't be stopped. Nicole Simon is our dramaturg and she found so much of the historical account. So much of the show is based on what really happened to these women!"

Here are a couple of anecdotes pulled from the internet: At their first appearance in court on January 1928, two women were bedridden and none of them could raise their arms to take the oath; The Radium Girls were so contaminated that if you stood over their graves today with a Geiger counter, the radiation levels would still cause the needles to jump more than 80 years later. 

Radium Girls does what theater is supposed to do – make you feel, Berkemeier promises. "It's heart-wrenching but funny. I really want people to cry." 

Radium Girls, Jan. 8-24. Mariemont Players, Walton Creek Theater, 4101 Walton Creek Rd. (just east of Mariemont). 7:30 p.m. Thursday, 8 p.m. Friday and Saturday, 2 p.m. Sunday. Additional performances: 7 p.m. Jan. 17 and 3 p.m. Jan. 23. Tickets $20, 513-684-1236 and www.mariemontplayers.com.
Written by Jackie Demaline
Image provided