Premium Content
On Stage in January: Lots of Great Theatre in NKY & Cincinnati!
Thu, 01/07/2016 - 17:19
RCN Newsdesk
Women take center stage in January – Dorothy leads us down the Yellow Brick Road in The Wizard of Oz at The Carnegie; at Ensemble, Cincy-born, NYC-based Kathleen Wise comes home to play a woman fighter pilot's career abruptly ends with an unplanned pregnancy in Grounded; SHEatre: Cincinnati Women's Theatre returns with a staged reading of Iphigenia and Other Daughters, in which playwright Ellen McLaughlin examine Greek legend and family tragedy from the perspective of Queen Clytemnestra and her three daughters.
Mariemont Players rips a page from history in Radium Girls, when women worked with radium to paint luminous faces on watches – and died.  Joan of Arc is part of the cast of characters in Henry VI , Part 1 at Cincinnati Shakespeare which looks at England's War of the Roses.
Favorite area actress Dale Hodges steps offstage to direct the regional premiere of The Realistic Joneses at Clifton Players. "Contrary to the title," Hodges says, the play "isn't realistic" and promises (happily), "It isn't what people expect a play to be."
The Aronoff is guy-centric with two big shows: Broadway hit Kinky Boots, all about unlikely friendship and fabulous footwear, opens the month of theater, touring at the Aronoff Center starting Jan. 5, part of Broadway in Cincinnati; and the superb Bill T. Jones/Arnie Zane Dance Co. in the Jarson-Kaplan, hosted by Contemporary Dance Theatre.
Kinky Boots, through Jan. 17. Broadway in Cincinnati, Aronoff Center for the Arts, 650 Walnut St., downtown Cincinnati. 7:30 p.m. Tuesday-Saturday, 8 p.m. Friday, 2 and 8 p.m. Saturday, 1 and 6:30 p.m. Sunday. Tickets $29-$104 plus ticket fees (from $8.95-$13.75 per ticket). 513-621-ARTS and CincinnatiArts.org. Prices and cast are subject to change without notice.
With songs by pop icon Cyndi Lauper, it's a musical celebration about the friendships we discover and the belief that you can change the world when you change your mind. 

Charlie Price is struggling to live up to his father's expectations and continue the family shoe-manufacturing business but things are looking grim when help arrives in the unlikely but spectacular form of Lola, a fabulous performer in need of some sturdy new stilettos.

Radium Girls, Jan. 8-24. Mariemont Players, Walton Creek Theater, 4101 Walton Creek Rd. (just east of Mariemont). 7:30 p.m. Thursday, 8 p.m. Friday and Saturday, 2 p.m. Sunday. Additional performances: 7 p.m. Jan. 17 and 3 p.m. Jan. 23. Tickets $20, 513-684-1236 and www.mariemontplayers.com
SEE EARLIER: Real-life story of the poisoning of working women told in Radium Girls Click Here
1926. Radium is a miracle cure and luminous watches are the rage. Until the girls who paint the watch dials begin to die. Based on the true story of the workers at U.S. Radium Corporation in Orange, N.J. D.W. Gregory's warm and sympathetic play traces the efforts of Grace Fryer (played by Northern Kentucky's Laura Berkemeier), a dial painter, as she fights for her day in court.
I'm Every Woman
, 8 p.m. Jan. 9 and 2 p.m. Jan. 10. Cincinnati Pops, Music Hall, 1241 Elm St., 
Over-the-Rhine. Tickets: $20-$104 plus ticket fees. Click Here
The Pops salutes the great divas of soul, R&B, jazz, opera and gospel with some of the greatest 
hits of Whitney Houston, Aretha Franklin, Ella Fitzgerald, Marian Anderson and more.
Picnic, Jan. 14-30. Footlighters, Stained Glass Theatre, 8th & York St, Newport. 8 p.m. Thursday-Saturday, 2 p.m. Sunday. Extra performance 8 p.m. Jan. 27. Tickets $20. 859-652-3849 and www.footlighters.org.
"In a small town, all dreams seem big..." It's a balmy Labor Day in the post-WWII American heartland, and a group of women – widows, spinsters, teenaged girls -- are preparing for the annual town picnic. Restless Madge is thinking there has to be something more to life than being the prettiest girl in town and she meets a handsome young drifter… William Inge's classic is about life, love, dreams – and choices.   
The Wizard of Oz, Jan. 21-31. The Carnegie, 1028 Scott Blvd., Covington. 7:30 p.m. Thursday-Friday, 2 and 7:30 p.m. Saturday and 3 p.m. Sunday. Tickets $30. Two half-price student tickets with one full-priced adult ticket available at box office. 859-957-1940 and at www.thecarnegie.com. Costume contest at all matinees.     
They're off to see the Wizard with Dorothy, The Scarecrow, Tinman and Cowardly Lion learning life lessons to great songs ("Somewhere Over the Rainbow") as they dance along the Yellow Brick Road en route to the Emerald City. Watch out for the Wicked Witch!
The great score will be played by Kentucky Symphony Orchestra accompanying a cast that includes Caroline Chisholm as Dorothy and Lesley Hitch as the Wicked Witch. Students from Camp Carnegie join the ensemble as munchkins and The Carnegie Gallery Department works with local artist Pam Kravetz sets and costumes.
The Realistic Joneses, Jan. 21-Feb. 7. Clifton Players, 404 Ludlow Ave., Clifton. 8 p.m. Thursday-Saturday, 3 p.m. Sunday. Tickets $25. 513-861-7469 and here.
NYT: "Plays as funny and moving, as wonderful and weird as "The Realistic Joneses," by Will Eno, do not appear often on Broadway. Or ever, really."
Two couples, both named Jones, get to know one another over a 90-minute conversation about small stuff and Big Stuff.  "There's something going on," director Dale Hodges offers, keeping mum about the details. "The play is about how they come to terms with whatever it is."
Will Eno has proven over the last decade that he's not for everyone but, the NYT points out, "Mr. Eno's voice may be the most singular of his generation, but it's humane, literate and slyly hilarious."
Bill T. Jones/Arnie Zane Dance Co., 8:30 p.m. Jan. 22-23, Aronoff Center for the Arts Jarson-Kaplan Theater, 650 Walnut St. downtown Cincinnati. Free Meet-the-Artists reception after Friday's performance. Tickets: $27-$32 plus ticket fees. Click Here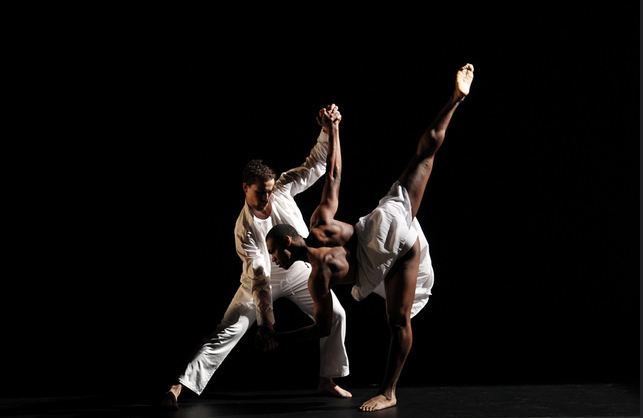 The must-see program: Set to Mendelssohn's Octet in E-flat Major for Strings, Op. 20, D-Man in the Waters is Jones's joyful celebration of life and the resiliency of the human spirit that embodies loss, hope and triumph; Spent Days Out Yonder (2001) is a meditation on the second movement of Mozart's String Quartet No. 23 in F Major; Continuous Replay traces the late Arnie Zane's interests in photography and film.
Henry VI, Part 1, Jan. 22-Feb. 13. Cincinnati Shakespeare Company, 719 Race St., Downtown Cincinnati. Tickets $22-$39 (plus fees.)  513-381-2273 ext. 1 and www.cincyshakes.com.
Shakespeare's Game of Thrones (a.k.a. The War of the Roses) continues with this first installment of the Henry VI trilogy. Beloved King Henry V's untimely death leaves his infant son to inherit the crown and the country falls back into chaos as rival families of York and Lancaster seek to seize the throne for themselves.
Native Gardens, Jan 23-Feb. 21. Playhouse in the Park, Thompson Shelterhouse, Eden Park. 7:30 p.m. Tuesday-Thursday, 8 p.m. Friday, 4 p.m. and 8 p.m. Saturday, and 2 p.m. and 7 p.m. Sunday. Tickets $35-$86 and subject to change. 513-421-3888 and www.cincyplay.com.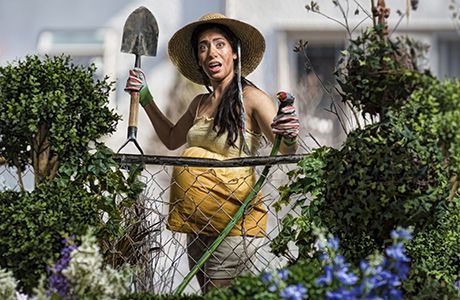 Did you like sitcom-y The Book Club Play? Playwright Karen Zacarias is back and moves outdoors for this world premiere. Pablo, a high-powered lawyer, and doctoral candidate Tania, his very pregnant wife, are realizing the American Dream when they purchase a house next door to community stalwarts Virginia and Frank. A disagreement over a longstanding fence line soon spirals into an all-out war of taste, class, privilege and entitlement.
Iphigenia and Other Daughters, 7:30 p.m. Jan. 25.  SHEatre: Women's Theatre Cincinnati, Cincinnati Shakespeare Company, 719 Race. St., Cincinnati. Free, donations happily accepted. Check them out here.
"I'm interested in redefining history from a female perspective," says playwright Ellen McLaughlin. So in her modern retelling of a classic from ancient Greece, the bloody saga of the fall of the House of Atreus, don't look for the grand adventures of men of legend Odysseus and Agamemnon.  No, in this hour-long drama, McLaughlin considers the dynamics of the women who remain at home and the very different ways in which they each cope with the prospect that history may not be interested in the role they play.
Grounded, Jan. 26-Feb. 14. Ensemble Theatre Cincinnati, 1028 Vine St., Over-the-Rhine. 7:30 p.m. Tuesday-Thursday, 8 p.m. Friday and Saturday, 2 and 7 p.m. Sunday. Tickets: $28-$44 adults, $25 students. 513-421-3555 and www.ensemblecincinnati.org.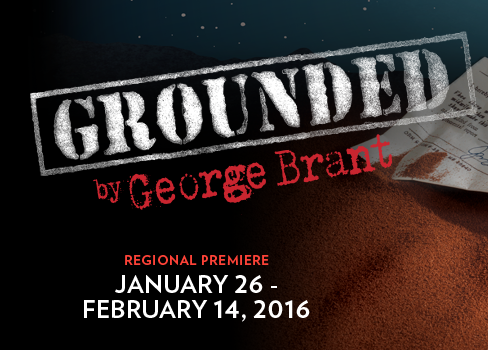 Michael Haney directs (always a good reason to buy a ticket) the regional premiere of a Buzz Show. (Ensemble is having another buzz-y season.) An unexpected pregnancy ends an ace fighter pilot's career in the sky. Cincinnati native Kathleen Wise (she just completed a run in Playhouse in the Park's A Christmas Carol as the Ghost of Christmas Past) stars in the solo show.
Reassigned to operate remote-controlled military drones in the Middle East from a windowless trailer outside Las Vegas, she hunts terrorists by day and returns to her family each night. As the pressure to track a high-profile target mounts, the boundaries between the desert in which she lives and the one she patrols half a world away begin to blur.
Prelude to a Kiss, Jan. 29-Feb. 13. Falcon Theatre, 636 Monmouth St., Newport. 8 p.m. Thursday-Saturday. Tickets $20, students $15. 513-479-6783 and here. (Service fee for online orders.)
A modern fairytale from playwright Craig Lucas is an idiosyncratic fable about mortality wrapped up in romantic comedy. At Peter and Rita's wedding, a mysterious old man insists on kissing the bride -- and Peter gradually realizes the old man has exchanged souls with his wife. Can Peter track down the old man and free his young love's spirit trapped in an aging and diseased body before it's too late?
WRITTEN BY JACKIE DEMALINE, RCN ARTS