Premium Content
House Made from Shipping Containers May Be Built in Covington
Sun, 01/24/2016 - 21:55
RCN Newsdesk
Well, this is different.
On Monday, Covington's Urban Design Review Board (UDRB) will listen to a presentation from two friends looking to build a home in Covington's Westside neighborhood using a pair of large shipping containers.
Covington residents and friends Justin Rumao and Jerod Theobald have spent the last several months developing a plan to construct a single-family home using two recycled containers on a vacant lot on the south side of Orchard Street. The two have been working with architect Jim Guthrie of Hub + Weber Architects in Covington to put together floor and site plans as well as street renderings since last fall.
Theobald, who lived in the Westside neighborhood for five years before selling his home this past December to pursue this project, and who is managing editor of The River City News and owns Cutman Barber Shop & flow - a shop for men, says the home will be the first of its kind in Northern Kentucky and will only add to the momentum in a neighborhood that has been on the upswing for the past several years thanks to the efforts of The Center for Great Neighborhoods (CGN), the Covington Police Department, the city, and a large group of engaged residents.
"The people in this neighborhood are special," said Theobald. "They are proud to call the Westside home and aren't afraid to roll up their sleeves and do the work to make their neighborhood a better place. There is a certain energy here that you won't find in many other places. It's infectious."
The vacant lot is located at 307 Orchard Street and is owned by CGN, which also owns the property at 309 Orchard. The two lots are sandwiched between a parking lot and single-story home on Orchard and sit just a few feet from the recently completed Shotgun Row project. Adjacent to the lots is Orchard Park, a large green space maintained by a group of Westside residents and Grow the Cov, the volunteer group that leads the urban agriculture movement in Covington.
Theobald says he spent a lot of time over the past few years doing research on container homes and looking into the feasibility of building one in an urban area before approaching Rumao with the idea. Rumao, a former engineer at Toyota and a Historic Licking Riverside resident, thought that the idea was not only feasible, but would be a boon to Covington.
"Bringing the first shipping container home to Northern Kentucky would be a great achievement, and I can't think of anywhere I'd rather build than Covington, a place for creative and out-of-the-box thinkers. The Westside neighborhood is a perfect fit, given its storied history, diversity of architecture, and urban farming movement. Building in Covington would draw a lot more eyes to the city, especially from a completely new demographic of people who are interested in dynamic, urban living."
According to Theobald, the home will be a single-story dwelling, approximately 640 square feet in size. It will feature two bedrooms, one full bathroom, a kitchen, laundry room, dining and living space, and rooftop garden. Large windows will be hung on portions of the north, east, and south walls and the home will feature two decks – one at the entrance off Orchard and one in the rear of the home. Energy-efficient windows and appliances will be installed and Theobald says the two friends will try to incorporate other reclaimed materials into the build-out.
The home will have a more modern aesthetic, he says, with lots of natural light and exposed container walls on the interior.
"There's nothing attractive about a steel box. Our goal was to open the container up as much as possible without jeopardizing its structural integrity. Jim and his team did a great job. The design is beautiful. We hope those in the neighborhood will agree," Theobald said.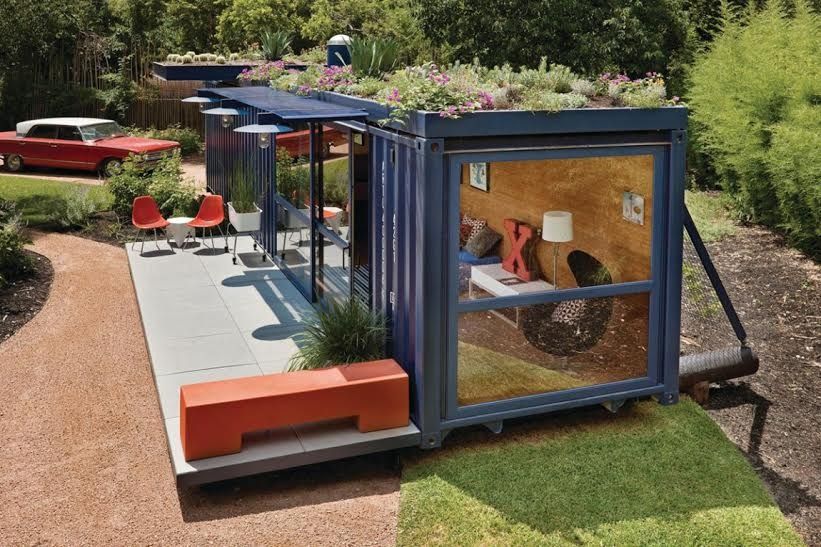 Example of a container home (not a rendering of the proposed Covington project).
Guthrie, who lives in Newport and is a partner at Hub + Weber's offices on Russell Street in Covington, and serves on the UDRB, says he has always loved the concept of repurposing containers and was glad Theobald and Rumao reached out.
"We're excited to be involved with this unique project," said Guthrie. "It is always interesting to explore new ideas and architecture. We've talked about container and modular homes in the office and with a few clients over the years. We are looking forward to getting into it and executing them."
(Guthrie and fellow Hub + Weber architect Chris Meyer, who also sits on the UDRB, will recuse themselves from any votes on the subject.)
Although the practice of using recycled containers to build dwellings isn't common in Kentucky, it is a trend that seems to be growing in other parts of the country as the popularity of tiny homes and smaller living spaces continues to rise. While many of the homes are being built in rural areas, a good number are being constructed in larger cities, including Detroit, Salt Lake City, Denver, and Dallas. In recent years, container homes have also been built just south of Covington in Lexington and Louisville.
Theobald, who first presented the project publicly at this month's Westside Action Coalition meeting with Rumao, said that while most people seem to be excited about the project there are a few residents who voiced their concerns at that meeting and on social media.
"I understand that good design is subjective," he said. "I also understand why some people are opposed to constructing a container home on that particular lot. We certainly respect their opinions, but we've had a lot of support from other residents and community leaders and are looking forward to presenting to UDRB on Monday. We think the project will generate a lot of buzz not just for the neighborhood, but the city as a whole."
One community leader in support of the project is Rachel Hastings, Director of Community Development at CGN. In an email to the project team and Emily Ahouse, the city's historic preservation officer, Hastings wrote that CGN believes the container home would be a great addition to the neighborhood.
"We feel that the proposed shipping container home fits the scale and rhythm of primarily one-story homes on Orchard Street and complements Shotgun Row. The proposed home is a modern interpretation of the workforce housing that fills the Lee-Holman Historic District and the Westside. This amazing diversity of building stock in the Westside is one of the most attractive features of the neighborhood for long-term residents and makes the neighborhood desirable for newer residents looking for urban living in a truly diverse, mixed-income community."
Theobald, who plans on living in the home once it's built, says the project will take roughly nine months to complete. Modifications to the exterior of the containers will be done off-site before the containers are affixed to a concrete slab foundation on the lot. Once the containers are in place, Theobald and Rumao will finish out the space. Theobald and Rumao will be working with Central Lawn Care to create the rooftop garden and Corey Rineair of Plume Interiors + Light on the design of the interior. Rineair worked with Theobald on the design of his men's shop, flow, which opened in the Mutual Building last year. Plume is also the lead designer on the Hotel Covington project.
"Corey is extremely talented and did an amazing job with a small space at flow. Space in the container home is limited, but she'll help us maximize that space. We're excited to work with her," said Theobald.
Plans for the container home will be presented by Rumao to the UDRB at Monday's meeting at City Hall. The board can choose to approve the project, request additional information and revisit the case in February, or deny permission. If the board denies permission, Theobald and Rumao can appeal to the city commission next month. Monday's meeting begins at 4:00 p.m.
-Staff report
Photo: Lot in Covington's Westside where container home would be constructed (RCN)