February is the Month to LOVE NKY & Cincinnati Theatre! Don't Miss These Shows.
Thu, 02/04/2016 - 10:49
RCN Newsdesk
February is always a month to love area theater -- a month for regional premieres and taking chances.
This month's highlights also include a Jewish Israeli Film Festival and Cincinnati Ballet's Cinderella.
As always, in chronological older, starting with two regional premiere hold-overs from late January:
Grounded, through Feb. 14. Ensemble Theatre Cincinnati, 1028 Vine St., Over-the-Rhine. 7:30 p.m. Tuesday-Thursday, 8 p.m. Friday and Saturday, 2 and 7 p.m. Sunday. Tickets: $28-$44 adults, $25 students. 513-421-3555 and www.ensemblecincinnati.org.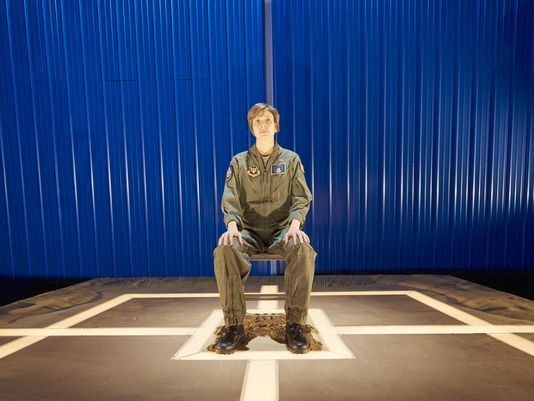 An unexpected pregnancy ends an ace fighter pilot's career in the "blue" and removes her to the "gray" of sitting in a room driving a drone and hunting terrorists. Cincinnati native Kathleen Wise stars in the solo show, in a production that doesn't disguise the weaknesses of the script.
See RCN's review here.
Playwright George Brant playwright clearly wrote Grounded because he has things to say about drone warfare and the highly trained military who are no longer in danger but who are damaged nonetheless. As a society we do need to own exactly what we're doing. And about the surveillance state in general.
Does he fly his script beyond the realm of logic to make his passionate point? Oh, yeah.
Black Top Sky, through Feb. 20. Know Theatre, 1120 Jackson St., Over-the-Rhine. 8 p.m. Wednesday-Saturday, 3 p.m. Sunday. Tickets $20; $10 rush seats 10 minutes before curtain when available (cash only). 513-300-5669 and knowtheatre.com.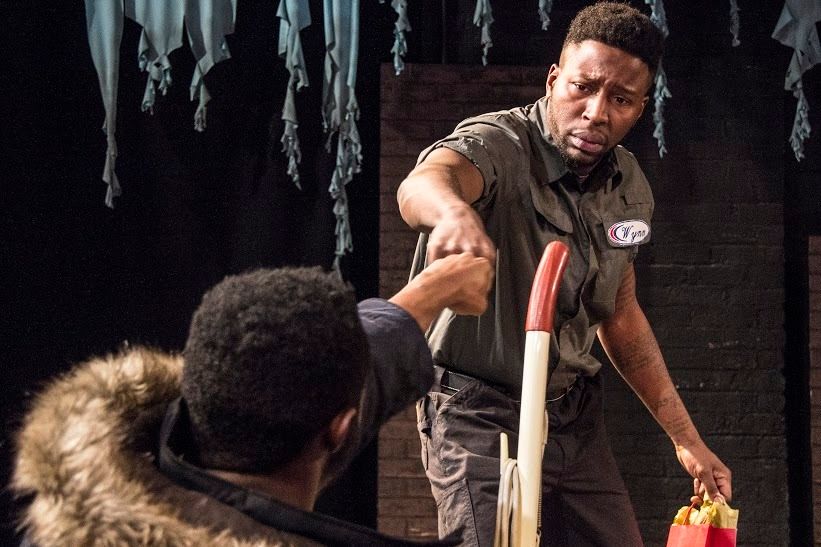 Playwright Christina Anderson's drama is ripped from the headlines, centering on an 18-year old girl who lives in the projects and was eyewitness to a police harass-and-taze incident that is a continuing arc through the three-character, 85-minute drama.
Anderson's plot line is formulaic but the play's structure says a lot about communication among young people today. Told in more than 20 blackout scenes, some just a few seconds long, Black Top Sky understands the attention span of a texting, tweeting, snap-chatting, Instagram-ing generation.
See RCN's review & feature here.
Chicago critics were more encouraging than enthusiastic: "Black Top Sky feels like the early work of a young but promising writer who will need to throw away some of that careful craft and characterization, take some more risks and expose her guts for all of us to see." – Chicago Tribune
If/Then, Through Feb. 7. Broadway in Cincinnati, Aronoff Center for the Arts, 650 Walnut St., downtown Cincinnati. 7:30 p.m. Tuesday-Saturday, 8 p.m. Friday, 2 and 8 p.m. Saturday, 1 and 6:30 p.m. Sunday. Tickets $29-$89 (plus ticket fee of $8.95-$12.95 per ticket.) 513-621-ARTS and CincinnatiArts.org. Prices and cast are subject to change without notice.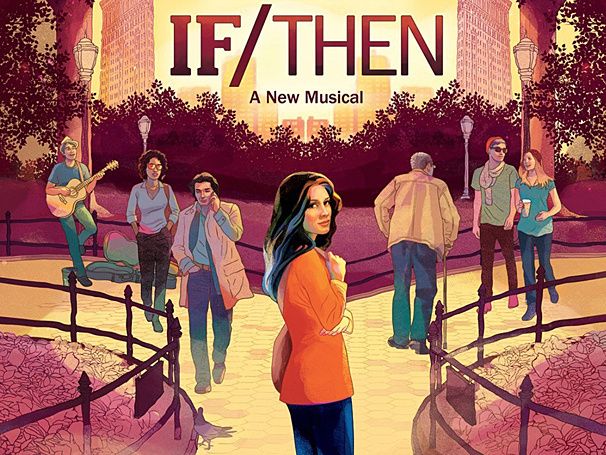 The creators of Next to Normal offer another original, contemporary musical. If/Then is a what-if story, simultaneously following a young woman's two possible life paths: Liz falls in love with and marries an army doctor, Beth becomes a city planner and stays single. It's all about choice and chance and a strong principal cast includes Anthony Rapp and (hey, American Idol fans!) Tamyra Gray.
The Revolutionists, Feb. 5-28. Playhouse in the Park Shelterhouse, Eden Park. 7:30 p.m. Tuesday-Thursday, 8 p.m. Friday, 4 p.m. and 8 p.m. Saturday, and 2 p.m. and 7 p.m. Sunday. Tickets $35-$86 and subject to change. 513-421-3888 and www.cincyplay.com.
A world premiere by Lauren Gunderson, whose concepts are always high, her execution often not-so-much. She imagines a French Revolution where playwright Olympe de Gouges, assassin Charlotte Corday, activist Angelle Ogé and former queen Marie Antoinette hang out, plot murder and consider the Reign of Terror.
Mayerson JCC Jewish & Israeli Film Festival, Feb. 6-25. Various venues including The Carnegie, Kenwood and Esquire Theatres, Cinemark Oakley Station and Mayerson JCC. Festival pass $160, tickets $12. Find info and buy tickets here: https://www.mayersonjcc.org/arts-ideas/2016-jewish-and-israeli-film-festival-films/
A dozen films range from comedy to drama to documentary. The opening screening at The Carnegie (8 p.m. Feb 6) is Remember starring Christopher Plummer and Martin Landau in Atom Egoyan's drama about a 90-year old Auschwitz survivor and his mission to bring justice a generation later to a sadistic guard.
Cinderella, Feb. 12-14. Cincinnati Ballet, Aronoff Center, 650 Walnut St., downtown. 8 p.m. Friday, 2 and 8 p.m. Saturday, 1 and 6:30 p.m. Sunday. Tickets $32-$110 plus fees. 513- 621-5282. http://my.cballet.org/single/EventListing.aspx
Girl with glass slippers meets Prince, set to Prokofiev's classic score and choreographed by Victoria Morgan to be family friendly, complete with puppet mice. Debuted in 2010, this revival promises fresh choreography, updated costumes and newly refurbished sets including a larger-than-life pumpkin that explodes to reveal a brand new, completely redesigned carriage. 
Avenue Q, Feb. 17-March 6. Warsaw Federal Incline Theater, 801 Matson Place, (Mt. Hope at W. 8th St., across from Prima Vista restaurant). 7:30 p.m. Wednesday and Thursday, 8 p.m. Friday and Saturday, 2 p.m. Sunday. Tickets $26, $23 students and seniors (plus ticket fees). 513-241-6550 and www.cincinnatilandmarkproductions.com
A recent college grad finds a home on Avenue Q -- not your ordinary neighborhood. For one thing, it's inhabited by puppets, some of them very rude. He and his new-found "friends" sing and dance as they struggle to find jobs, dates, and the ever-elusive purpose in life. 
Begotten/Betrayal/Miss Julie in rep, Feb. 17-28. Gallagher Student Center, Xavier University. 7:30 p.m. Wednesday-Sunday, 2 p.m. Saturday and Sunday. Check performance schedule at http://www.xavier.edu/theatre-department/2015-2016.cfm.  Tickets $17 adults, $12 students. Three-show passes $30. 513-745-3939 and www.xavier.edu/theatretickets.
Xavier University takes on a big challenge – world premiere Begotten by XU student Tatum Hunter and classics Betrayal by Harold Pinter (directed by Bruce Cromer) and Miss Julie by August Strindberg in its studio space.
"This is an exciting experiment for us at Xavier Theatre," says XU Director of Theatre Stephen Skiles. "Working on small, intimate shows gives our students a unique and intense opportunity to work on their craft. We've essentially formed three theatre companies, under the direction of some of the best professional directors in our region. This project exemplifies the professional collaborations that Xavier Theatre strives to provide students."
Once in a Lifetime, Feb. 18-28. Northern Kentucky University, Corbett Theatre, Fine Arts Center, Highland Heights. Tickets $14, seniors $11, students $8. 859-572-5464 and [email protected]
The first teaming of legendary American playwriting partnership George S. Kaufman and Moss Hart. Suddenly silent pictures are talking pictures and three on-the-skids vaudeville troupers head to Hollywood and pose as voice experts.
They encounter absurd silent-film starlets, unhinged movie studio executives, wacky gossip columnists, desperate cigarette girls, dim-witted stage mothers, and jaded studio hands. A cast of 30(!) makes this something only a university can and will take on.
Saint Joan, Feb. 18-March 5. Diogenes Theatre Company, Fifth Third Bank Theater, Aronoff Center for the Arts, Seventh and Main, Downtown Cincinnati. 7:30 p.m. Wednesday-Saturday, 2 p.m. Sunday. Tickets $29 plus ticketing fee.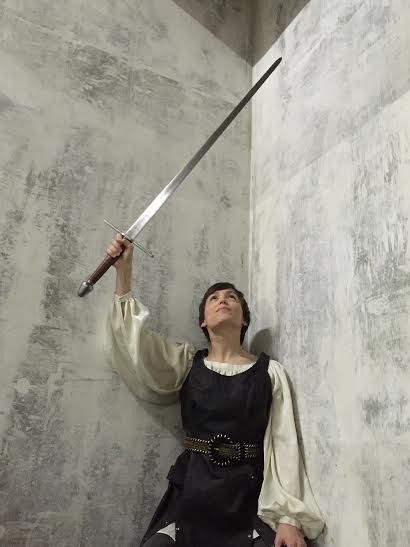 Cincinnati Shakespeare's Sara Clark takes the title role and leads a cast of 10 in George Bernard Shaw's epic masterpiece for Diogenes, which has consistently delivered as a smart and ambitious indie company that should be better known than it is.
Based on the heroics of the French peasant girl who has visions of saints and tells the King she has divine guidance to drive the English from France -- and the heresy trial that led to her burning at the stake. It's directed by Lindsey Mercer, who's been doing strong work all over town for the past year or so.
Also on Northern Kentucky stages:
Dearly Departed, Feb. 12-20. The Village Players of Fort Thomas, 8 North Fort Thomas Ave.,
Fort Thomas. 8 p.m. Thursday-Saturday, 3 p.m. Sunday. Tickets $17. 859-392-0500 and http://www.villageplayers.biz/
In the Baptist backwoods, the beleaguered Turpin family's many, many, many problems keep overshadowing their father's funeral. Fortunately they find comfort in their eccentric community of friends and neighbors.
Prelude to a Kiss, through Feb. 13. Falcon Theatre, 636 Monmouth St., Newport. 8 p.m. Thursday-Saturday. Tickets $20, students $15. 513-479-6783 and http://www.brownpapertickets.com/profile/762706 (Service fee for online orders.)
A modern fairytale from playwright Craig Lucas is an idiosyncratic fable about mortality wrapped up in romantic comedy. At Peter and Rita's wedding, a mysterious old man insists on kissing the bride -- and Peter gradually realizes the old man has exchanged souls with his wife. Can Peter track down the old man and free his young love's spirit trapped in an aging and diseased body before it's too late?
Written by Jackie Demaline, RCN Arts