Premium Content
New Bromley Restaurant Takes Step Forward; County, State to Swap Roads
Fri, 02/05/2016 - 09:16
RCN Newsdesk
Business partners Jason Perry and Aaron Hedrick came to the Bromley City Council meeting on Wednesday night to turn in papers relating to the property that they now have at 18 Pike Street, the former Simpler Times.
They had previously visited council in December to find out if the city would be amenable to a new business called the Keynote Cafe. At that time they were told to submit a business plan, along with photos, to better describe the business they want to start. Hedrick told council they had researched a liquor license, and concluded that the road to that end did not look easy.
"I want to tell council that we will be a full-on restaurant, not a bar," Hedrick stated. "We will be open till 11 p.m. on week nights, and we hope to close a little later on the weekend. We know we have to have seating for 50, and we will have more than that. We want 50 percent of our sales to be food, and we will drive sales toward that end."
Perry agreed.
"We are excited about the opportunities and are working very hard on our plans," he said. "We plan on having a farmer's market and possibly booths with arts and crafts in addition to the food. We would like to bring in vendors from all over. It will be more of an event. You can eat, shop, and check out the arts and crafts."
The bottom line was that they knew whatever hoops they had to jump through would all be for nothing if council was against having them in the city as a business and would not help with the zoning. Council indicated that they thought it was a great idea, and once they have time to study the business plan, they would be able to make a better decision. Mayor Donnie Jobe told them to come back next month and they would be able to give them a better answer, but on the surface the plan looked good.  
Jobe said that the building inspector had indicated there might be conditions for the future, since the partners had bigger plans down the line which might need more parking, for instance. Perry and Hedrick promised to come back in March.
Kenton County Administrator Joe Shriver also came to the meeting to give an update on the road swap plan between the county and the Commonwealth of Kentucky. The state plans to step into the county's shoes fairly soon to take over maintenance of Bromley/Crescent Springs road from Buttermilk Pike (KY 371) down to Route 8, and currently the county plans to do work on the road in three phases which would be taken over by the state.
The first phase is in final design stages, and the hope is that by the time the design is finalized for the first phase, the state will have signed off on the project. The project started back in 2013 when the county received grant money for road rehabilitation and reconstruction of Bromley-Crescent Springs road from Anderson to Short Amsterdam. Then in 2015 more grant money was received to address Short Amsterdam east to Ft. Wright. The county asked the Transportation Cabinet to consider swapping Bromley-Crescent Springs road for three roads in unincorporated Kenton County: Hempfling Road, Oak Island, and a piece of Pruett road.
Joe Shriver
"The benefits will be that we both wind up with roads that will better fit our different systems, which will be better for long-term maintenance and ownership," said Nick Hendrix, Kenton County Engineer and Public Works Director.
The project can't go forward until everyone involved passes resolutions to allow this to happen. Ft. Mitchell and Crescent Springs already passed resolutions, and Bromley passed its resolution at the meeting. Next, the Kenton County Fiscal Court needs to pass it, and then the state can sign off on it.
Plans for the first phase are expected to be finalized later this year, and the plans include a roundabout to be installed by the Emerald Springs subdivision. Other plans include a multi-use path, which is designed for use by pedestrians and bicycles and some widening of the road.
John Chamberlin, from Van Gorder, Walker and Company, gave a report on the audit of the city's finances. "You have $759,000 in assets, and about two years reserve, when we ask that cities have three months cash on hand for operating expenses," he said.  "You are in a strong cash position for a city this size."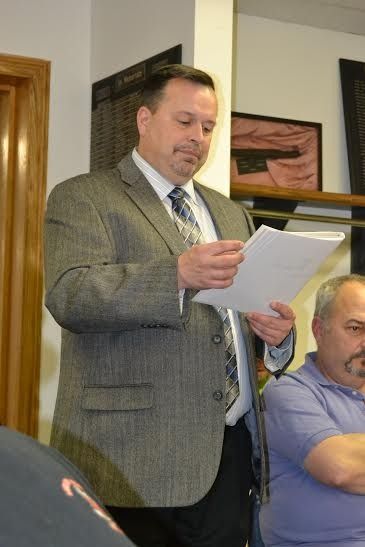 John Chamberlin
He went on to say that the city has $1 million in capital assets, and that the report shows good management. He recommended that council do a revised budget to account for some of the expenditures that slightly exceeded the expected budget numbers, and Council member Gail Smith said that she would get to work on that.
Finally, Councilman Charlie Foulks once again brought up the matter of a raise for the new incoming council and mayor of $25 a month. Other attempts to pass the raise had met with negative votes from the rest of council, but this time council passed the motion and the raise will take place in January of 2017.
Story & photos by Patricia A. Scheyer, RCN contributor
Top photo: Jason Perry and business partner Aaron Hedrick want to start the Keynote Café in Bromley