Lucky Encounter Helps Chef at Nashville Hot Bring Spicy Chicken to Town
Mon, 02/08/2016 - 17:38
RCN Newsdesk
James Hutchison was putting in his last shift at Puckett's, a popular restaurant in Nashville, before he was to head off to Chattanooga to help the company open a new location. The events that followed would instead land the budding entrepreneur in Northern Kentucky.
Former Tom + Chee investor and president David Krikorian was in Nashville and just happened to stop into Puckett's while scoping out what's hot in food in new markets.
And nothing is hotter than Nashville hot chicken.
A server at Puckett's told Hutchison, 25, that Krikorian was looking for some cool ideas. "I always wanted to do my own thing and just decided to go for it," he told The River City News. 
"I had the food in my head forever. I've been making southern food since I was five," Hutchison said, noting that his grandmother owned a bakery. "They wanted to open a chicken place up here and now three and a half months later we're open and rolling."
Nashville Hot (564 Buttermilk Pike, Crescent Springs) quietly opened over the weekend in the shopping center anchored by Bonefish Grill. The country chic design fits the mold of the latest trends in fast casual dining: lots of wood, metal, light. A grand opening is set for February 13.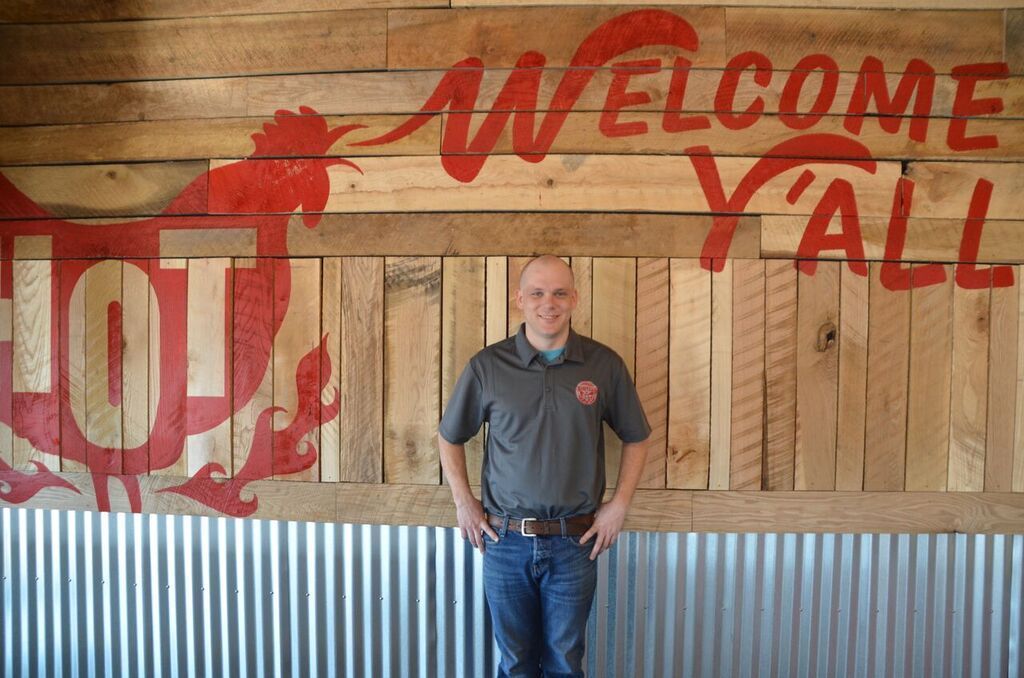 James Hutchison (provided)
The feedback has been positive -- which is good, because even before the Crescent Springs location opened, Hutchison and the business's founders (Krikorian and former Cincinnati Bengal Brad Cousino, for example...) already had ambitious expansion plans. He hopes to have at least four Nashville Hot locations in the Northern Kentucky and Greater Cincinnati market before expanding into cities like Dayton, Columbus, Indianapolis, Cleveland, and Pittsburgh.
Hutchison knows a thing or two about expansion. He and his fiancee welcomed a new baby last week, in the midst of the chaos of launching a new business (mom and baby are happy and healthy at home). 
It's a good thing that the Hutchison family has grown. He relied heavily on relatives in creating the spicy, savory, and sweet menu, particularly his brother-in-law who, during a visit here from Alabama, tasted 67 different versions of chicken.
So, what is Nashville hot chicken? Typically, a piece of breast, thigh, or wing is seasoned with cayenne pepper after marinating in a water-based blend of seasoning. It is then floured and fried. Traditionally, it can be served on a slice of white bread. The food is popular in Nashville, naturally, and now Hutchinson hopes to spread the buzz of Nashville hot chicken at the namesake restaurant. Nashville Hot also serves chicken tenders in the hot style.
And yes, it can be hot. Very hot.
Hutchison set his menu to include levels of 0 to 4, with 4 being the hottest. He's looking into adding a 5th level, but only for the truly bold. If you order it and eat it, the meal is on the house. Soon, there will be a victory wall to place photos of those who conquer the truly hot chicken. If the soft opening is any indication, there will be many customers headed in to give it all a try.
"They all love the food, and everybody loves the side items," Hutchison said. Those sides, which the entrepreneur deliberately created to be sweet and savory to counter the spicy chicken, include classics like a baked potato, sweet potato fries, and baked mac-n-cheese.
Don't let the decadence fool you, though. Hutchison said the spicy meal can be good for you. "Eating spicy food has been proven to speed up metabolism," he said. "It's better to eat this while on a diet than at a place like Chipotle." Salads, fish, and grilled options are available, too. 
All of Nashville Hot's ingredients are as fresh as the new business.
Give it a try on February 13 starting at 10 a.m. Everyone will get a free cobbler that day to go along with their meals. Follow Nashville Hot on Facebook for more information.
Written by Michael Monks, editor & publisher
Photos provided