Premium Content
Parking Spaces Turned Play Places Face Opposition in Covington
Mon, 02/15/2016 - 20:22
RCN Newsdesk
Five Covington parking spaces - four downtown and one in Mainstrasse Village - will be transformed into active spaces for pedestrians and visitors.
The so-called "parklets" will occupy the spaces near five businesses that competed to be part of the Curb'd project brought to town by Renaissance Covington, the Mainstrasse Village Association, and the Haile/US Bank Foundation.
Renaissance Covington director Katie Meyer presented the project to the Covington City Commission last week. "It's crucial that we embrace walkability as a key strategy," she said, noting that bringing parklets to town allows the city to jump on a trend. Major U.S. cities like Boston, Seattle, and San Francisco have embraced the idea of turning a vehicle space into one for casual leisure.
Renaissance Covington has previously jumped on similar national trends, such as pop-up shops and Parking Day activities that brought miniature golf to parking lots.
"Successful 24-hour downtowns are not designed to promote a direct line between a parking spot and a business but to engage vistors," Meyer said. "In Covington, we also know there is an opportunity in aligning Mainstrasse and downtown to one another." She was referring to the city's upcoming effort to renovate Sixth Street from Scott Boulevard to Main Street, connecting the central business district with the city's entertainment district.
The growth in residents and new businesses downtown and the consistent success of Mainstrasse was reflected in the opening of 27 new businesses and an investment of $10 million, Meyer stated.
But though the project has been publicized since September, Meyer's presentation at City Hall was the first formal discussion of the legal issues surrounding the project. Curb'd will need a 6-month revocable license from the city commission and a vote is expected at next week's meeting. Some commissioners expressed concern about the project and hinted that as the project stands, there won't be the necessary support.
"At no time were we engaged whether we were in support of this," Commissioner Chuck Eilerman told Meyer. "We have heard some pretty angry responses from neighbors of three of these parklets, in particular. We already have bump-outs taking parking off the streets and now we take five more off."
The locations of the parklets will be outside Stoney's Village Toy Shoppe (323 West 6th Street, Mainstrasse), Left Bank Coffeehouse (701 Greenup Street, downtown), Cutman Barbershop (5 West Pike Street, downtown), Braxton Brewing Company (27 West 7th Street, downtown), and Inspirado at Madison Gallery (715 Madison Avenue, downtown). The businesses signed up to be included and then worked with a design team to come up with a concept and were ultimately selected from 13 finalists.
Even though these businesses are in favor of the idea, others are not, and Eilerman argued that Monmouth Street in Newport offers two uninterrupted rows of parking on either side of the street. "We have to deal with the questions that we have and we have had some pretty strong questions of concern," Eilerman said. 
Elsewhere, local attorney Alma Puissegur, who lives and practices next to Stoney's Village Toy Shoppe, expressed her opposition to the forthcoming parklet. Stoney's will feature an interactive xylophone.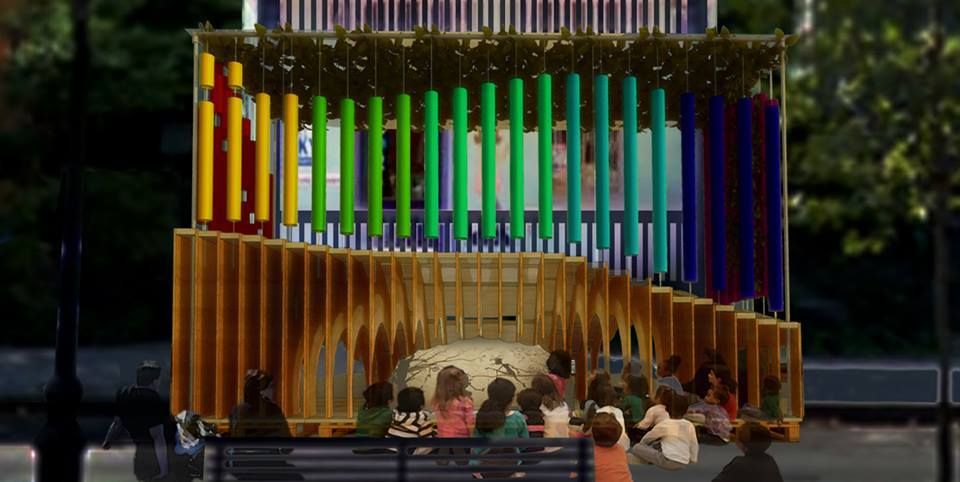 Rendering of parklet at Stoney's Village Toy Shoppe
"That is one of the busiest intersections in Covington," Puissegur said, noting 6th & Main Streets, the epicenter of the entertainment district. "I don't know of a time when there's not traffic up there and I can tell you they are ripping around the corner from Main to go west on 6th. There is an alley, bare feet from where this children's fame is supposed to go. It is not a dedicated street but it is used continuously by trucks, be vehicles, by motorcycles who enter and exit at all times of day and night."
Puissegur also expressed concern about the noise that the xylophone component will make, and how Mainstrasse Village will soon have paid parking on the street, too. "We're now going to have parking meters. We now lose six spaces in one block to parking meters. We have one handicap, that's seven. And now you wan to take another one," she said. "I will not be parking my car next to a contraption that has people climbing all over it and jumping on and off of it. I'm guessing we are going to lose another three parking spaces to that parklet."
"One important point," Meyer said, "is it's for six months. This is not a permanent installation." 
When the issue returns, it may face opposition from Commissioner Bill Wells, too. He said he took pictures of where the parklets will go while visiting downtown on a Sunday and said that all the surrounding parking spaces were occupied. "On Pike, we already have the bump-outs. Why can't we use those? Across from Stoney's there's a promenade," Wells said. "I like the parklet idea. I think there is an idea to put them elsewhere."
Mayor Sherry Carran also appeared to be on the fence.
"I think the program is a good program and can show people the potential of what the space can become, but that one little piece needs to be a little better," Carran said of the business owners' concerns.
"We're not trying to create a bad scenario for anybody," Meyer said. "I'd just say to each parklet and each design team needs to be open to the needs of its surroundign community."
ON THE NEXT PAGE, SEE ALL THE PARKLET DESIGNS AND THEIR INTENDED FUNCTIONS!
Stoney's Village Toy Shoppe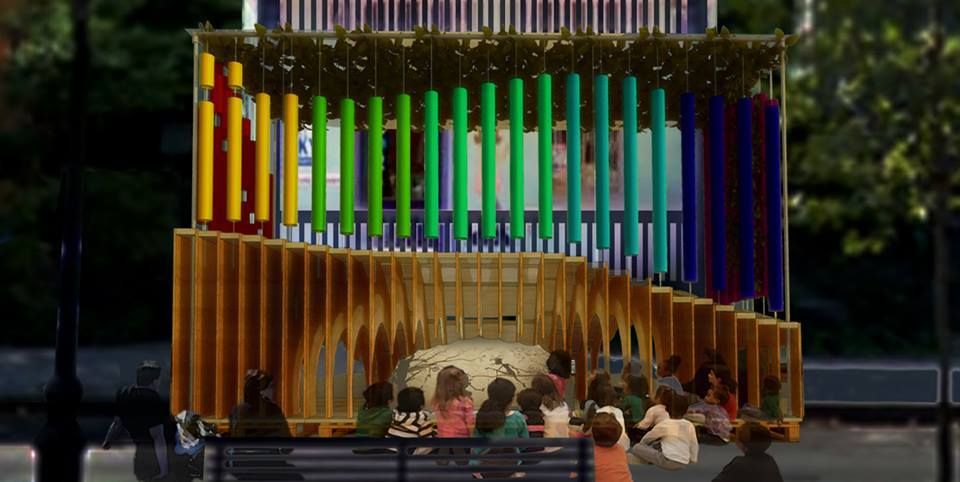 From Curb'd:
Parklet: Mountain/Tunnel/Xylophone
Design team: John Noble/SHP Leading Design

Mission Statement: Stoney's Toy Shoppe offers a thoughtfully selected range of actively engaging toys for children of all ages. The collection emphasizes imaginative active play, with lots of natural materials, bold colors, sturdy construction and care in conception and construction.

Design Statement: Mountain/Tunnel/Xylophone is intended to serve as an extension of Stoney's mission. It is located at the hinge point between the MainStrasse neighborhood and the commercial heart of Covington and smack in the middle of an area known for its street fairs and active sidewalks. During the day, each of the primary elements of the structure offer intriguing options to passing children, from the mysteries of the Tunnel, to the challenge of the Mountain, to the participatory fun of the Xylophone. The "green roof" will support fast growing flowering annual vines, providing a shady fragrant cover just as the seasons get hot enough to need it.

The Game Plan: Stoney has plans to use the structure as the catalyst for neighborhood activities, from impromptu performances of original music to incorporating it into her Secret Garden events. Workshops held in conjunction with street fairs will offer participants the chance to engage hands-on in the tradition of shadow puppet making and provide incentives for attendees to return to the area after dark to enjoy full-scale live productions of Shadow Puppet Theater, thanks to strategically placed battery operated lights.
Braxton Brewing Company
From Curb'd:
Parklet: Hopscotch Garden
Design team: A+D

Braxton, why do you want to host a parklet?
Braxton Brewing Company takes great pride in being a catalyst for the Covington Community. Projects like Curb'd are what will continue the progress for this historic city. Being able to be apart of this very unique and exciting project is exactly why Braxton chose Covington to call home. This is just the next step in the city's renaissance.

What is a Hopscotch Garden?
Hopscotch Garden combines the two hops concepts into the parklet. The rhythmic motif is simply extruded from the geometric pattern to form the multiple heights of wooden boxes and plating spaces. From the street or the front seat of a car, the Hopscotch Garden can be seen as spatial rhythm to establish the visual interest and evoke recurring beats of playfulness. Visitors could use the wooden box as seating while enjoying their beer or coffee to "cotch". They may play hopscotch while talking to their friends. They watch their kids having fun with hopscotch over their refreshment. "Hopscotch Garden" takes the idea of a parklet into an enhancement of the visitor experience of Braxton Brewing Company.
Cutman Barber Shop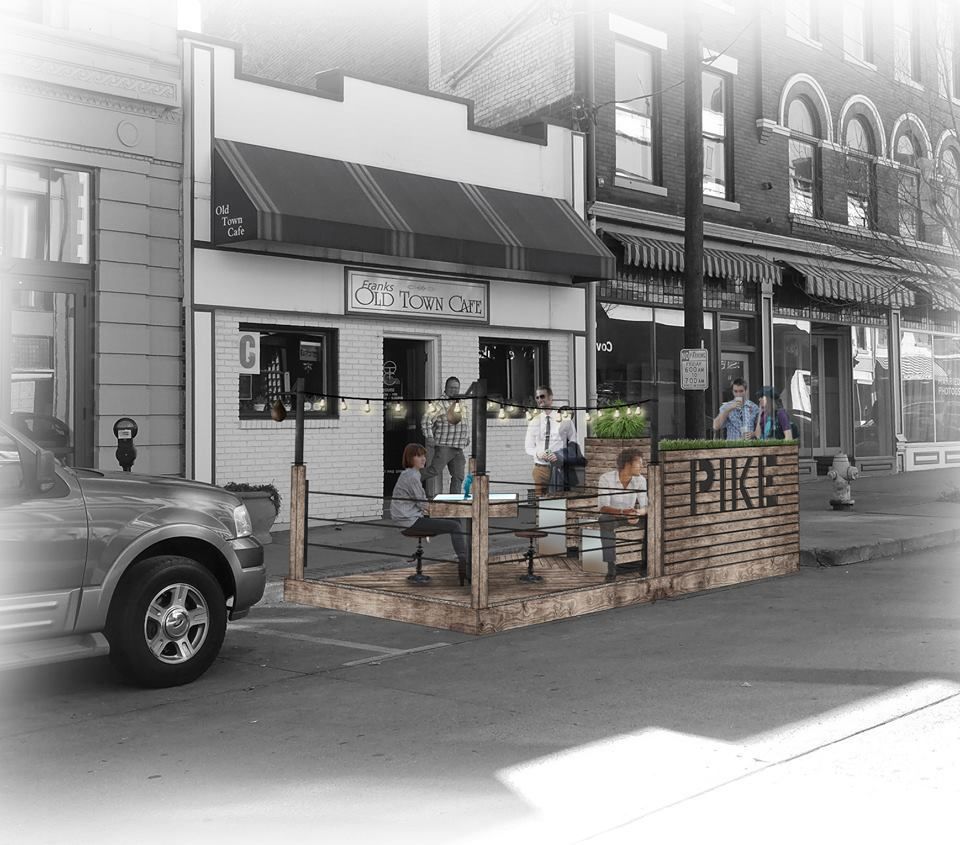 Parklet: The Boxing Ring
Design team: BPHOGS Design team

What do you see people doing in the parklet?
We believe that successful urban design includes the programming of public spaces to encourage interaction, engage Covington locals, and attract visitors to the neighborhood. For this reason, we have strategically combined several programmed areas within our parklet, The Boxing Ring. The design provides passive spaces for seating and dining, with consideration given to the close proximity between our parklet location and a nearby diner. This parklet also provides actively programmed spaces including speed bags mounted along the sidewalk at varying heights for accessibility. At the center of the parklet is a table and two stools. On the table, a game of Rock 'Em Sock 'Em, the popular game of battling robots entices visitors of all ages and abilities to engage in a friendly match. For the more competitive parklet patrons, the adjoining seating area also provides an area of stadium-style seating for viewing the Rock 'Em Sock 'Em matches. The Boxing Ring will create a successful public space because of the consideration given to a variety of interactive spaces to serve individuals and groups of all types.
Inspirado at Madison Gallery
From Curb'd:
Parklet: Ride
Design team: Hub+Weber Architects, PLC

What kind of 'Ride' is this?
Take a stationary trip. You and your neighbors visit far away places and share exotic experiences without ever leaving the parking space in your neighborhood. The bikes create power that operates a projector. The projector casts images onto a screen in front of the cyclists. Images could include a trip as far away as the German Alps or as close as a bike tour through Covington. Or one of our favorite movies such as Pee Wee's Big Adventure, Edward Scissorhands, The Radiant Child, Coffee and Cigarettes, The Triumph of Nerds: the Rise of Accidental Empires, Breaking Away. Or Mexican Wrestling. Or all of those. You're going to be in such great shape.

What do you hope the construction of this parklet will do for the neighborhood?
We believe the parklets will become destinations in and of themselves. They will support the walkability of Covington, helping people realize that the space between Madison and Mainstrasse is not as great as they think it is. And they will support both the businesses they are in front of and the businesses along the way as people walk from parklet to parklet.
Left Bank Coffeehouse
From Curb'd:
Parklet: Wish-Igloo
Design team: Seth Trance and Harry Ross

What is a Wish-Igloo?
The Ema are the small wood plaques that Shinto worshipers in Japan record their prayers and wishes on; leaving them outside of the temple. Hanging from string one in front of the other, the collection creates a patchwork of a community's aspirations, dreams, and desires.

Our early conceptual thinking about the Covington Parklet project led us to two conclusions about the site, the user and the opportunity.
1. The design should promote engagement between the first person who uses the parklet and the last person who uses the parklet.
2. The design should be changeable and invite users to physically manipulate the structure or skin.

Why host a parklet?
Not only will the piece be a beautiful addition to our community for all to enjoy, but it will serve as a coming together place for neighbors and a conversation piece for everyone. While being a creative way to engage the community, it will hopefully serve as a creative outlet for the community as well.
Written by Michael Monks, editor & publisher