Urban Redevelopment Projects in Covington, Newport, Cincinnati Win Duke Grants
Wed, 03/02/2016 - 12:16
RCN Newsdesk
The region's urban renaissance got another boost on Wednesday morning when Duke Energy announced the latest recipients of its Urban Revitalization Grants.
Dozens gathered at Braxton Brewing Company in Covington - a previous recipient of such a grant - and sipped on Carabello Coffee from Newport - a recipient this year.
"The Urban Revitalization program truly made the difference in our ability to turn this building into a fully functioning brewery," said Jake Rouse, CEO of Braxton, which received $25,000 from Duke in 2014, money that assisted in the transformation of the former Covington Arts building on Seventh Street into the popular brewery which will celebrate its first anniversary next month. "It made the difference in being able to choose this location."
Jake Rouse, CEO of Braxton Brewing Company, talks about impact of Duke grant (RCN)
Grant money and government subsidies have played important roles in the region's downtown renaissance and Duke's annual gifts contribute greatly. Most recently, the utility's generosity was on display in Rabbit Hash where the famed General Store burned last month. 200 Duke employees work at a nearby plant in Boone County and Jim Henning, president of Duke Energy Ohio and Kentucky, said that those employees approached the company and asked how they could help. A $25,000 check was written for the effort to rebuild the store.
Over the past five years, roughly $1.3 million has been invested in the region's urban revitalization thanks to Duke. Previous projects include downtown Covington projects like the Mutual Building, The Hotel Covington, 220 West Pike Street, the Schott Grocery Building (home of the new Frida restaurant in Mainstrasse), bioLOGIC, Pike Star, the Hellman Lumber Building, and Braxton.
This year, Covington scored another grant, as did Newport, joining additional grant winners from across the Ohio River in Walnut Hills, Price Hill, Pleasant Ridge, and around Hamilton County.
Here is a look at the 2016 recipients:
The Catalytic Fund - Carabello Coffee expansion - Newport
Amount: $42,476
Carabello, the popular morning and afternoon destination on East Ninth Street, plans to grow into a neighboring building on Monmouth Street. The 1,800 sq. ft. vacant building's renovation will create 3 new jobs and will allow Carabello to expand its roasting capabilities.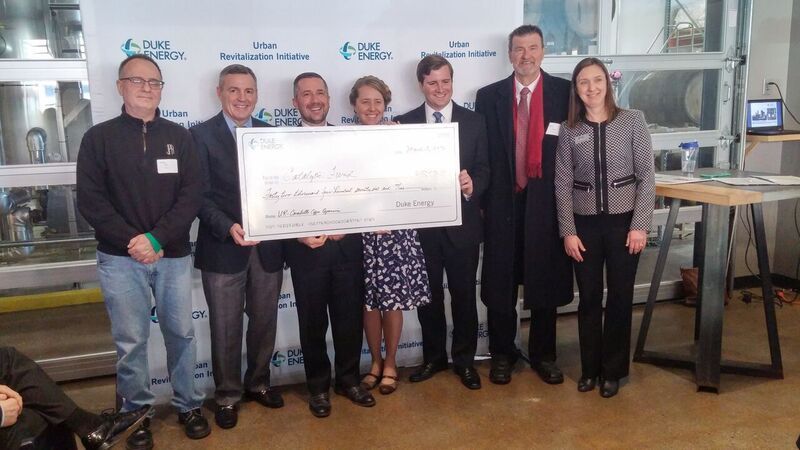 The project was profiled by The River City News in 2014 and noted that Carabello hopes to grow to be able to donate $100,000 a year to charitable efforts.
Founders Justin and Emily Carabello were joined by Newport city officials in collecting their grant on Wednesday.
"We had no idea where it would take us," said Justin Carabello, explaining that the couple were teachign school when they decided to launch a coffee shop with a mission - and spent a measly $300 on a coffee roaster. "It took us to the city we live in, the city we love. It was like lightning in a bottle. It's become this hub, this meeting space. We knew we had to do something."
The Catalytic Fund - Restoration of 3 downtown Covington buildings - Covington
Amount: $30,000
The block of East Fifth Street between Madison Avenue and Scott Boulevard has been a primary target of investment by the City of Covington which purchased multiple buildings there in hopes of attracting developers. In May, developers The Milburn Group and ECCE Properties announced that they would take on the task of renovating and restoring three buildings on the block.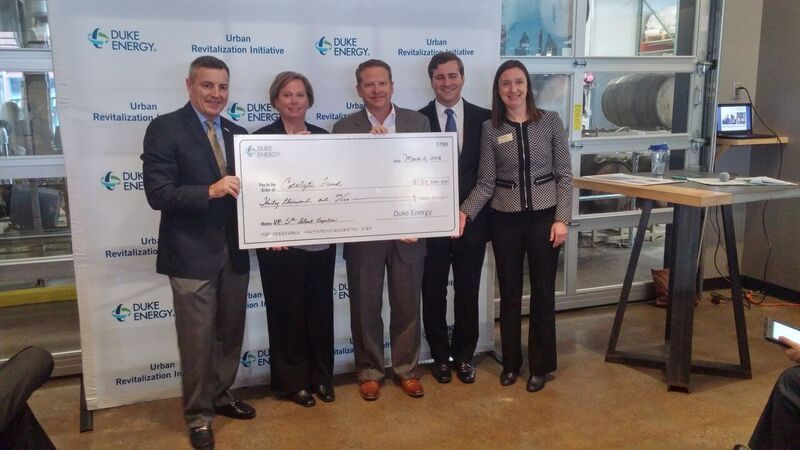 The effort will create 4,000 sq. ft. of move-in ready commercial space and five new market apartments. 
"This is a big boost for these buildings on Fifth Street," said Milburn, whose previous success on the block is the restoration of the Odd Fellows Hall which had almost entirely burned to the ground. The buildings slated for redevelopment this time are the old Greyhound Bus station which will house new apartments and a Forcht Bank branch, the former Bottoms Up tavern, and the old Floyd's biker bar which also suffered from fire once.
"One of the things we discovered in looking at the building was there was a third floor that burned off. We want to put this building back the way it should be," Milburn said. 
The project will also allow for the expansion of the Risk Firm which will add four new jobs as a result.
Pleasant Ridge Development Corporation - Restoration of historic movie theater - Pleasant Ridge
Amount: $50,000
A 7,000 sq. ft. former movie theater on Montgomery Road is targeted for redevelopment by the Pleasant Ridge Development Corporation. With the grant, the boards will be removed from the facade, and the HVAC and water systems will be updated.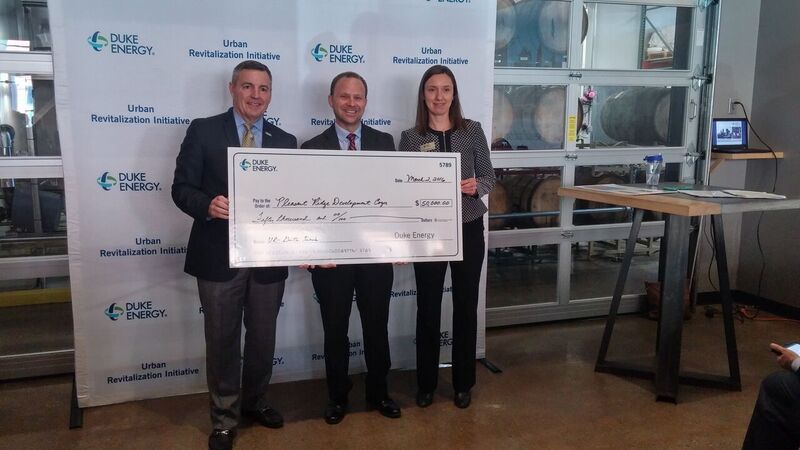 The plan is to partner with Gorilla Cinema, the nomadic movie theater that "pops up" for events, and is prepared to move into a permanent location. Greg Paux, secretary of the Pleasant Ridge Development Corporation, quoted The Majestic, the 2001 Jim Carey flop, in expressing the importance of watching movies in theaters rather than at home: "I mean, this television thing. Why would you want to stay at home and watch a little box? Because it's convenient? Because you don't have to get dressed up, because you could just sit there? I mean, how can you call that entertainment, alone in your living room? Where's the other people? Where's the audience? Where's the magic? I'll tell you, in a place like this, the magic is all around you. The trick is to see it."
"That's what Gorilla Cinema is," he said. 

Price Hill Will - Eight Street Corridor restoration - Price Hill
Amount: $37,424
The Lower Price Hill business district will get a boost from this grant awarded to Price Hill Will, which works on the redevelopment of East, Lower, and West Price Hill. The funds will be used to renovate a building in the heart of the business corridor.
The 8th & Depot project will create a new retail space, six mixed-income live-work units, five new jobs, and will restore the building's facade. Price Hill Will representatives believe that this project will be an anchor for the entire corridor's redevelopment over the next 10 to 15 years. 
Walnut Hills Redevelopment Foundation - Century Theater, Durner Building restoration - Walnut Hills
Amount: $56,000
These two structures on the National Register of Historic Places but have been vacant for decades. One of them most recently hosted a bank that moved out in the 1970's and much of the branch's remains are still inside. The Walnut Hills Redevelopment Foundation purchased the buildings, and as urban projects go, the day after the purchase, one building suffered a roof collapse. "So, somehow that was our luck," said Kevin Wright, executive director. 
The funding will allow for the organization to perform preliminary research on development opportunities and to hire an architect to assess possibilities. "Two or three years from now these buildings will be redeveloped and that starts today," Wright said.
When completed, the centerpiece of the Peebles' Corner historic district will create a co-working space and 33 permanent jobs in the community, a news release said.
Hamilton County Business Center - Small business coaching and mentoring - Mt. Healthy, Cheviot, and Westwood
Amount: $60,000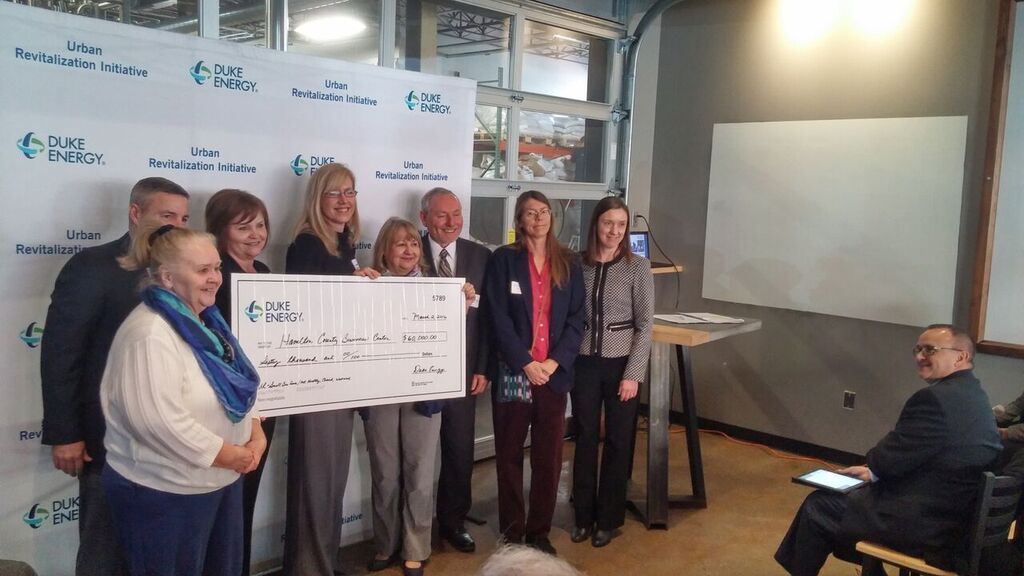 The Hamilton County Business Center collects a Duke grant for the third consecutive year and this funding will allow the organization to provide coaching and mentoring to small businesses in Cincinnati's Mt. Healthy, Cheviot, and Westwood neighborhoods. 
Written by Michael Monks, editor & publisher