Premium Content
Covington, Newport Riverfront Developments Will Soon See Movement
Thu, 03/24/2016 - 16:22
RCN Newsdesk
There were no specifics offered about possible new tenants or partner developers at Thursday's monthly Covington Business Council luncheon, but Corporex's Tom Banta more than piqued the interest in what is to come on the riverfronts of Covington and Newport.
The Covington-based developer's managing director was the guest speaker at the gathering and said that Corporex's recent success in other markets like Denver has positioned it well to reinvest in its current portfolio locally. That includes big renovations to the plaza at the RiverCenter towers in Covington and a more aggressive approach to its long-dormant Ovation project in Newport.
Bill Butler, who founded Corporex as a young man, is now 73 years old, Banta said, "and not so interested" in taking profits from one project and investing them in the next, as has been the company's longtime philosophy. Instead, Corporex will make more use of development and outside capital partners for its future efforts. "We continue to evolve and move the company to more of an investment company and less of a ground-up development company," Banta said. 
"This transition has allowed us to focus more time on our existing portfolio and properties here," he said.
The RiverCenter towers were the first pieces of Corporex's creation of a Covington skyline that now includes a convention center, two hotels, and an additional office tower. But most of those buildings went up when Covington's riverfront was more active, thanks in large part to Covington Landing, the floating entertainment destination that had restaurants and games and views of Cincinnati's skyline. When that development went away, so too did much of the crowds.
Banta said Corporex is committed to bringing back that energy - a crucial component to refilling RiverCenter's offices and ground-level retail spaces. The company has seen a windfall in Denver where it has developed hotels and a conference center and witnessed the Mile High City take a strong grip on the interest of the Millennial generation that is moving there. The quality of life and outside amenities are now more attractive to businesses than the actual office space, Banta said, and RiverCenter will better position itself to compete in that manner.
That effort begins with changes to the plaza. The Covington City Commission on Tuesday voted unanimously to allow the company to improve the plaza in a 30-year lease. A recent recapitalization of the two towers will allow Corporex to invest cash into the project that Banta hopes will attract up to five new restaurants, new glass facades to replace the reflective glass there now so that customers can see inside, and to allow better access to outdoor food service and dining. Inside, the towers will see a fitness center that is doubled in size and the addition of a new cafe.
The project will include the addition of colorful sunscreens across the plaza, too. 
The renovation of the plaza at RiverCenter coincides with Covington's riverfront redevelopment effort, a multi-million project that will bring more recreational opportunities to the southbank while creating an inviting public realm. "All of these improvements along with what the city is doing on the riverfront side of it, we think it's going to rejuvenate the area so we have new activity and new life down there," Banta said. "It is important with the convention center and the hotels down there that we get this area back to what it used to be."
The aggressive effort is welcomed news for the company and the city, both of which were adversely impacted by the abrupt departure of Omnicare and The Nielsen Companies, large businesses that took their rent and payroll taxes to Cincinnati after the state of Ohio and City of Cincinnati lured them with lucrative tax incentives. Nielsen left the Madison Place office building almost completely empty. Omnicare's lease just expired recently and the company had still been paying for its old digs even as it now occupies a new space in downtown Cincinnati. 
The RiverCenter towers have a 60 percent occupancy rate now, Banta said.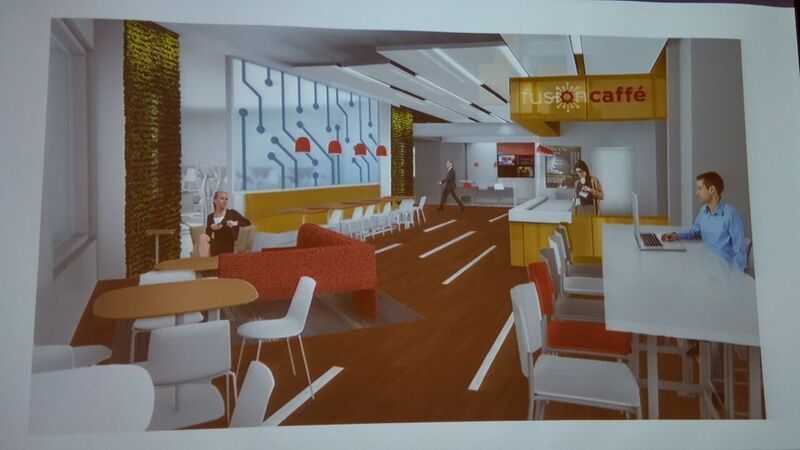 "I can't tell you how different it is when we show office space than it was ten to fifteen years ago. The number one thing of interest in the minds of people looking at office space is, can we attract and keep the young talent that we want to hire?," Banta said. RiverCenter is working to be rebranded to showcase its ability to accommodate traditional office use like law firms that demand high-end finishes and high tech firms like TiER1 which has created a hip, open space with an expansive skyline view.
The effort is working, Banta said, as evidenced by lease renewals by Ashland Oil which has its global headquarters there, and the renewal of 120,000 sq. ft. of space and 35,000 sq. ft. of new leases. Activity is as strong as it has been in eight to ten years, he said. 
Turning attention to Newport, too
It's been nearly ten years since Corporex staked its claim to a prominent piece of property on the Newport riverfront where it had planned to create a $1 billion project dubbed Ovation. Up until a few weeks ago, the only work that ever happened at the site was the placement of a billboard promising the development's arrival.
Shortly after the project's announcement, the economy sank and in the Great Recession that followed, the condo market disappeared, too. But now with the Commonwealth of Kentucky finally moving on the expansion and extension of Route 9, which will now go all the way to the riverfront, Corporex sees its second chance at what it still estimates to be a $1 billion project.
This time, however, there will be others involved. Corporex will be the master developer, but the company is looking for partners. No deals were announced Thursday.
"The state has finished all the road right of way and has started construction on the road so the timing is right," Banta said. "We're going to be doing things a little differently going forward and though we will be the master developer at Ovation, it will likely be other developers doing other developments, like a retail developer doing retail and an apartment developer doing other parts. There are no major announcements on that today, but stay tuned."
In January, at the Covington Business Council luncheon, the Northern Kentucky Streetcar Committee announced its plans to connect the south side of the Ohio River to the Cincinnati Streetcar system that will open later this year. Though the committee is awaiting funding for a proper feasibility study that would lay out potential routes in Kentucky, one idea that was floated in a rendering was the possibility of tying a connection into the Ovation development. Banta said that Corporex has not been approached, but that he expects he will be and that he would be open to the conversation.
The refocused effort on Corporex's signature riverfront projects follows the company's critical involvement in the work that led to the Covington openings of the Kentucky Career Center and the Life Learning Center on the former Robke auto lot and Stewart Iron Works Building, respectively. The company also served as the construction manager of the Lindner Center of Hope in Mason, Ohio at no cost, and recently performed an analysis, at a cost of $1, of what the Kenton County Administration Building could look like if Northern Kentucky University's Chase College of Law moves from the Highland Heights campus to downtown Covington.
"We're very excited about what's happening in our community," Banta said, specifically recognizing the Catalytic Fund which has provided gap financing and financial analysis for multiple high-profile residential and commercial developments in the River Cities. "I believe full-heartedly that a strong urban core remains (a critical component) for the entire region and that is why we continue to focus our efforts on all the riverfront communities."
Written by Michael Monks, editor & publisher
Top photo: Rendering of Ovation in Newport